Howard Stern Piles Onto Les Moonves With Sketch Of Poor Character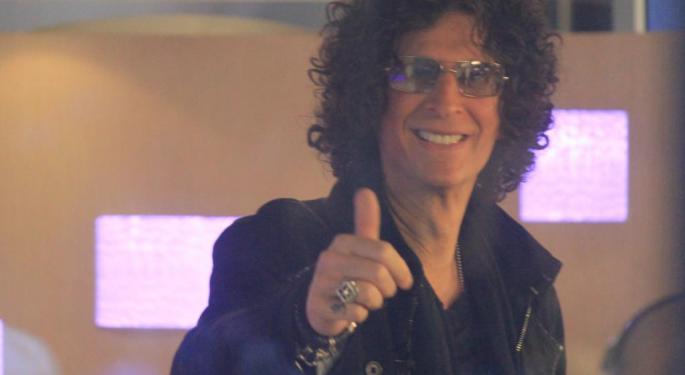 The CBS Corporation (NYSE: CBS) executive accused by six women of sexual misconduct and assault has piqued a familiar enemy.
"Les tried to ruin my life," Howard Stern said Monday on his Sirius XM Holdings Inc (NASDAQ: SIRI) radio show.
What Happened
Stern, who compared CBS CEO Les Moonves to fictional Mafia boss Tony Soprano, said that, 12 years ago, when he departed CBS for Sirius, his former boss struck him with a $500 million lawsuit for alleged breach of contract. The company claimed Stern had failed to disclose details of his Sirius deal and had promoted the new show while still on air at CBS.
"How do you defend against a corporation? You know they have endless money to f--k with you with lawyers," Stern said of his reaction at the time. "I was so panicked because this is scary. ... I knew this was just some sort of bad, like, 'We're going to f--k with you because you're leaving us.' It's like a stalker who says, 'You know what? You left me, we broke up, but I'm going to f--k your life up.' And I didn't do jack s--t to Les Moonves, except make him money, and I was pissed and upset and scared."
Stern said he dissolved in tears when he first confronted Moonves. The suit concluded in May 2006 with Sirius paying out $2 million and CBS handing over Stern's master tapes.
Why It's Important
The radio host called Moonves a "snake," a "bully" and a "jerk." The character sketch doesn't help Moonves' cause as investigators probe allegations of sexual misconduct and related aggression.
Also notable in Stern's testimony was his portrayal of Moonves when faced with blackmail: "[Moonves] was like France. He gave right up. Welcomed the Nazis right in. The war was over. ... This guy caved like there was no caving ever in the history of show business."
Moonves' historical performance could portend how he handles ongoing battles, particularly if additional details or cases threaten to surface.
What's Next
Moonves forewent the opportunity last Thursday to address sexual misconduct allegations on the CBS Q2 earnings call. He's remaining in his post as the board's independent investigators look into the claims.
CBS shares closed Monday at $52.85, down about $5 since July 26 when news of the New Yorker report first hit.
Related Links:
Moonves Trouble Creates Overhang For CBS Stock, Renders Viacom Merger 'More Inevitable'
Wells Fargo On A CBS-Viacom Reunion: 'We Don't Like It'
Photo credit: Bill Norton, Flickr
Posted-In: Howard Stern Les MoonvesNews Top Stories Media Best of Benzinga
View Comments and Join the Discussion!