ECB Meeting Minutes Downplay The Change In Wording And Down The EUR/USD
The ECB Meeting Minutes state that the change in wording should not be misunderstood.
They also express concern about the trade while showing some optimism about the economy.
The EUR/USD remains under pressure amid worries about Syria, euro-zone weakness, and rising chances of a rate hike.
The European Central Bank released its Policy Accounts for the March meeting. They state that the change in wording should not be misunderstood as a change of direction. This refers to the accompanying statement of that meeting that removed the option to increase the size of bond buys while leaving the opportunity to extend them.
ECB President Mario Draghi also downplayed this change in the press conference that followed that meeting and the Minutes reflect this stance.
This weighs on the common currency, with the EUR/USD slipping from above $1.2350 to around $1.2340.
Also, the Governing Council expressed concern about protectionism but remained satisfied with the ongoing economic recovery. The cautious stance is not helping the common currency.
Earlier, the EUR/USD fell due to three reasons. There is a growing concern about an escalation in the Middle East. The US and its allies are getting closer to launching a strike against the Assad regime in Syria after the latter bombed its citizens with chemical weapons. Russia, Iran, Saudi Arabia, and Israel are all involved, and markets are worried.
Also, euro-zone industrial output fell by 0.8 percent, worse than a rise of 0.1 percent that had been expected. And, the US Dollar got a boost from the optimistic FOMC Meeting Minutes and rising inflation. The chances for a rate hike in June are now higher.
EUR/USD holds onto 50-day SMA
As the chart shows, the EUR/USD is down on the day but does not fall below the critical 50-day Simple Moving Average so far. It awaits at around $1.2330. Further below we find recent swing lows of $1.2240 and $1.2210. Resistance is at the round number of $1.2400 that was nearly touched on Wednesday. The RSI and Momentum remain listless.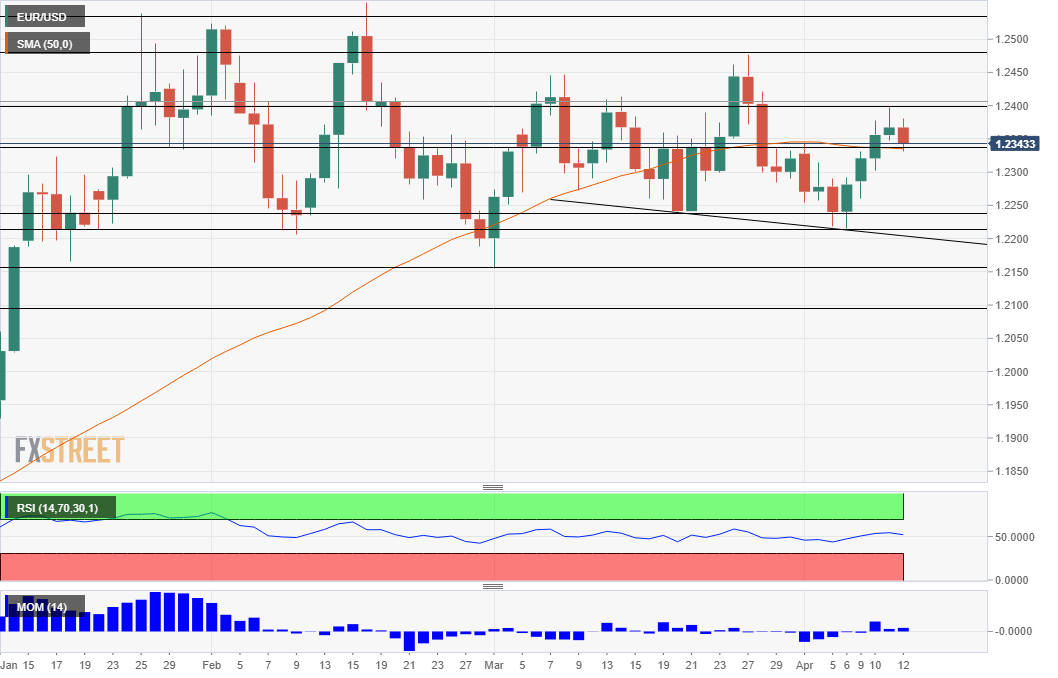 View Comments and Join the Discussion!