Stocks Head Higher In Early Going; Might 2017 End In Record Territory?
Today is it for trading in 2017: Might the market benchmarks manage to eke out yet one more record closing? If market movement in the early going holds out throughout what is expected to be another light volume day of trading, the Dow Jones Industrials ($DJI) and the S&P 500 (SPX) might end on another high note.
All three benchmarks were heading higher, albeit at a moderate pace, in the early going. Yesterday, the Dow Jones Industrials ($DJI) knocked out its 71st record close—a record all of its own. Rising just 0.20%, it wasn't a major move forward, but still a notable one. As mentioned here earlier this week, on a historical basis, the average number of $DJI closings at a fresh peak was 29 since World War II, and the most record settlements $DJI has ever logged in one year was 69. The move higher also kept the Dow on pace to finish the year with the longest quarterly win streak since 1997. Let's see if there's one more today.
The S&P 500 (SPX) and the Nasdaq Composite (COMP) also managed to squeak out 0.20% gains to finish yesterday's session on the upside. Both were short of fresh crests. Thursday's gains were mostly tiny, but broad with 10 of the 11 SPX sectors in the green, driven mostly by financials and an uptick in the energy and materials sectors.
Trading throughout Thursday was mostly muted but a rush late in the session had some market analysts suggesting that it signaled that investors were not ready to dump stocks ahead of New Year's holiday on Monday. Typically, that kind of selloff has been noticed in the past.
There were other notable moves Thursday. Gold futures (/GC) prices climbed 0.5% to tap a 10-week closing high of $1,297.20 amid a weakening dollar. Gold prices are pegged to the dollar, and have an inverse relationship to the dollar's value. A softening dollar has historically increased the value of other currencies and that could sometimes create a buying catalyst for commodities overall, including gold. Gold prices have been trending higher for seven straight sessions.
Copper prices, which have been steadily rising since Dec. 6, notched a near-four-year closing high at $3.30 a troy ounce. Since bottoming in early January 2017, copper prices have surged nearly 34% and are up 13% since taking a dive Dec. 5. (See chart.) Market analysts said that the rise might be tied to hopes that a strong economy would lift demand for copper, which is a major metal used in construction and manufacturing.
Oil prices were rocky throughout the day, but finished higher and cracked through the $60-per-barrel mark in the early going. Prices haven't broken through that resistance level since late June 2015. The closely watched U.S. Energy Information Administration reported that domestic-crude supplies fell by 4.6 million barrels for the week ended Dec. 22. On Wednesday, the American Petroleum Institute reported a drawdown of 6 million barrels. Some market analysts had been anticipating a decline in crude oil of about 3.7 million barrels. Per-barrel prices for West Texas Intermediate (/CL), the U.S. benchmark, were tracking around $60.10 in early trading.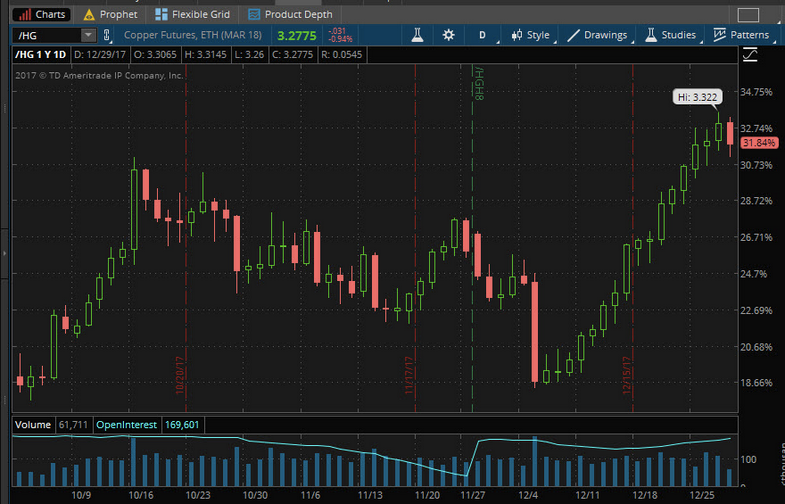 FIGURE 1: COPPER'S CLIMB. Prices for the metal used heavily in the construction and manufacturing industries have surged 34% this year and are up better than 13% since a big falloff Dec. 5. Why? Some market analysts have said it might be tied to hopes that a strong economy will lift demand for copper. Data sources: CME Group, Standard & Poor's. Chart source: The thinkorswim® platform from TD Ameritrade. For illustrative purposes only. Past performance does not guarantee future results.
ETFs Were Hot this Year
That might not be a surprise to some Wall Street analysts who had predicted a rush into exchange-traded funds (ETFs) this year. More than $465 billion in new money flowed into U.S.-listed ETFs through Dec. 20, according to the Wall Street Journal, citing XTF and FactSet statistics. That dwarfs last year's $287 billion record.
The Journal said the biggest ETF recipients of new money were "all of the big, ordinary and cheap variety, continuing a trend that has gripped the market for years." U.S. stocks were the biggest recipients, according to the Investment Company Institute, which the Journal reported that some $164 billion moved into U.S.-stock ETFs through Dec. 6. At the same time, nearly $200 billion moved out of U.S. stock mutual funds.
We're Charging More to Credit
But consumers aren't charging as much as they were when credit-card lines peaked in 2008. At the highpoint, consumers had more than $4.4 trillion in credit-line availability, both used and unused, according to the Consumer Financial Protection Bureau's recent report on the state of the credit card market. As of mid 2017, through steady increases in the total credit line, credit card companies have extended more than $4 trillion in availability.
Other quick tidbits from the CFPB report: There were some 110 million new credit card accounts in 2016, which is 50% higher than 2010 and higher than any other year since 2007, yet remains below pre-recession levels; more than 60% of active credit card accounts are enrolled in online services; average credit card debt has swelled 9% over the last two years.
Lot of Spending Last Weekend?
Hard to say how much of that credit-card availability was spent Saturday, Dec. 23, but a lot of people were out shopping, according to ShopperTrak data. That Saturday before Christmas is referred to as Super Saturday in the retail industry and is usually a big day in shopping centers and malls. This year traffic accelerated 20% over last year, ShopperTrak data showed.
"This year, Super Saturday was only two days away from Christmas Day, and it served as the last full shopping day prior to Christmas, motivating shoppers to get out and hit the stores," Brian Field, senior director of advisory services at ShopperTrak, wrote in a blog post. Even still, ShopperTrak says one of the 10 busiest shopping days of the year is still ahead, tomorrow, Saturday, Dec. 30.
Information from TDA is not intended to be investment advice or construed as a recommendation or endorsement of any particular investment or investment strategy, and is for illustrative purposes only. Be sure to understand all risks involved with each strategy, including commission costs, before attempting to place any trade.
Posted-In: JJ Kinahan The Ticker TapNews Commodities Markets
View Comments and Join the Discussion!