Martin Shkreli Found Guilty On 3 Counts, Including Securities Fraud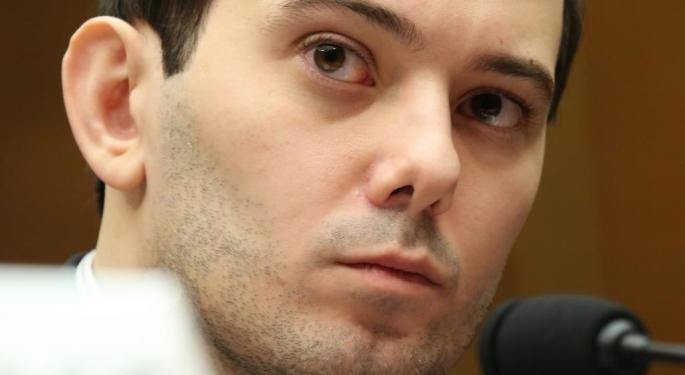 After years of investigation and a six-week trial, "Pharma Bro" Martin Shkreli was found guilty on two counts of securities fraud and one count of conspiracy to commit securities fraud.
The jury found him not guilty on five other charges after five days of deliberation.
"We're delighted in many ways with this verdict," Shkreli said at Friday's press conference following the verdict, noting that he's been acquitted of the "most important" charges. "Count 7 was the government's attempt to theorize that I robbed Peter to pay Paul, and investors found this was not the case."
He called the trial a "witch hunt of epic proportions."
Shkreli had pleaded not guilty to all counts. He could face a fine or up to 10 years in prison for each count he was found guilty.
See Also: The Saga Of 'Pharma Bro' Martin Shkreli
The case surrounded Shkreli's co-founding of MSMB Capital Management in 2009 and subsequent co-founding and leadership of Retrophin Inc (NASDAQ: RTRX) in 2011. Prosecutors alleged that he had defrauded MSMB investors and later paid them with $11 million in unauthorized Retrophin assets.
Retrophin ousted Shrekli as CEO in 2014 and filed a $65 million lawsuit in 2015 claiming violation of securities rules. The FBI arrested Shkreli at the end of the year, after which he was indicted in Brooklyn's Federal District Court.
"I'm so innocent, the jury, judge and the prosecution are gonna give me an apology," he said in a June live stream.
Image Credit: By House Committee on Oversight and Government Reform [Public domain], via Wikimedia Commons
Posted-In: Martin Shkreli MSMB Capital Management RetrophinNews Legal Best of Benzinga
View Comments and Join the Discussion!