Crypto Investors, Keep An Eye On Blackmoon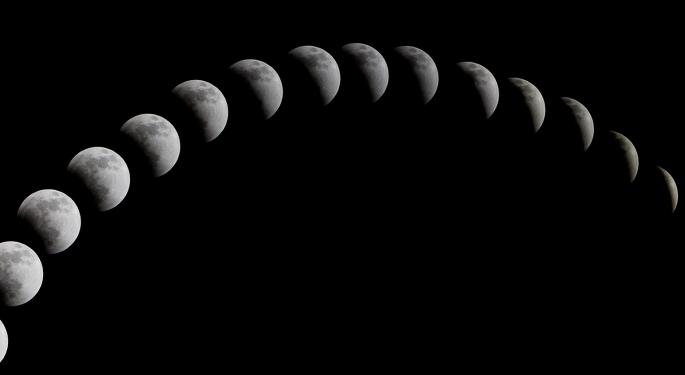 A total solar eclipse is coming at the end of the month, but investors might prefer to watch Blackmoon Financial Group instead.
On Tuesday, the firm announced the launch of the Blackmoon Crypto Platform, a new way for investors to trade and invest in "tokenized vehicles" based on the Ethereum blockchain.
"The Blackmoon Crypto Platform is a one-stop solution for asset managers to create and manage legally compliant tokenized funds; everything from technology and infrastructure to legal framework and corporate structuring is taken care of," the company said in a press release.
Related Link: Bitcoin Cash Is Coming: What Investors Need To Know
What Is A 'Tokenized Fund?'
"Our aim was to create a framework, a solution, that could be used by investment managers who have expertise and solid investment strategies to execute," Blackmoon CEO Oleg Seydak told Benzinga.
Seydak explained that the Blackmoon Crypto Platform's investment funds will use "tokens" as a form of investment vehicle similar to shares of an ETF.
"But they have much lower barriers to bring new ideas [to investors]," said Seydak.
The tokenized funds will be "tradable across borders" in the spirit of the blockchain, which is not limited by geography.
Investors are limited in their options when it comes to traditional investing in foreign markets. By launching the platform, Blackmoon hopes to break down barriers for investors and allow fund managers to reach a broader audience.
"As a common rule, we require investment managers to be experienced in managing a third-party's money," said Seydak.
As part of the platform's legal compliance, the company will adhere to the laws and regulations of any country it is being used in.
"If, for example, in the [United States] you have to have an investment advisor's license to manage other people's money, then investment managers from the U.S. will have to have that license [to operate a fund]," said Seydak.
Related Link: How To Actually Buy Bitcoin Or Ethereum
Unlike The Solar Eclipse, Keep A Close Eye On Blackmoon
Much is still unknown about the Blackmoon Crypto Platform, including what investors and fund managers will pay to use the service and what the funds will comprise of besides Ethereum.
That said, it could be just the beginning of a new wave of cryptocurrency innovation.
"We believe that blockchain technology is here to stay, but we believe that we need to create something sustainable and that can create value in the long-run," said Seydak. "We are here to introduce such a benchmark."
Keep up with the latest major news in cryptocurrency investing with Benzinga Pro.
Related Links:
Cryptocurrency Mining Is The Next Gold Rush, And AMD To Make Short-Term Gains Selling The 'Pickaxes'
How To Take Advantage Of New Investment Opportunities Like Cryptocurrency Funds
Posted-In: Bitcoin Blackmoon Crypto Platform EthereumNews Forex Exclusives Markets Interview Best of Benzinga
View Comments and Join the Discussion!