Trump's Keystone XL Pipeline Approval Will Impact Crude Oil Spreads, Boost Canadian Economy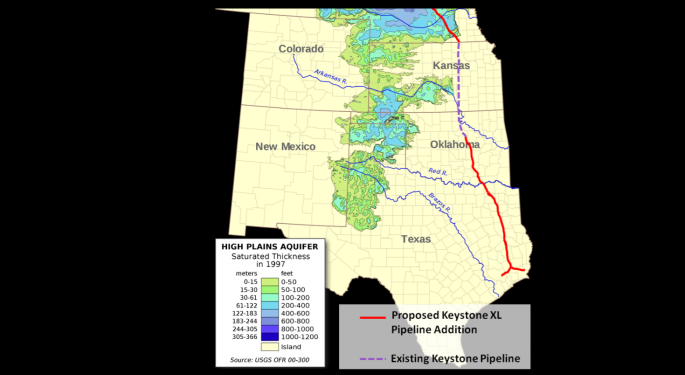 On Friday, President Donald Trump signed a permit to allow the construction of the controversial Keystone XL pipeline. Fuel price-tracker GasBuddy has been tracking the Keystone controversy for the last several years.
"While the impact on gasoline prices may not be immediately known or felt, the pipeline will allow more U.S. refiners to process Canadian crude oil and reduce reliance on foreign supply, while helping Canadians secure their energy future," GasBuddy analyst Patrick DeHaan wrote Friday.
Could Keystone Help...Canada?
According to DeHaan, the Keystone pipeline may ultimately eliminate much of the discount American refiners get on Canadian crude oil. Refiners that already process Canadian crude could soon see costs on the rise.
In addition, the pipeline will likely provide a shot in the arm for the Canadian oil industry and could even boost the value of the Canadian dollar. DeHaan says U.S. drivers will likely see little impact on gasoline prices.
GasBuddy analyst Dan McTeague describes Friday's decision as a "win-win" for both the United States and Canada.
"The decision to allow Keystone XL's construction isn't about sending Canadian oil to waiting ships in the Gulf of Mexico, it's about ensuring U.S. refiners, who've invested in processing heavy oil, access to a reliable and abundant supply that responds to America's energy needs," McTeague explained.
He said the pipeline is an important step toward North American energy security and stable gasoline prices at the pump.
United States Oil Fund LP (ETF) (NYSE: USO) is up 0.3 percent following the news.
Related Link:
What Does Crude Oil Back Under $50/Barrel Mean For Equities Investors?
The Next Steps For TransCanada After Trump's Keystone XL Order
__________
Image Credit: By Myself - Pipeline route, Kbh3rd - Aquifer Map - Wikipedian Kbh3rd - http://en.wikipedia.org/wiki/User:Kbh3rd, FAL, via Wikimedia Commons
Posted-In: News Emerging Markets Specialty ETFs Commodities Politics Markets Movers ETFs Best of Benzinga
View Comments and Join the Discussion!