If Trump's Immigration Order Goes To The Supreme Court, What Would Likely Be The Outcome?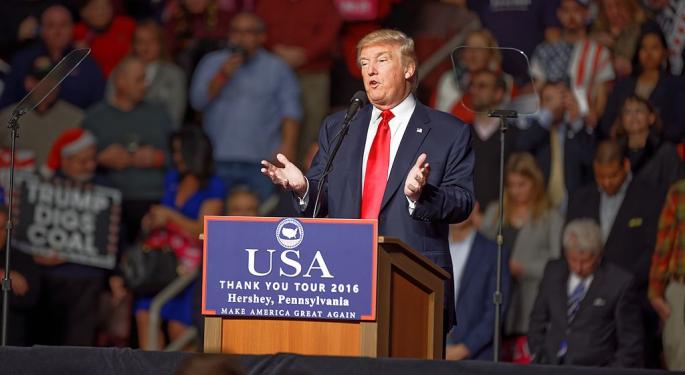 A ruling is imminent from the Ninth Circuit Court of Appeals after arguments were heard Tuesday on the government's appeal of a temporary restraining order halting President Donald Trump's executive order on immigration. The issue appears almost certain to be appealed to the nation's highest court.
Trump's January 27 executive order indefinitely freezes the admittance of Syrian refugees; blocks all other refugees for 120 days; and blocks entry from seven Muslim-majority countries for 90 days.
If and when the immigration order comes before the U.S. Supreme Court, which factors could come into play in the High Court's decision?
The court is ideologically divided. Since the death of Justice Antonin Scalia — a staunch conservative — last year, the Supreme Court bench has been split between four Democratic and four Republican appointees.
Trump has nominated Neil Gorsuch to fill the vacancy left by Scalia, and Gorsuch's confirmation hearing before the Senate Judiciary Committee is expected to begin in March.

Sen. Chuck Schumer met with Gorsuch Tuesday. Schumer told reporters he asked the nominee about the immigration ban, according to USA Today, and Gorsuch "avoided answers like the plague."

Trump himself has cited a 1952 law that gives the president the power to suspend "the entry of all aliens" whose entry is "detrimental" to the country. The law was passed by Congress in an override of President Harry Truman's veto.
Questions about the intent of the order could decide its fate. Trump's prior public call for a "total and complete shutdown of Muslims entering the United States," as well as former New York City Mayor Rudy Giuliani's comments that Trump asked him to craft a "Muslim ban," could be used in arguments to show religious discrimination was a factor in the order.
The court may have a swing vote in Justice William Kennedy. A 5–4 vote is needed in today's Supreme Court to avoid a deadlock and overturn a lower court's decision. A Tuesday column by Andrew McCarthy in the conservative National Review suggested that Kennedy could side with the court's left-leaning wing — Justices Sonia Sotomayor, Ruth Bader Ginsburg, Sonia Sotomayor and Stephen Bryer — in a vote on the immigration ban.
McCarthy cited Kennedy's majority opinion in the 2008 case Boumediene v. Bush as an indicator of his thinking. The Boumediene v. Bush ruling said alien combatants in military prisons have the Constitutional right to the writ of habeas corpus.
Image Credit: By Michael Vadon - Own work, CC BY-SA 4.0, via Wikimedia Commons
View Comments and Join the Discussion!
Posted-In: 9th Circuit Court of Appeals Donald TrumpNews Politics Events Best of Benzinga