20 States Are Raising The Minimum Wage In 2017, Is Yours Among Them?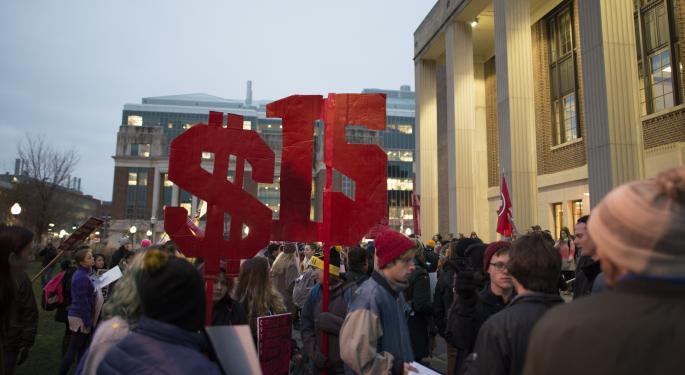 Many of the lowest paid U.S. workers will be greeting 2017 with more than the usual cheer, as 20 states and the District of Columbia are set to increase their minimum wages at the start of the new year.
Economic Policy Institute said more than 4 million low-wage workers across the country are expected to receive a pay hike because they earn less than the new minimum in their respective states.
On the flip side, critics say a hike in wages may lower employment, as many small businesses may not be in a position to afford increased wages, despite the voices calling for $15 wage per hour.
A Look At The States
The 20 states raising their minimum wages:
Alaska
Arizona
Arkansas
California
Colorado
Connecticut
Florida
Hawaii
Maryland
Massachusetts
Maine
Michigan
Missouri
Montana
New Jersey
New York
Ohio
South Dakota
Vermont
Washington
A WSJ report supplemented, among the 20 states, Arizona will be giving the biggest raise in minimum wage ($1.95) to $10 an hour.
In Massachusetts, the minimum wage will rise $1 to $11 an hour. In California, the minimum goes up $0.50 to $10.50 an hour.
The federal minimum wage was introduced in the late 1930's during the Great Depression. It was initially set at $0.25 per hour and now stands at $7.25 an hour. Since 2009, the federal minimum wage has remained $7.25 per hour.
Moreover, many states have passed to provide higher minimum wages over the past three years; for instance, New York state lawmakers set a $15-an-hour minimum wage in New York City by 2019.
The following chart published on WSJ shows the increase in minimum wages by various states in 2017 and the estimated numbers of workers impacted by the raise.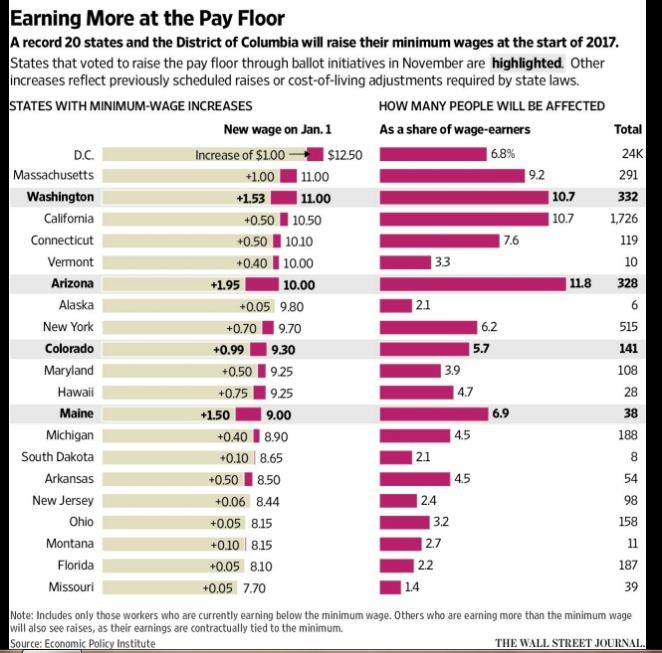 Image Credit: By Fibonacci Blue from Minnesota, USA (Rally demanding $15/hr minimum wage) [CC BY 2.0 (http://creativecommons.org/licenses/by/2.0)], via Wikimedia Commons
Posted-In: economic policy institute EPINews Politics Topics Legal Economics General Best of Benzinga
View Comments and Join the Discussion!