How A Tornado Changed One Trader's Mind About Twitter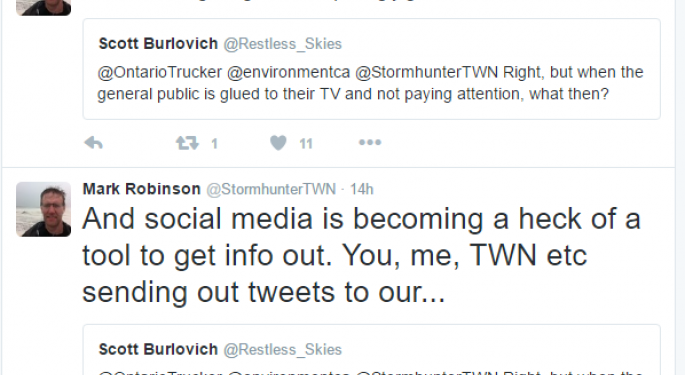 A tornado touched down just outside Windsor, Ontario Wednesday night. Nobody was hurt, but the sudden storm did have one unintentional effect.
Dennis Dick, a veteran trader and co-host of Benzinga's PreMarket Prep, has been mostly bearish on Twitter Inc (NYSE: TWTR) since its IPO, even though he recently closed a brief position in the stock for a profit and uses it everyday.
But on Thursday morning's edition of PreMarket Prep, Dick said he now sees the company in a whole new light.
"I'm sitting there trading stocks last night...and I look at my Twitter stream and I see a tornado touched down in La Salle [a suburb of Windsor]. So I go flip on the news...there's nothing. Nothing on there at all. This is 7:10 pm. I don't see anything on the news networks, there's no little warning in the corner. There's nothing at all."
Dick said he also checked Environment Canada, Canada's national weather service, and didn't see anything there either. So he returned to Twitter. There, he saw a Periscope stream from Mark Robinson of The Weather Network.
"I'm like 'this is nowhere else...no major news network is covering this. This is crazy.'"
Robinson followed the storm for 10-12 minutes, streaming the whole time. It wasn't until about 7:30 p.m. until Environment Canada issued a warning, according to Dick.
"I'm like 'thanks a lot; 20 minutes later.'" Dick said. "The tornado is literally 5 miles from my house. Bottom line here is this makes me look at the stock of Twitter in a whole different aspect."
Obviously, the question remains how Twitter can monetize something like this. But after Wednesday night Dick thinks they'll figure it out.
"They need to find a way to monetize it, sure. When there's a tornado on the ground, I want to know about it. I want to know immediately. And when your news networks are 20 minutes behind Twitter, that's incredible. So there's value there."
Listen to Dick's full rant at 1:51 in the clip below. PreMarket Prep is a daily trading ideas show with a focus on short term trading and technical analysis. It airs live every morning from 8-9 a.m. ET here, and the podcast lives here.
Posted-In: Dennis Dick PreMarket PrepNews Tech Trading Ideas Best of Benzinga
View Comments and Join the Discussion!