Greeks Vote 'Yes' To Third Bailout, But Many Opponents Remain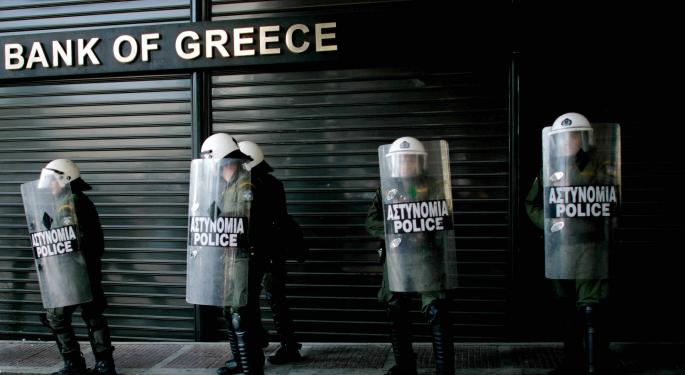 The votes are in.
Greece's Parliament has approved the country's third bailout deal just 10 days after fears an agreement wouldn't make it this far hit a fever pitch.
But it's not all sunshine and rainbows. The VIX, a measure of expected near-term market volatility, rose hours before the vote as riots erupted in the streets of Athens.
#Greece: Protestors hurl molotovs at riot police in #Athens during confrontations ahead of deadline for bailout deal. pic.twitter.com/GOmswAS0jq

— ѕyndιcalιѕт (@syndicalisms) July 15, 2015
AP photo. Athens, Greece. Wednesday, 7/15/15. Petrol bombs during clashes between austerity protesters & riot police pic.twitter.com/B4BW8lnqMm

— Ferrari Sheppard (@stopbeingfamous) July 15, 2015
The S&P 500 also fell sharply near the end of Wednesday's trading and closed the session in the red.
Anti-Austerity
The protestors, largely focused on anti-austerity chatter come after a faction of the nation's lawmakers called the E.U.'s bailout "humiliating" and "economic strangulation." According to multiple reports, 124 parliament members supported the terms, just three votes above what's widely considered to be the level Prime Minister Alexis Tsipras needs to stay in office.
Don't Forget: The IMF Isn't Happy
Also of note, the IMF's stance hasn't changed. A scathing critique of the E.U.'s ongoing negotiations with Greece went public on Tuesday, which said "Greece's debt can now only be made sustainable through debt relief measures that go far beyond what Europe has been willing to consider so far."
A few more highlights from the report:
"The events of the past two weeks—the closure of banks and imposition of capital controls—are extracting a heavy toll on the banking system and the economy, leading to a further significant deterioration in debt sustainability relative to what was projected..."
"Debt would peak at close to 200 percent of GDP in the next two years. This contrasts with earlier projections that the peak in debt—at 177 percent of GDP in 2014—is already behind us."
"Greece is expected to maintain primary surpluses for the next several decades of 3.5 percent of GDP. Few countries have managed to do so."
"Greece is still assumed to go from the lowest to among the highest productivity growth and labor force participation rates in the euro area..."
Most importantly, the IMF said Greece needs a drastic extension on the grace period of its debt -- 30 years -- with interest rates no higher than that of AAA-rated bonds. If both of these stipulations aren't met, the country will experience an "unsustainable debt dynamic for the next several decades," the organization warned.
Others Are Livid
A recent report from Credit Suisse reveals German Finance Minister Wolfgang Schaeuble said his country's government is divided over the best path forward for the E.U. The bank said a "successful completion of a deal between Greece and its creditors would likely allow markets to refocus on the policy divergence story, which remains a EUR [Euro currency] bearish one."
Former Greek finance minister Yanis Varoufakis also trashed the latest bailout in a blog post.
"Greece must subject itself to fiscal waterboarding, even before any financing is offered," he wrote, adding that tax changes would hurt the country's tourism industry.
Varoufakis also claimed the bailout's real purpose is to move banking losses to European taxpayers, and here's his most pungent line: "[T]he Greek government, which knows that the imposed fiscal targets will never be achieved under the imposed austerity, must commit to further, automated austerity as a result of the troika's newest failures."
Global X Funds (NYSE: GREK), an ETF that tracks the Greek stock market, rose in Wednesday's after-hours trading after closing the regular session 10 percent higher. It remains to be seen if the market's reaction will be as straightforward over the longer term.
Posted-In: GreeceNews Bonds Eurozone Events Top Stories Economics Markets Best of Benzinga
View Comments and Join the Discussion!