Andrew Zatlin's Surprising Alternative To Raising The Minimum Wage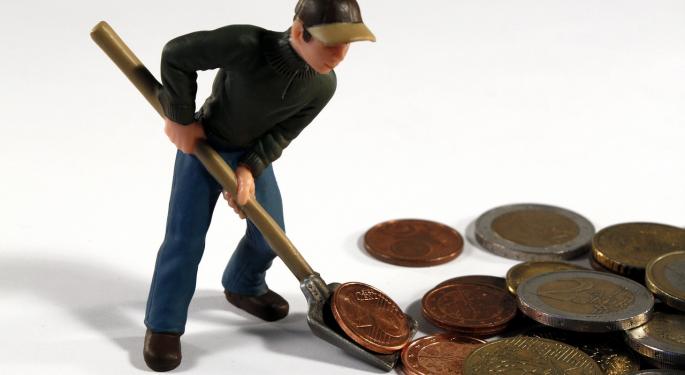 According to the Organization for Economic Co-operation and Development (OECD), a minimum wage worker in the U.S. would have to work 50 hours a week to get above the poverty line.
In the Czech Republic, it's even worse. A single worker with two children earning minimum wage would have to work 79 hours each week to rise above the poverty line there.
For most people, the obvious solution is to raise the minimum wage.
Andrew Zatlin, founder and editor of Moneyball Economics, is not most people.
Related Link: How Gambling And Prostitution Can Predict Economic Activity

Benzinga: After looking at the OECD chart, what's your overall impression?

Andrew Zatlin: It's terrible to be Czechoslovakian these days; that's for sure.

BZ: Absolutely, but what about the findings?

AZ: Yeah. I want to raise my hand at this point, Teacher.

BZ: Yes, Andrew?

AZ: This is always the challenge, when you look at one single data point. Look at Ireland. Work eight hours a week and then hit the bars, right?

I think we have to look at the whole bundle of social assistance and support.

For example, in the U.S. if you're working 40 hours a week at $10 an hour, that's $400. That's not enough. But, you know what? You qualify for free food.

I don't think it's giving the discussion merit. We have to look at the other kind of benefits that are also extended by governments, social welfare and so on.

The data's not telling us what we (really) want to know.

BZ: What's that?

AZ: Whether working minimum wage is a way to get out of poverty. And the answer is no.

There's no way to say to somebody, "I'll give you another dollar per hour and you're going to go live in Bel Aire."

BZ: What is the purpose of a minimum wage job then?

AZ: I'm sorry, but McDonald's is supposed to be for a 16, 17, 18-year-old worker. It's not supposed to be for a guy trying to support his family.

Isn't that really what's going on here? When you look at, right now, today in America, we are at full employment everywhere except for youth 24 and under. There we are at horrible levels of unemployment.

When you're competing with a 16-year-old for a job that's what's messed up. That is not a formula for success.

BZ: What's the answer?

AZ: One of the things I've been focused on is Silicon Valley. Demand out here for software programming is huge. It's like, "I just landed at the airport, I know software programming." "Quick, kid, come over here, I'll give you a $10K sign on bonus."

We used to think of this (software programming) as a black box skillset that only the privileged brilliant people could master. That's not the case.

There are different kinds of software programming. In fact, software programming should be a remedial skill that's taught in high school just like you teach shop.

BZ: The answer is training?

AZ: What we have is a mismatch in what the market needs. You have all these H1 visas going out to other people to bring in that kind of skillset.

You have a big demand for these kinds of skillsets in the 21st century (digital) economy, but we don't have the training going on.

That's where we'll probably get a better opportunity.

BZ: What does an unemployed or underemployed minimum wage worker with a family do?

AZ: If you're someone trying to feed a family of four, the number one thing you should be doing is applying for some help from the government, some student loans.

You spend six months to a year at some kind of legitimate software training and you're off and running.

BZ: What about all the problems with student loan defaults?

AZ: It's a complex story. I know that the government's been criticized over the past couple of years for opening up the taps for student loans and not managing it.

The government provided money with the understanding that people would apply for loans and get the right education, and market forces would somehow come to the forefront.

I think instead, what you've seen is "Wow, easy money. I can go out and I can get a student loan, and the government isn't asking me for much in return, and now I'm gonna default on it."

I think the step was in the right direction – providing the means for people to pick themselves up.

Related Link: Exclusive: Moneyball Economist On Smoking Pot 'Keurig Green Mountain' Style

BZ: Doesn't this approach require a basic re-examination of what software programming really is?

AZ: Look, I can't maintain my car. To me that's a value added skillset. Mechanics make good money. Software programmers, same thing. It's a skillset.

You don't have to go to college and get a Ph.D. to do a website, to do basic maintenance on websites and to do basic networking. You don't. It's not rocket science. You don't need advanced degrees. You need a year in school.

At the time of this writing, Jim Probasco had no position in any mentioned securities.

Image Credit: Public Domain
Posted-In: Andrew Zatlin Czech Republic Moneyball Economics Organization for Economic Co-operation and Development Silicon ValleyTop Stories Exclusives Interview Best of Benzinga
View Comments and Join the Discussion!