Ain't Too Proud To Pitch: Detroit Startups Share Their Businesses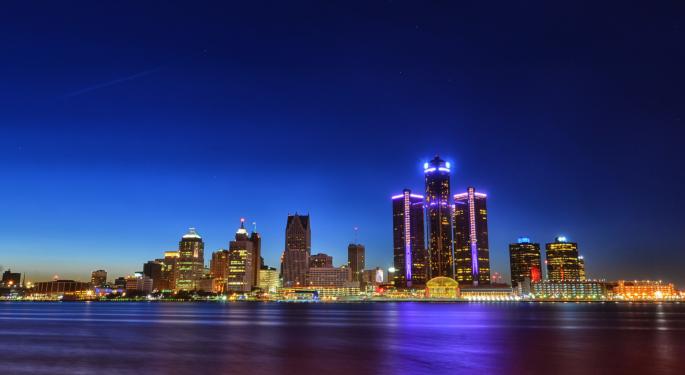 On Friday afternoon, four of Detroit's up-and-coming startups gave what were likely the most nerve-wracking pitches of their lifetimes as a part of the 'Ain't Too Proud To Pitch' panel at the College for Creative Studies.
Young entrepreneurs described their companies in front of hundreds of people to four of the most illustrious business people in the city at the time: Virgin Group Founder Richard Branson, Quicken Loans Chairman Dan Gilbert, Shinola Marketing Director Bridget Russo, and Digital Laundre Founder Adriel Thornton.
Related Link: Branson, Gilbert & Others Discuss Entrepreneurship In Detroit
Here's a look at the startups that were on display:
Floyd
According to Floyd's founders, the furniture industry had yet to adapt to changing living and consumption patterns, especially among urban millennials. The company paints itself as a "direct-to-consumer furniture brand for city living."
Floyd's ethos is that furniture should be adaptable, easy to assemble, and moveable. All of its pieces are shipped for free and fit within a small carrying bag.
The firm's signature product is a set of four metal table legs. Customers can easily use the legs to make a table, needing only find a flat surface on which to clamp them.
Floyd has a bedroom line in the works, which will include a coat rack, bench, and other products.
As of Friday, the company had sold about 10,000 units, of which 30 percent were international orders.
Original Styx
The founders of Original Styx believe that the vast majority of phone cases today are generic and impersonal, even as mobile phones play an increasingly prominent role in the average person's life. "As phones become more personal, we want to make cases more personal too," the said.
And, indeed, no two Original Styx phone cases are alike. The company recycles broke, unused wooden hockey sticks into brand new phone cases. With thousands of such sticks being thrown away each day, according to the Original Styx team, there is no shortage of material to work with.
All of their sticks are sourced and processed within the greater Detroit area.
Original Styx has done business across the United States, in each Canadian province, and in 14 European countries. The firm's long-term goal is to have partnerships with all 30 NHL teams.
Merit
Merit is a Detroit-branded clothing company that sells t-shirts, sweatshirts, hats, and accessories. The company also contributes 20 percent of its profits toward college scholarships for Detroit students.
The next step for Merit, according to its founder, is to open up a retail space in Detroit where it can "collide its commercial and non-profit activities." It hopes to initiate "cohort-based projects" with local students in which they would work for the company and acquire pre-professional skills.
The company, which has done about $110,000 in revenues, wants to expand its manufacturing relationships and build more retail partnerships.
Ali Sandifer Studio
Ali Sandifer Studio is a Detroit furniture manufacturer run solely by the husband and wife duo of Andre Sandifer and Abir Ali. The pair designs and builds each piece by themselves. They only offer their very best designs for sale. So far, only six Ali Sandifer pieces have hit the market.
The company prides itself on offering beautiful furniture built to last from locally sourced materials.
Ali Sandifer units have been sold in the U.S., Europe, Hong Kong, and Japan.
Currently, Ali Sandifer Studio is suffering from a lack of help. Without a team of employees, the couple doesn't have the time they would like to focus on designing and expanding their business.
After the pitches were over, Branson gave each team plane tickets to various locations around the world to help the entrepreneurs grow their brands.
Posted-In: Digital Laundre Quicken Loans Shinola Virgin GroupStartups Small Business Best of Benzinga
View Comments and Join the Discussion!