WWE Post-Wrestlemania Conference: A Play-By-Play Recap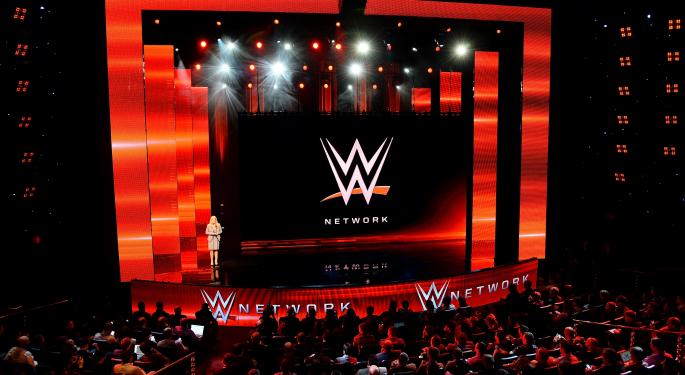 World Wrestling Entertainment, Inc. (NYSE: WWE) last week announced a special conference scheduled for Monday at 12 p.m. ET "to discuss the progress of WWE Network, including WWE Network's level of subscribers following WrestleMania and the network's 2015 programming schedule." Below is a live blog of the conference.
12:44pm: Shares of WWE trading at $14.29, down 13.5 percent.
12:43pm: Conference call has ended.
12:42pm: Fully distributed in Canada through Rogers partnership.
12:41pm: 4 billion YouTube views are important and integrating that data into Network; 70% of the way into fully monitor our Network/customer base. Cloud infrastructure has helped.
12:40pm: On bringing Sting into the company, McMahon said 'we took someone from obscurity and developed the character to make him important'
12:39pm: McMahon: Yes, we do look at different demographics in order to grow the Network
12:37pm: Barrios: We monitor steaming real-time and last night its 'performance was rock solid.'
12:33pm: On Wrestlemania success and business follow through, McMahon said 'it's all about content and quality of content.' Drive to this WM was last-minute compared to others. By and large, we have a pretty good track record.
12:31pm: Barrios: Subscription is like retail -- little things build up over time
12:30pm: Network segment $30-40M range spent in 2014.
12:27pm: Two price points for Network? Barrios says 'no' $9.99 for all programming is a good fit. Over time, we might do different things, but right now we like simplicity of $9.99
12:26pm: VOD element of the Network is powerful tool. Facebook, YouTube can help drive awareness - not just Amazon or Netflix
12:25pm: McMahon: Star quality of our Western talent is what everyone wants to see. It can help in China and globally when 'we have someone of Chinese extraction,' but would help only if they're a success
12:23pm: On approaching and monetizing China (and India): We're a strong brand in India. In China, the last 18 months has changed how brands handle digital and enter China.
12:21pm: Barrios: in its current content, $9.99 is the right price
12:19pm: 311M broadband homes in WWE's top 16 markets, half of them have person in home with some affinity to WWE. About 100M are active fans, which is how Network can get to 3-4 million subs.
12:18pm: $120M mentioned in Q4 call for Network 'might' be allocated differently.
12:17pm: Barrios: If we're showing good YOY growth every period, we'll feel good about WWE Network
12:16pm: 'Not public' with number of subs. still subscribed from free November month
12:15pm: Barrios: Q1 guidance exceeding high end of range due to PPVs; less revenue coming in is 'self-evident'
12:14pm: McMahon: Network budgets are flat. Easier to attract talent now (celebrities, tech, etc).
12:13pm: Q &A session begins.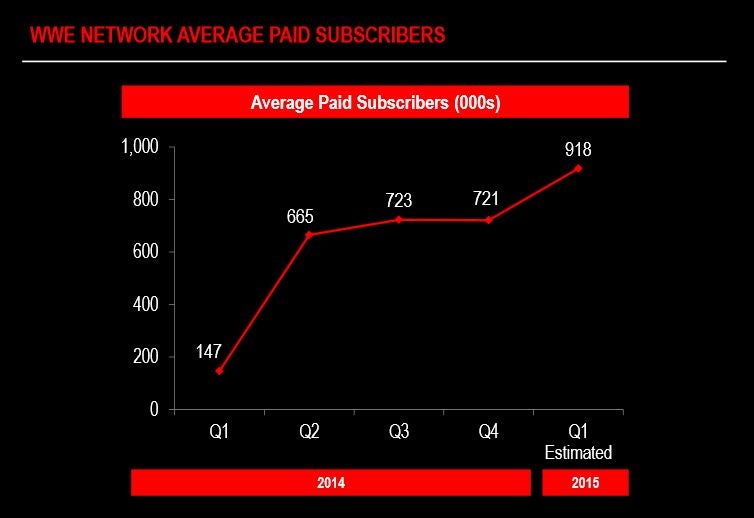 Image Credit: WWE
12:09pm 3-4 million subscriber goal
12:09pm: 201,000 trial subs. in free February month.
12:08pm Developing plans for Network launches in India China, Germany Japan, Italy
12:06pm: 8 news series with Jeff Tremaine and Jerry Springer and 'Diva Search"
12:05pm: CFO George Barrios: Touting original Network content and other companies following its model.
12:03pm Vince McMahon: WWE Network has surpassed 1.3 million paid subscribers, 97% YOY growth
12:02pm Call is beginning.
11:54am: Shares of WWE opened at $16.78 and were up more than 5 percent at $17.35 early in the session. However, shares are now down 1.7 percent at $16.24.
Here are a few related links on WWE:
Why The WWE Trade Is 'Looking Tired,' Caught In Wrestlemania Hype
Whatcha Gonna Do When Hulkamania & Cenation Run Wild On Silicon Valley?
WWE Pact Adds Further Legitimacy To DraftKings"
Could WWE Network Scare Off A Potential HBO Spinoff? Analysts Weigh In
Posted-In: Vince McMahon WrestleManiaNews Events Best of Benzinga
View Comments and Join the Discussion!