How Do You Solve A Problem Like Abercrombie & Fitch?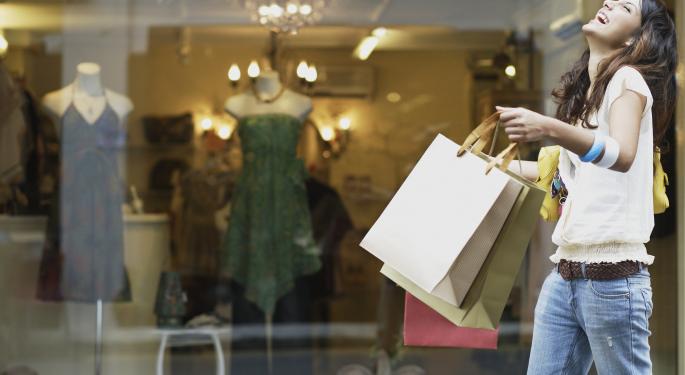 This piece contains the opinions of the author, Kristin Bentz, President at Talented Blonde, LLC, that do not reflect the opinions of Benzinga.com.
Yesterday I took a call from an esteemed colleague and retail veteran. He wanted to brainstorm on Abercrombie & Fitch Co. (NYSE: ANF) and how to fix it.
I've been probably the most vocal –and the earliest call—on how poorly the Company was executing.
But, no one out there really has commented on what exactly should be done with a retailer who has extensive brand equity, but who just took its eyes off the ball. Like WAY off. Below, some random thoughts from your favorite Blonde:
What To Do?
1. Go Private.
By taking the company private, with or without private equity partners, it allows for management and boards to spend their energy on implementing the proper longer –term strategies necessary to right the company, versus succumbing to the whims of short-sellers, activist shareholders, and public investors.
2. Close More Doors.
Like a ton. No, seriously. And don't even get me started on Europe. I've said this with regard to Macy's, Inc. (NYSE: M) and Michael Kors Holdings Ltd (NYSE: KORS) and it applies pretty much to all retail right now. You don't need more stores. You need LESS.
Especially with the Millennial consumer and 'Mini Millenns,.' The way they shop is via mobile: Curalate, Instagram, Wanelo, Flip thread, Style Thief, Rent the Runway, Wish, Gilt, Pinterest. See a pattern forming here? I do.
And it seems like teen retail managements are the last to know.
3. Gut The Stores.
Ok, the exterior and interior of $ANF's stores hasn't changed since I started covering the stock as an analyst—and that's like 15 years ago. Maybe more. I don't know, maybe I've been in a coma. If it bores me, it sure as hell is boring the consumer they are still trying to target. Take down those shutters.
Turn on some lights for God's sake. If I need a Petzl Head Lamp to see the merchandise you may want to rethink the in-store lighting. Get rid of that God-awful perfume that smells like a brothel. We get it.
Related Link:Tiffany & Co Latest Casualty In Tectonic Shift Of Consumer Preference
Fragrance is a high margin, point-of-sale add on. However, I believe you don't have to perfume-bomb the entire Mall to get your point across. If I can't send my kids to school with NutterButters, you can't pollute my personal dance space. I'll deal with Hollister, the younger, sluttier sister in a separate missive.
4. Restore Credibility.
Ok this might be easier said than done. However, the brutal truth is that $ANF has lost credibility with its once core audience. That teen is now most likely in college or beyond, so the task lies in proving its validity as a teen player in the retail space.
Along with the bastardization of the brand came a severe drop in quality. Tissue thin tanks with shoddy lace trim and sequins. And those Hoodies-where hoodies and Cargo shorts go to die. SO, the first task is reinstating quality to the brand. You can't raise price points with substandard product. And $ANF can't compete with fast fashion brands like ZARA (Inditex) $IDTX and H & M $HMB or Forever 21 and Uniqlo. So quality and fit is key.
And as most of you know, historically the Abercrombie fit was somewhat exclusionary and body-conscious, which is retail code for "skinny." From my perch I would make a broader range of fits available—and yes add the dreaded plus size or special sizes to the mix.
In case you've been trapped under something heavy, over 50% of American women are sizes 14 or higher. Think about that. You may be of the camp that plus size isn't sexy. But you know what is? MONEY. Plus size teens want the same thing as their fitter counterparts: to fit in and look good.
That's the secret sauce. Along with clothes that don't suck. Oh, and black clothing: Mike Jeffries HATED black clothing. True story.
5. Have A Point Of View.
Speaking of, after Abercrombie & Fitch abandoned its historical Sex-Prep creative,which is advertising jargon for the visual way the brand is represented—it completely lost any identity or point of view. It was Logo-phobic.
If you look at Abercrombie's Instagram account, the images of fresh-faced teens and NON-LOGO apparel could be ANY BRAND. Which begs the question: What does Abercrombie MEAN as a brand? Perhaps now the brand can re-write its history.
Perhaps the answer lies with 'Baller Brands.' You know, like J.CREW when it brought in Barbour and now Lacoste.
Partner with external brands and designers to lend credibility back to $ANF. I'm just free-associating right now. It happens when I've had wayyyyy to much coffee. Clearly I've noodled on this. Maybe its Toms Shoes, or Converse, or Frye Boots?
Or VANS? Or sweet Nike Inc (NYSE: NKE) DUNK SKY HI VAC TECH sneaks.
(Spoiler alert: they're sold out but you get the gist.)
Maybe they partner with a tech brand like GoPro Inc (NASDAQ: GPRO) where if you share your pics/video/selfie in your fave $ANF "look" you get XYZ. Or, perhaps the brand uses real life teens as its new brand ambassadors.
Taken from an individual's Instagram page, $ANF's own following on Instagram could vote for the "new" faces of Abercrombie & Fitch. Allowing its (new?) customer base the choice of who is cool and who they want to represent them and the brand.
The benefit here is two fold: new talent discovered by Abercrombie's own customer base, and live real- time data mining of taste and preference of a demo that they've clearly lost.
Posted-In: News Retail Sales Opinion Trading Ideas Best of Benzinga
View Comments and Join the Discussion!