Gas Prices Continue To Fall, Great Lakes See Biggest Benefit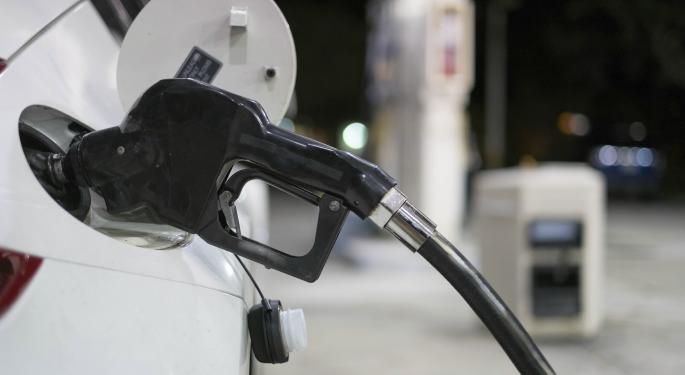 Only a mountain top cave dweller would have missed the fact that gas prices, in general, have been falling for months.
According to GasBuddy.com, the Detroit area has enjoyed what the rest of the country has enjoyed – and then some.
Beating The National Average
GasBuddy reported Monday that average retail gasoline prices in Detroit had fallen more than $0.11 per gallon over the past week, averaging $2.51 per gallon as of Sunday.
Nationally prices were down $0.083 per gallon in the past week and stood at $2.57 per gallon on average.
These numbers put gasoline in Detroit at an astonishing $0.636 per gallon lower than the same day a year ago and $0.41 per gallon lower than one month ago.
Related Link: GasBuddy: Lowest Gas Prices Of 2014 Unfolding Right Now
Why Detroit?
Benzinga reached out to GasBuddy senior petroleum analyst, Patrick DeHaan, for some explanation about the significantly lower prices in Detroit.
According to DeHaan, "Detroit's level of competition and diversity of stations brings prices down faster than what we see in other areas."
DeHaan also noted that, historically, the entire Great Lakes region sees more benefit when gasoline prices drop.
"In general," DeHaan said, "the Great Lakes (Michigan, Indiana, Ohio) see the largest drops of any states in the nation when prices slide."
Tracking Can Save $
"Stations fill their underground tanks every 3-5 days," DeHaan said. "As prices keep sliding, some stations get access to cheaper gasoline faster, and adjust their prices accordingly."
For motorists, this means keeping track of current prices in a given area can make a big difference at the pump.
Many drivers have come to know and use GasBuddy's mobile app, which allows users to find and share gas prices with fellow drivers.
The app, available for iPhone, Android and Windows Phone as well as online, is free.
Related Link: Is $2 Gasoline Good News For Autos? Morgan Stanley Says Not Necessarily
Where's The Bottom?
There has been much speculation about the price at which oil and gasoline will bottom out. Some have speculated about $50 Brent crude oil in 2015.
DeHaan said he believed WTI would bottom out between $53 and $57 per barrel. He said the price floor could be imminent.
"We hit $57/barrel last Friday," he said, "so we may be getting close to seeing oil bottom out. The danger point is something we're facing already- some prices of Canadian oil are in the $30s, with some Bakken crudes in the $40s.
At the time of this writing, Jim Probasco had no position in any mentioned securities.
View Comments and Join the Discussion!
Posted-In: Detroit Gas Buddy GasBuddy Great LakesTop Stories Economics Exclusives Markets Best of Benzinga