Bond Market Rallies To Yearly Highs On The Back Of Weak Data, Falling Equity And Oil Prices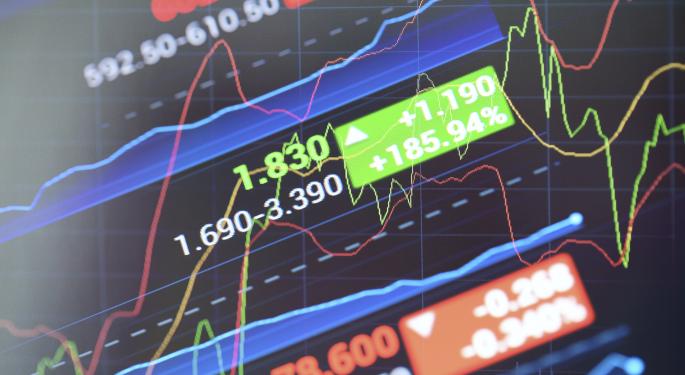 In extremely volatile trading Wednesday morning, the yield on the 10-year U.S. Treasury note traded as low as 1.86 percent before moving sharply back higher to the psychological important 2.00 percent level.
The previous low yield for the year was 2.18 percent, and bond yields have been as high as 3.03 percent within the last year.
In coupon bearing bonds, yields move inversely to price. This low yield represents a 52-week high price for 10-year notes.
The recent rally in bond prices will bring down borrowing cost for consumers. Interest rates on mortgages and autos will continue to fall. These loans are often priced as a spread to the underlying U.S. Treasury security. As the interest rates 30-year bonds, 10-year and 5-year notes decline part of the cost savings that are passed on from the banks and other financial institutions to their borrowers in the form of cheaper loans.
Related Link: Dow Tumbles More Than 300 Points, Its Worst Day Of 2014
The catalyst for Wednesday's move was weaker than expected retail sales, and the N.Y. Fed's Empire Manufacturing data. Both releases were well below street expectations, fueling concern about slowing growth in the United States on the back of already week global economic concerns. Advanced Retail sales fell -0.3 percent versus an expectation of -0.1 percent and a previous month of +0.6 percent. The decline in sales was broadly based. The Fed's N.Y. Manufacturing Index fell to 6.17, well below street expectations of 20.25.
Producer Prices moderated with core PPI falling to 1.6 percent from a prior 1.8 percent. This data was in line with expectations.
The U.S. Treasury market continues to see an inflow of funds, as global investment capital is reallocated out of riskier assets such as equities and oil into the safer "risk-off" environment of U.S. government bonds.
Overseas bond markets continue to slide to year-to-date lows in yields, making the U.S. bond market an attractive alternative. Foreign central banks and overseas investors can both pick up yield and gain currency appreciation when buying U.S. dollars and investing those dollars in the bond market. Recent comments by Fed officials suggesting a more dovish approach to raising rates after QE3 has quelled fears of an imminent rise in yields when the asset purchases are ended later this month.
Related Link: Why Everyone Is Talking About The Five "E"s Of Worry
The U.S. Treasury market is also benefiting from safe-haven buying. The recent escalation about concerns over Ebola combined with geo-political concerns in Europe and Asia have many institutions moving money into the liquid front end of the fixed-income market. Strong inflows have been seen in both the U.S. T-bill market and institutional money market funds over the past few weeks.
Wednesday's sharp rally may bring on a period of consolidation. Extreme price ranges are often a sign of capitulation by market participants. Last week, a new tranche of U.S. 10–year notes were auctioned at 2.38 percent. Wednesday's low yield of 1.86 marks a drop of 52 basis points in a week, the largest one-week move in several years.
View Comments and Join the Discussion!
Posted-In: News Bonds Treasuries Markets Best of Benzinga