How Raytheon Company And General Dynamics Corporation Could Benefit From The ISIL Announcement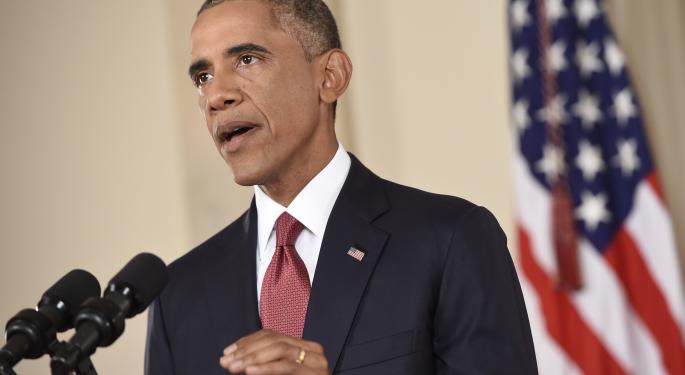 President Barack Obama made a big announcement Wednesday night.
In a change to previous policy, he laid out a plan to "degrade and destroy" the Islamic State, also known as ISIL, by expanding the air campaign in Syria (previously limited to Iraq), where the terror group has its base of operations.
According to President Obama, the intensity of the bombing will also be ratcheted up.
The actions may very well result in at least a short-term benefit to companies such as Raytheon Company (NYSE: RTN) and General Dynamics Corporation (NYSE: GD).
Related Link: 3 Middle East ETFs To Watch Amid President Obama's Speech
Paving The Way
Raytheon builds the Paveway Laser Guided Bomb (LGB) system, which converts "dumb" iron bombs into precision munitions that use GPS technology. It is possible that any military action in Iraq and Syria will involve LGB's dropped from aircraft flown by the United States and possibly other countries.
The Raytheon Patriot missile system might also be deployed in the area to protect ground forces from surface-to-surface missile attack from ISIL forces. The system saw a good workout during the Gulf War, protecting coalition troops from Iraqi Scud attacks.
General Dynamics Is On The Mark
Also expected to be used extensively in an expanded bombing campaign is the Mark80 series of bombs. These can be used either as an unguided weapon dropped by heavy bombers -- such as the B-52 Stratofortress and fighter-bombers like the F-16 -- or as the warhead section of the Paveway LGB package dropped by F-18 Super Hornets, F-16 Fighting Falcons, and F-15 Strike Eagles.
The bomb casings are manufactured by the Ordnance and Tactical Systems division of General Dynamics.
The decision by President Obama to expand the battle against the Islamic State to Syria and to increase the intensity of bombing activity will almost certainly benefit American defense contractors.
Posted-In: Barack Obama ISIL ISIS President ObamaGlobal Top Stories Best of Benzinga
View Comments and Join the Discussion!