Gas Prices May Continue To Fall For Labor Day Weekend And Beyond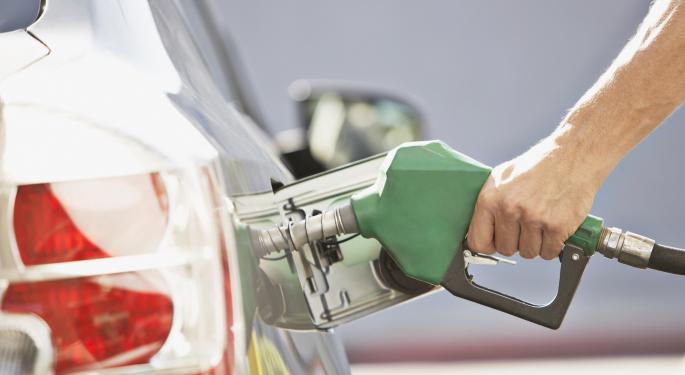 For anyone planning to drive over the Labor Day weekend, the gasoline price news is good.
GasBuddy.com chief oil analyst, Tom Kloza spoke with Benzinga last week and said, "Generally, I see gas prices hanging around where they are now for the next two weeks, or through the Labor Day weekend."
As of 2:40 a.m. ET, the GasBuddy Morning Benchmark price per gallon in the United States was $3.42. However, Kloza said any active purchaser could probably find gas for an average U.S. price of about $3.35 per gallon.
It Gets Better
According to Kloza, in the last 100 days of 2014, the average price of gasoline should drop to $3.20 - $3.25 per gallon.
Related Link: Busy Refineries Push Summer Gasoline Prices Down
Consumers who shop around, including those who use the free GasBuddy app, could easily shave another $0.15 to $0.20 off the per gallon price, Kloza said.
Overall, according to Kloza, 2014 gas prices will prove to be similar to but below numbers seen in 2011, 2012 and 2013.
While he does not expect post-Great Recession prices approaching $2.70 per gallon, Kloza said he does believe 2015 will see a continued "cooling trend" when it comes to gasoline prices.
Diesel Prices
Kloza pointed out that it's not just gasoline that has moved lower. He suggested the Labor Day week could possibly see the lowest prices for diesel fuel since 2010.
Putting it in context, Kloza noted that diesel prices were only modestly below the lows of 2011-2014.
Refinery Issues
Kloza expects occasional "tightness" in some areas of the country related to refinery maintenance or even as a result of high run rates. However, Kloza doesn't think it will affect the hefty drops in prices he anticipates for the last 100 days of the year.
"To a certain extent," Kloza said, "the most competitive numbers we now see in some markets (at or below $3 gal in about a dozen states) represent a preview of where some of the averages may be in October and November."
Regional Pricing
From a regional perspective, California and the Pacific Northwest should see the highest prices, but still below $4 per gallon.
Kloza explained that because the West Coast isn't getting the new cheaper light tight oil from shale, those refiners have higher crude oil costs than refiners from the Rockies to the East Coast.
The cheapest markets, he said, should be the Gulf Coast states and the Southeast; also included are the Great Lakes, the Great Plains and the Rockies.
The Northeast may be a little spotty, according to Kloza, because of refinery maintenance and low imports.
In general, however, Kloza said he expected nearly all states to see "gas prices appreciably lower in late September when compared with late August numbers."
Related Link: Barclays Adjusts Ratings For Major Refineries
Role Of Geopolitics
"Traders who bought crude oil futures or gasoline futures on the premise of violence in the Middle East," Kloza continued, "had their proverbial keisters handed to them with the summer sell-off."
As a result, Kloza said, "They will not be inclined to buy crude oil or crude oil futures until violence actually threatens specific ports where cargoes are loaded."
Of course, Kloza pointed out, the world is a dangerous place, and most areas do not have the luxury of plenty of local supply like North America does. Kloza still sees the United States as somewhat "insulated" thanks to considerable domestic output along with that of both Canada and Mexico.
"Hence," he concluded, "a further disruption in Iraq, or Iran, or even in Saudi Arabia would have much greater ripples in continents other than North America."
At the time of this writing, Jim Probasco had no position in any mentioned securities.
Posted-In: gas gas prices GasBuddyCommodities Travel Economics Markets General Best of Benzinga
View Comments and Join the Discussion!