Coach's Victor Luis Recaps 'Challenging Year' During Conference Call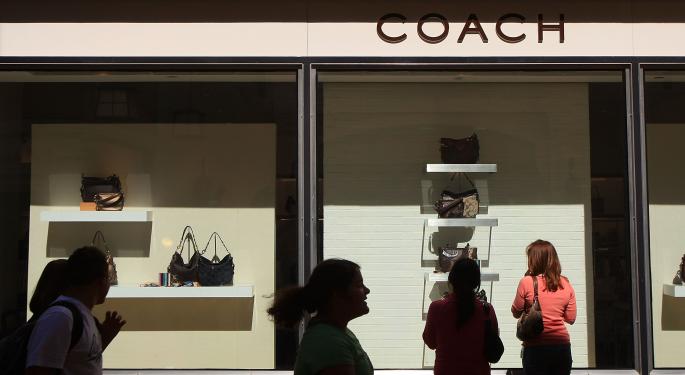 On Tuesday Coach (NYSE: COH) reported its fourth quarter results in which the fashion retailer earned $0.59 per share, topping the consensus estimate of $0.53.
Revenue of $1.14 billion also beat analyst expectations, who were projecting $1.09 billion in revenue.
Following the quarterly report, management hosted a conference call with analysts.
Quarterly Highlights
Victor Luis, Coach's Chief Executive Officer, began his prepared remarks by stating that fiscal 2014 was a "challenging year" for the company, especially in the North American women's bag and accessory business. Nevertheless, the year also included positives, such as the integration of the company's retail business in Europe surpassing $500 million in sales in China and expanding sales to men to around $700 million globally.
"Most importantly, we laid the groundwork for our transformation to a modern luxury lifestyle brand across all key consumer touch points: product, stores and marketing," Luis said.
Recently, Coach welcomed the arrival of Stuart Vever, who assumed the role of executive creative director. In February, the company hosted a fashion week presentation, which was well received and praised.
During the quarter, Coach closed six North American retail locations while opening two net new outlets. At the end of the quarter, the company counted 332 retail locations and 207 outlet locations in North America.
In terms of financials, total net sales during the quarter fell to $1.14 billion from $1.22 billion a year ago, driven by a 16 percent drop in North American sales to $691 million from $825 million a year ago. Net income for the quarter fell to $75 million from $221 million. For the entire fiscal year, net income fell to $781 million from $1.03 billion a year ago.
Net cash from operating activities during the quarter fell to $316 million from $375 million, while free cash flow also declined to $254 million from $293 million a year ago.
International sales rose 7 percent to $414 million from a year ago, while sales growth in China outperformed the company as a whole with a 20 percent growth rate as the company opened six new locations, bringing its total store count in the country to 153 locations.
Strategy And Outlook
According to Luis' estimations, Coach holds a combined market share of around 23 percent of the $12 billion men's and women premium North American market.
Luis explained that sales of leather goods continues to outpace products that feature the iconic Coach logo, and the company believes it can benefit from the trend "given our heritage in leather goods."
Lifestyle categories such as footwear is also performing well. The company relaunched its footwear assortment in 170 retail locations, and the company remains focused on gaining market share in the $25 billion global premium footwear category.
The men's category is expected to grow faster than women's at around 10 percent over the next five years, according to Luis. Coach continues to expand its presence in men's through new standalone and dual gender stores. Despite the favorable trends, Coach announced it now expects to achieve $1 billion in men's sales in fiscal 2017, one year later than its original target.
Luis reiterated his intent to restore productivity in North America by closing underperforming stores and rebuilding flagship stores in the top 12 markets. Also, Coach plans to change its presence inside retailers and department stores by implementing more open, accessible and fully branded displays.
Finally, Coach plans to alter its promotional strategies to reduce the volume of promotional messaging and sales through online store events.
Luis guided that its global square footage across all channels will increase by around 2 percent in fiscal 2015, compared to 7 percent in fiscal 2014.
Jane Hamilton-Nielson, Coach's chief financial officer, expects the company will save $70 million in fiscal 2015 and $150 million in ongoing annual savings beginning in fiscal 2016 as part of the company's new plans.
Notable Quotes
Victor Luis on China: "Market dynamics are changing with the emergence of many new large-scale shopping malls, and there will be clear winners and losers among retail developments going forward."
Jane Hamilton-Nielson on dividends: "So [we] feel strongly about our ability to continue to support our dividend. We are committed to our dividend, and as we said, as our transformation takes hold, we would expect to grow our dividend with our net income growth, and that's our long-term outlook."
Jane Hamilton-Nielson on comps: "We expect that our in-store comps will improve moderately throughout the year, but the impact of EOS will be greater through the year. So aggregate comps will be relatively stable over the course of the year."
Victor Luis' closing remarks: "As a company, this team has an amazing track record of transformation, business success and driving shareholder value, and our management team has clearly understood and embraced the need for change, the need to innovate, and to evolve in what is a rapidly changing market. Our plan is bold, and I certainly could not be prouder of the steps we have already taken in bringing Coach, the creative talent to innovate and to bring excitement and resonance to our brand across all the consumer touch points we have been sharing with you."
View Comments and Join the Discussion!
Posted-In: Coach fashion retailers Stuart VeverNews Management Events Best of Benzinga