Is Beats Developing Apple's Next Groundbreaking Device?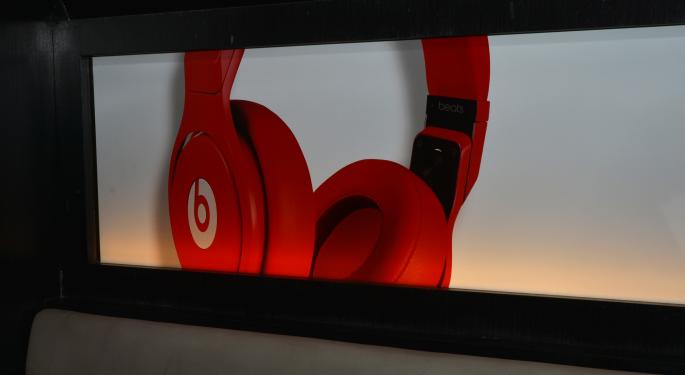 Apple (NASDAQ: AAPL) will pay $3 billion to acquire Beats Electronics this year.
Many have wondered what Apple plans to do with a company that is mostly known for style and celebrities. Others have argued that Apple should have acquired Spotify instead.
Before the official announcement was made, The Verge's Sean Hollister speculated that Apple might acquire Beats to build cool, wearable technology.
"My hunch is that if Apple is buying Beats, it's because Apple is ready to announce the iWatch," Hollister wrote. "It just needs Dr. Dre and Jimmy Iovine to wear one."
That's certainly a possibility, but what if Apple's plans are even bigger than the potential hype for a new watch?
Peter G. Tapling, President and CEO of Authentify (a provider of automated authentication services), has an intriguing theory that explains why Apple purchased Beats.
"Whether or not Apple has this in mind is pure speculation, but many of the biometrics that will become common in the future need a wearable device," Tapling told Benzinga. "Apple just acquired a very 'wearable' assortment of devices with the Beats technology. Imagine a heart rate, blood pressure, vein print built into devices millions of folks wear voluntarily already -- headphones."
Related Link: Was Apple Smart to Buy Beats Over Spotify?
Tapling said that phones have already become multi-purpose devices (a camera, a video recorder, a personal organizer, etc.). If users are going to have another device around, such as high-end headphones, why not make them multi-purpose as well?
"I can envision 'what you listen to' and your entertainment preferences becoming a behavioral metric," Tapling added. "Is Apple thinking that far ahead? People were skeptical when it became clear they were getting into the phone business…"
Apple's full 2014 product lineup is not yet known.
However, the company's SVP, Eddy Cue, recently said that Apple's 2014 lineup is the best he has seen in his 25-year career.
Disclosure: At the time of this writing, Louis Bedigian had no position in the equities mentioned in this report.
Posted-In: Apple Authentify Beats Electronics comments Dr. DreNews Rumors Tech Best of Benzinga
View Comments and Join the Discussion!