Eric Scott Hunsader Of Nanex LLC Talks Flash Crashes & Why The Markets Are Rigged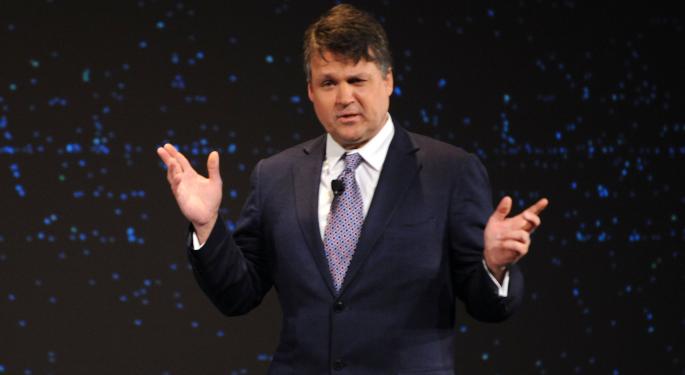 Eric Scott Hunsader combines his 25-year plus years of experience developing successful real-time trading software and founded Nanex in 2000.
Nanex develops NxCore, a high-performance ticker plant technology that delivers Telvent DTN's whole market real-time streaming data service (sales, exchange reporting, and network access to direct financial data feeds) to a trader's workstation or desktop computer.
Hunsader was a guest on the Benzinga #PreMarket Prep on Monday and talked about last week's mini-flash crash in nearly twenty stocks, the flash crash of 2010 and why Michael Lewis is right in saying the markets are rigged.
Hunsader is best known as being one of the first individuals to identify "mini-flash crashes" in individual stocks. When at least 177 stocks experienced a sudden mini-flash crash on May 13 at the same time.
Hunsader was one of the first to issue reports and notify the investment community through his Twitter handle.
"It happened at 15:49 and 41 seconds exactly, and that's unusual," Hunsader said to start off the conversation on Benzinga's #PreMarket Prep. Hunsader added that these mini-flash crashes are surprisingly quite common with "about a hundred a day" of these "mini flash-crashes" occurring daily.
See also: Michael Lewis Is Right, The Market Is Rigged - To The Upside
Recently, shares of Anadarko Petroleum (NYSE: APC) within one second dove from over $90 a share to just one penny before returning to its normal price range. "Mini-flash crashes" like the one that occurred in shares of Anadarko can easily be spotted on a one-minute chart.
Ironically enough, with circuit-breakers in place to prevent wild and unpredictable swings in stock prices, a stock will trade to within the penny of its upper and lower limit.
According to Hunsader, high-frequency trading algorithms take advantage of the known upper and lower limits in place with the circuit breaker and use this information to their advantage. These algorithms understand that a stock is irrationally trading lower or higher and can rapidly place orders and profit when the stock's price "corrects itself."
Hunsader has his views of what caused the most well-known flash-crash which occurred in May of 2010.
"That was from the market-makers hitting their full, so as soon as they got full, the most they were willing to take which was about two dozen [S&P 500 e-mini] contracts), they just dumped it hard on the market," Hunsader said. "I think they took advantage of the knowing 'hey I'm going to dump these two dozen e-minis, I might as well grab a bunch of options and short some stocks while I'm at it."
"They dampened volatility until they reached a breaking point and then they took 40 minutes of volatility and compressed it down to one millisecond."
Moving back to today's market environment, Hunsader believes another flash-crash is due.
"You always have these news events that really get a lot of more people involved watching the markets," said Hunsader. "When you get these big 'trending days', and we haven't had many of those big trending days. We are going to get one and some system will break or some circuit-breaker software will not work as expected."
Hunsader was asked what he thinks of Michael Lewis and his recent book Flash Boys, which refers to the stock market as being rigged against small-time investors.
"I sent [Lewis] an e-mail and said the choice of the word rigged is spot on," Hunsader said. "It is rigged."
An exchange such as Nasdaq will send two sets of quotes, Hunsader explained. The first set of quotes is intended for the small-time retail investor and travels through 40 miles of cables before it can be distributed and transmitted to the investors' computer.
The second set of quotes, on the other hand, have only one thousand feet of distance to travel to direct feed customers.
"The laws of physics tell you right flat out that there is no way [the Nasdaq exchange] can send [stock quotes] 40 miles in the same amount of time it takes to send it out one thousand feet."
One third of Nasdaq's profit is derived from individuals who pay over $100 a month for access to private feeds, according to Hunsader. These individuals are considered a "pro trader" while non-pro traders pay roughly $1 a month and rely on the slower data feed that travels 40 miles.
What makes the market rigged, according to Hunsader, is the fact that individual investors who receive the "slow quote" may not be aware of the fact. Technically speaking, smaller investors are not receiving accurate real time quotes.
Granted, the difference in time between the "slow quote" and the "fast quote" is milliseconds. Nevertheless, more than two and a half million individuals pay collectively close to half a billion dollars a year for the "fast quote."
Bottom line, according to Hunsader, the market has become a situation where "heads I win, tails you lose."
View Comments and Join the Discussion!
Posted-In: Circuit Breakers Eric Scott Hunsader Nanex NASDAQTop Stories Trading Ideas Interview Best of Benzinga