CrowdRise Raises $23 Million To Make Fundraising 'Crazy And Fun'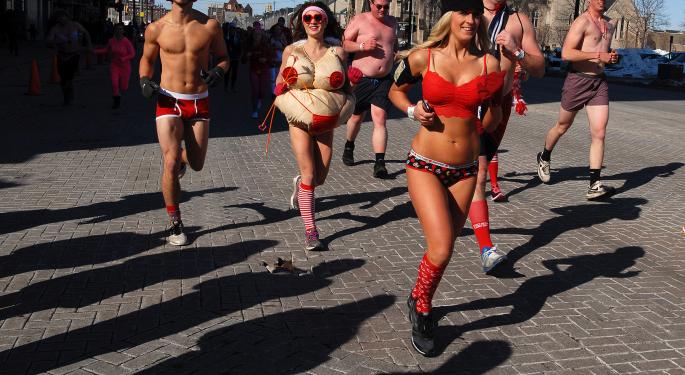 Is it fun to raise money for charity?
It can be. Over the past two years, Benzinga's Jason Shubnell stripped down to his skivvies and ran a mile in freezing weather to support the Children's Tumor Foundation.
"Sure, many of the people were there to party and drink, but all of our money went to a great cause," said Shubnell. "And, being near naked in the cold, it brought out some characters."
That event isn't the only way for people to have fun while giving back. In 2012, Tony Cerame raised more than $3,000 for the National Multiple Sclerosis Society after promising to endure the "worst thing imaginable" -- a live performance by Creed. The catch was that he had to stay sober the whole time.
In 2013, Cerame raised $4,498 after agreeing to sit through The Backstreet Boys -- also while remaining sober.
Cerame used CrowdRise, an online platform that supports crowdfunding projects for charitable causes, to implement and promote both of his campaigns.
Related: Standpoint Research's Ronnie Moas Just Made It Safer And Easier To Give Back
Rising Fast
CrowdRise was founded by Robert and Jeffrey Wolfe (the men behind Moosejaw), Edward Norton (the famous actor from Fight Club and American History X), and Shauna Robertson (whose film production credits include Elf and The 40-Year-Old Virgin).
This week the company announced that it had closed a $23 million financing round that was led by USV, along with co-investors Spark Capital and Index Ventures, and additional financing from Jeff Bezos' personal investment company, Bezos Expeditions. James Packer and Brett Ratner's RatPac, CAA Ventures and United Talent Agency's venture fund provided some capital as well.
They joined the previous list of investors, which included Twitter co-founder Jack Dorsey, Google Executive Chairman Eric Schmidt, Lightbank (the technology investment vehicle from Eric Lefkofsky and Brad Keywell), Chris Sacca, Specific Media's Chris and Tim Vanderhook, and High Line Venture Partners.
"We wanted to make giving back fun," Robert Wolfe, co-founder and CEO of CrowdRise, told Benzinga. "Our vision is that we can change the world and have an impact because people actually like giving back. There are so many fundraisers on CrowdRise that are really crazy and fun."
Some people have offered to dye their hair blue. Others have said they'll get a tattoo. It's all rooted in the idea of sacrificing something to raise money for a cause.
Wolfe didn't build CrowdRise for the Red Cross or other big charities. He and his co-founders wanted to create a platform that could help fundraisers that were unable to promote their causes on their own. But after seeing how effective CrowdRise has been for its users, others took notice.
"A lot of the big causes are using CrowdRise as their official, sole fundraising platform," said Wolfe.
Having Fun - Every Step Of The Way
Aside from helping as many causes as possible, Wolfe said that CrowdRise's most important goal is for everyone involved -- including those who donate -- to have fun.
"You don't need to be burdened into it," said Wolfe. "You don't need to be guilted into it. You can flip it and make it awesome."
CrowdRise fundraisers will remain on the site forever. Wolfe compared this to an individual's professional life that appears on LinkedIn.
He said this is "particularly compelling" to younger individuals who want to share the various ways in which they give back.
Disclosure: At the time of this writing, Louis Bedigian had no position in the equities mentioned in this report.
Posted-In: Benzinga comments CrowdRise Edward Norton Jason ShubnellNews Success Stories Tech Best of Benzinga
View Comments and Join the Discussion!