Author/Trader Anne-Marie Baiynd Discusses Market-Winning Strategies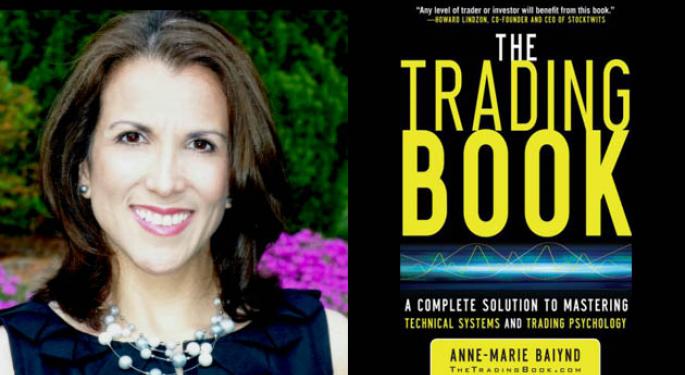 Anne-Marie Baiynd is a trader, author and financial analyst best known for her book, The Trading Book Course: A Practical Guide to Profiting with Technical Analysis.
Baiynd was the guest on Benzinga's #PreMarket Prep earlier this week, and was eager to share her experience and knowledge.
Baiynd, a neuro-science researcher turned financial whiz -- because she was "tired of eating ramen noodles" -- has dedicated the past several years towards mastering the market after initially failing. "I was very bad in trading," she admits, "because what I thought what was happening wasn't what was actually happening," and adding that her initial experience "was an absolute train-wreck."
Related: Meisa Bonelli Talks Tax Strategies For Traders And Embarrassing Tax Questions
But Bayind understood her initial failure and developed a system, which combines several indicators that ultimately result in a buying decision, and which are the basis of her books. Some indicators are standard technical analysis tools such as Ballinger bands, support and resistance levels, Fibonacci.
But won't it be confusing following more than one indicator?
According to Baiynd, "if I am looking at a Fibonacci, and I see a specific line that appears to be important, my brain will go to, 'alright, what else corroborates that particular line of support and resistance.' If nothing else is corroborating it, I throw that to the side."
The market, or rather more specifically a stock chart, she says, always tells a story. There is always an "argument" or "noise" where buyers and sellers are "arguing."
Let the "big money" argue, Baiynd advises traders. "We don't need to get involved in their fight."
"We look at the chart for movement and motion, and then say, alright, is there anything in the way of that move coming down in to the next area of support," Baiynd explained. Sometimes, it could be as simple as a basic moving-average, which is a support tool, and not an indicator to make an informed decision.
A trading event should occur in the space where the least amount of "arguing" occurs, specifically in places in inflection, and not stagnation.
"The market is generally neurotic and it turns behind to see where it was," Baiynd added, "to test the regions where it was, before it decides where to go and always looks in the rear-view mirror."
Trading psychology is an important facet of trading, and Baiynd has plenty of knowledge in this area.
"We would all love to say we are so logical," she explained. "But we aren't."
Trading psychology is the most important area that a trader needs to focus on after mastering technical analysis, but before placing that very first trade, Baiynd argues. If an investor has an impulse personality in life, it could blow over in to decision-making in the market.
The key element to becoming a good trader is consistency. The key to improving consistency is to, obviously enough, is to consistently make good decisions.
Making good decisions on a consistent basis may seem easier said than done. Baiynd advises traders to understand what the thinking is that leads to bad decisions.
She provided a personal example of how she became a contrarian trader by nature, before realizing that a better strategy would be to follow market trends.
"I just said, I don't need to be a contrarian," she remembers. "I don't have a 'bazillion' dollars to move the market, so I'm just going to become a follower, the best follower that I can be."
Bottom line, if a trader claims to understand what is going on in the market while their account balances continue to decline, "it means you might know what is going on, but you are not making the right choices."
And that is one of the toughest (but most important) pill for a trader to swallow if they want to improve their performance.
Posted-In: Anne-Marie BayindNews Technicals Psychology Media Trading Ideas Interview General Best of Benzinga
View Comments and Join the Discussion!