What's Going On In Ukraine? A Local Perspective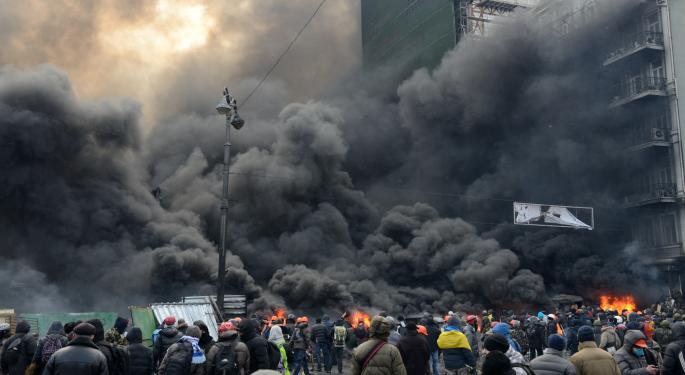 This piece gives a glimpse into the present day realities of several individuals on each side of the spectrum through exclusive interviews. For security reasons, the interviewees have chosen to remain anonymous.
When the U.S.' February Personal Spending beat expectations by 0.3 percent, markets didn't even blink. When the U.S. February PMI figure emerged stronger than expected by 1.2, there was silence.
Instead, Investors held their breath as Ukraine's fate remained suspended. The indicator of choice can't be as easily quantified, but could have a colossal effect on the markets.
See also: What You Need to Know About The Crisis In Ukraine
You know it as self-determination: "the right of peoples to freely determine their political status and freely pursue their economic, social and cultural development."* Sounds simple enough, right?
But where are the lines drawn when the makeup of a country has more in common with a fragmented mosaic than a smooth uniform landscape?
The most recent Ukrainian census (2001) revealed the following ethnic breakdown:
77.8 percent Ukrainian
17.3 percent Russian
0.6 percent Belorussian
0.5 percent Crimean Tatars (just to name a few) 
Zoom into Crimea, a Russian territory up until 1954, the lines become even blurrier: it's 58.3 percent Russian, 24.3 percent Ukrainian and 12.2 percent Crimean Tatars, a Turkic ethnic group.
Ethnically, linguistically and politically divided they stand, but should that be the case?
At the one extreme, there are some in Ukraine that claim that seceding from Russia was a fundamental mistake and at the other end there are those who want to join the EU and NATO at any cost. However, the uproar of "we are not separatists, but we are federalists", during numerous protests countrywide most accurately captures the essence of the struggle.
Depending on the geographical location fact easily becomes confused with opinion or vice versa.
Fact: Russian troops seized public infrastructure and military bases in Crimea.
Fact: Ukraine mobilized its troops in response.
Fact: The U.S. and the EU condemned Russia's actions and threatened with sanctions.
Opinion: Russia's, Ukraine's and the U.S.' and EU's actions were (not) justified.
More blurred lines.
When residents were asked what their views are on the actions of Russia, Ukraine, the U.S. and the EU, they answered the following:
An elderly Ukrainian couple, retired after working on a coal plant in Donetsk, a pro-Russian town in eastern Ukraine, stated "Putin is a strong leader and it is this leadership that will protect us from the chaos engulfing our homeland…those who came to power in Kiev did so in self-interest… not for the greater good of the entire people." They have lived in Ukraine for the majority of their lives.
Meanwhile, a progressive Ukrainian teacher from Poltava, a pro-Ukrainian town in Western Ukraine, says, "After the dissolution of the Soviet Union we became an independent nation on paper, but in the practical sense we remained in the post-Soviet sphere of influence. Now because of those who died in the Maidan we now have another chance to be truly independent. Other countries have no right to meddle in our fate." Two of her children currently reside in Moscow.
Both sides feel the pressure; be it social or economic. The elderly couple voiced their concerns: "The main difference between now and two weeks ago is that we are more afraid to go outside as we hear about assaults every night."
The teacher's response echoed some other fears, "More and more of my salary is spent on food and I hear gas prices are going to rise…economic collapse may be too high a price to pay."
Additionally, both mentioned the need for peaceful resolution and legitimate elections.
A Ukrainian, a Russian, a Ukrainian in a pro-Russian town, a Russian in a pro-Ukrainian town.
They're all two sides of the same coin. Though, divided they may try to stand, their cultures, economies and histories are all inevitably intertwined, just as their problems (and respective solutions) will be.
All four regions mentioned above have added fuel to the fire and tried to compartmentalize issues and peoples that all go together. All four have fallen into a counterproductive spiral of black and white thinking.
Rampant accusations and the usage of slogans like 'Cold War over Crimea' bury the bigger picture of Ukrainian peace, reform and self-determination under layers of ulterior motives with just a dash of hypocrisy.
Whether the UN Security Council or another neutral body can empathetically refocus and reframe the lens before it shatters remains in the opinion pile. The major (and only) precedent set thus far is that divided we stand and divided we'll fail.
*Definition is courtesy of the UN Office of High Commissioner for Human Rights.
Posted-In: Crimea Donetsk European UnionNews Topics Global Interview General Best of Benzinga
View Comments and Join the Discussion!