Tesla Short Interest Doesn't Change As Shares Rocket Higher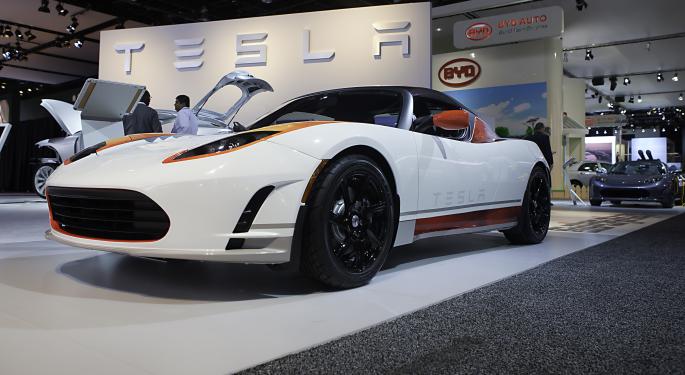 SunGard's Astec Analytics measures real time security lending, which correlates extremely well with short interest. In an exclusive interview with Benzinga, Tim Smith discussed Tesla's (NASDAQ: TSLA) change over the past several days and months.
"There are about 20 million shares outstanding," stated Smith. Surprisingly, he pointed out that this figure has not drastically changed in the first half of the week.
This has two key implications. First, when shares fell Monday on rumors of a recall, the vast majority of the 4.4 percent drop was longs closing positions rather than shorts knocking shares down. Second, the majority of shorts did not cover their positions on Tuesday's 15.7 percent climb. If shares continue to rise , a short squeeze is likely, possibly contributing to Thursday's four percent jump.
Looking back at 2013 security lending, "in the September to the end of October period, the number of shares being borrowed bumped along around the 13 to 14 million share level and the rate to borrow was 25 to 30 basis points on an annualized basis," stated Smith. The company's all time high was made September 30th.
Related: Twitter Short Interest Falls From January 2 High
However, following Tesla's disappointing Q3 earnings, "there were increasing levels of activity, peaking on the 13th of December at a borrowing level of about 26 to 27 million shares. The cost of borrowing rose to about three or four percent on an annualized basis."
"Since that peak, interest has started to trend back down again. There are about 20 million shares outstanding and the cost of borrowing has trended down as well. It is currently around one to two percent," continued Smith.
With over ninety percent of available shares borrowed, Tesla will continue to be a battleground stock. Shares are currently trading around $170.
View Comments and Join the Discussion!
Posted-In: Astec Analytics comments short interest SunGard Tim SmithNews Technicals Trading Ideas Best of Benzinga