Did Google Acquire Boston Dynamics To Manufacture Killer Robots?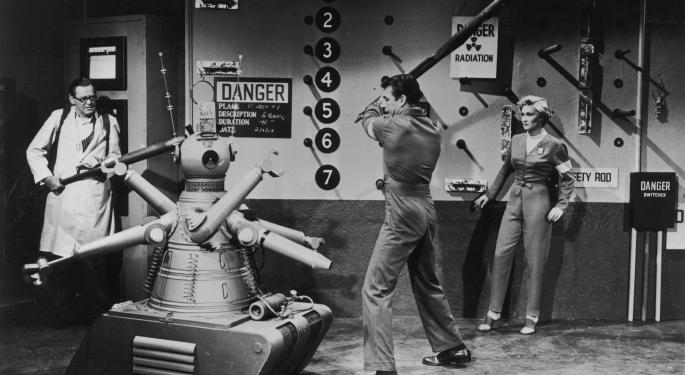 Conspiracy theorists sharpen your pencils.
Google (NASDAQ: GOOG) just acquired Boston Dynamics, a robotics company with a $10.8 million US Defense Advanced Research Projects Agency (DARPA) contract.
Does this mean Google is about to start supplying the U.S. military with "killer robots?"
Hard to say, although Google did tell The New York Times it did not plan to become a military contractor "on its own." On the other hand, Boston Dynamics, which spun off from the Massachusetts Institute of Technology (MIT) in 1992, has long worked on projects for the government.
Related: Why Google Wants To Plant a Microchip In Your Head
Boston Dynamics founder, Dr. Marc Raibert, has said he did not consider the company to be exclusively a military contractor but simply an organization that was trying to advance technology when it comes to robotics.
Online videos of Boston Dynamics projects, however, have fueled speculation about scary Terminator-like assassins.
Take the company's BigDog, for example, which climbs, keeps it balance when kicked, and is designed to handle ice and snow.
Others include, Cheetah, which achieves a top speed of more than 29 miles-per-hour and PETMAN, an anthropomorphic robot used for testing specialized clothing for the military.
Meanwhile, Google's Andy Rubin tweeted the following:
The future is looking awesome! http://t.co/iFA53b9qDC

— Andy Rubin (@Arubin) December 14, 2013
With this most recent acquisition, Boston Dynamics becomes the eighth robotic company picked up by Google in the past six months. In addition, the company has created robotics teams, which it has placed in Palo Alto and Japan, according to The Verge.
The goal of the $10.8 million DARPA project is to create humanoid robots for a two-year, $2 million contest resulting in machines capable of operating in natural disasters or nuclear plant meltdowns where humans would be at great risk.
Many, however, believe Google's short-range plans include automated machines to do warehouse work, package delivery, and, in one scenario, even provide elder care, according to The New York Times.
Rubin added credibility to that idea telling the newspaper he did not expect product development to go on for an exceptionally long time.
Instead, he indicated that Google-produced commercial robots could be in use in the next several years.
None of this, of course, put a stop to scary speculation - or as blogger Kin Mun Lee tweeted:
http://t.co/RL8hnZaeBG Google now owns a company that can make a robot army. Someone call Sarah Connor.

— mrbrown (@mrbrown) December 14, 2013
At the time of this writing, Jim Probasco had no position in any mentioned securities.
View Comments and Join the Discussion!
Posted-In: Andy Rubin BigDog Boston DynamicsNews Rumors Events Tech Media Best of Benzinga