Alan Greenspan: Fear Drives the Markets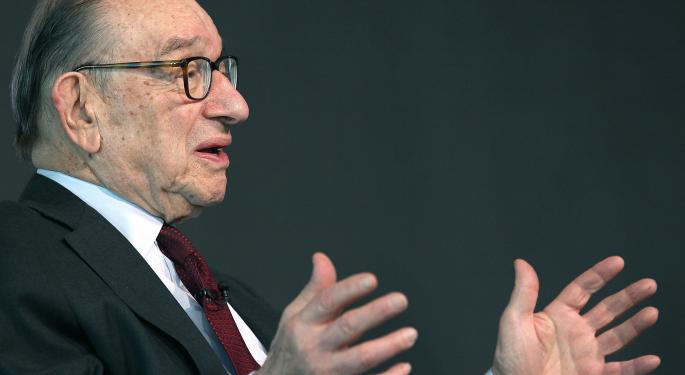 On the way to completing his new book, The Map and the Territory, Risk, Human Nature, and the Future of Forecasting, former Federal Reserve Chairman, Alan Greenspan had an epiphany.
The epiphany, which Greenspan told The Wall Street Journal, "Upended my view of how the world works," mostly involved the vulnerability of financial markets to irrational fear.
Also citing euphoria as a driving force, nonetheless, Greenspan said fear had no less than three times the power to produce changes in the market. In other words, in Greenspan's view, human nature, especially the irrational side of human nature, plays a huge role in how the stock market functions.
Greenspan cited the fact that forecasting models at the Fed failed to consider human nature as one major reason it failed to see the financial crisis coming.
"I've always considered myself more of a mathematician than a psychologist," Greenspan said. After realizing the role of the irrational side of human nature in investing decisions, he said he now believes "Humans are irrational in predictable ways."
Greenspan called for the inclusion of what economists call "the animal spirits" into economic models. To that end, he told The New York Times:
"I have recently come to appreciate that 'spirits' do in fact display 'consistencies' that can importantly enhance our ability to identify emerging asset price bubbles in equities, commodities and exchange rates — and even to anticipate the economic consequences of their ultimate collapse and recovery."
Unfortunately, Greenspan did not elaborate in his book and, so far, has not done so in any of the many interviews he has conducted promoting the book. The fact, however that one of the leading economic observers in the world placed such high importance and weight on what is essentially emotion, is significant.
Related: Putting Fear Back In The Market Mix
Greenspan, who said he was always a libertarian, credited former friend, Ayn Rand, with planting the seeds that would eventually become part of his most recent revelation. Rand told him, years ago that analysis based on science and empirical facts was not enough. She said that unless he took human nature, especially the irrational side of human nature, into account, he would "miss a very large part of how human beings behaved."
In addition to calling for economic models that take both fear and euphoria into account, Greenspan advocates reducing entitlements like Social Security and Medicare. He also favors "creative destruction" in which cutting-edge technology replaces entities suffering from low productivity.
Finally, Greenspan suggested what may be the most difficult challenge to overcome of them all – political bipartisanship. In an interview with The Associated Press he said, "Unless you are willing to compromise, society cannot live together."
View Comments and Join the Discussion!
Posted-In: Alan Greenspan and the Future of Forecasting animal spirits Ayn Rand bipartisanshipEconomics Federal Reserve Media Best of Benzinga