EXCLUSIVE: Tibco CEO Vivek Ranadive on Industry Valuation and Dan Loeb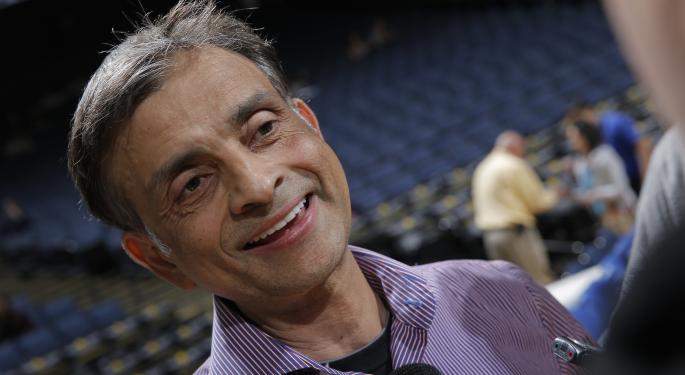 This is the third of a three part series. The first part includes comments on global strategy and increasing revenue while the second features growth and mobile.
In an exclusive interview with Benzinga, Tibco (NASDAQ: TIBX) CEO Vivek Ranadive discussed valuation, meeting with hedge fund managers, and stock buy back.
Valuation
The data visualization space has been getting a lot of attention. When asked about Tibco's Spotfire valuation compared to competitors such as Qlik and Tableau.
"This has happened before when we were a 50 million dollar company." Ranadive started. "There were strong competitors that had very high multiples, and the market didn't give us that multiple."
"Those companies are all gone now. We were 50 million then and we are a billion." Ranadive pointed out Tibco's increased attention as the share price has risen five times in the past several years.
Ranadive went on to explain how a lower valuation can help recruit talent: "When your multiple is that high, it's hard to say that you're going to double in value. When your multiple is low… its not a hard sale to make."
Related: EXCLUSIVE: Tibco CEO Vivek Ranadive: "We don't like to buy revenue"
Hedge Fund Managers
In his second quarter 13F Dan Loeb disclosed a five million share position in Tibco for his Third Point fund.
"I look at all the investors the same, if they appreciate my stock, I'm all for it." Started Ranadive when asked about activist investors. "When Dan Loeb made an investment in the company when it was five dollars a share, he called me and said 'why don't you sell the company?' I said 'Great, do you want to buy it?' and he said 'No, but somebody else might,' and I said 'Well, send them to me, I'll talk to them.'
Ranadive explained the one condition he made when meeting with Loeb. "I said, 'after I'm done talking to you, introduce me to your CIOs so I can sell them some software.' So I did. I met with him in New York and after I was done he took me over to his CIO. He hasn't actually bought any software, so hopefully this time around he will!"
Stock Buyback
After announcing a 300 million dollar share repurchase program in April, Ranadive commented on the rational.
"One thing we will do is we will buy back our stock because we like to put our money where our mouth is. We are a growth company so we are going to keep investing in growth."
Shares of Tibco were trading at $25.71 mid-day Thursday.
Posted-In: Dan Loeb Data Visualization Spotfire Vivek RanadiveNews Buybacks Management Interview Best of Benzinga
View Comments and Join the Discussion!