Pope Benedict XVI Leaves Behind a Mixed Legacy and the Catholic Church Considers a Canadian Replacement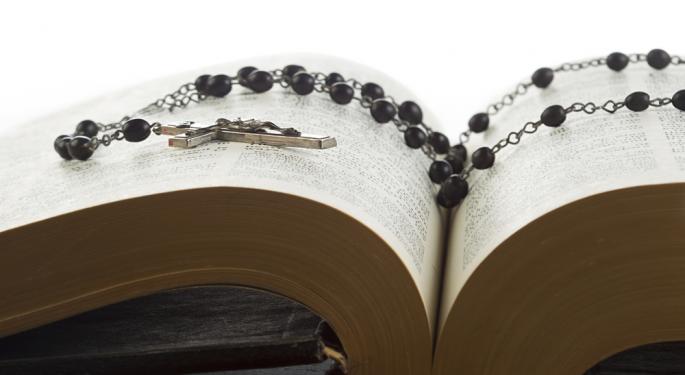 Earlier today, Pope Benedict XVI announced his resignation from the papacy at the end of February, the first head of the Catholic Church to step down from the post in six centuries. The move comes as a surprise, invoking shock and disbelief in many Catholics around the world. Benzinga took a look at the Pope's legacy and his potential replacement.

A Very Mixed Legacy

Born Joseph Aloisius Ratzinger, the Pope's advanced age of 85 years has been cited as the reason for his resignation.

A native of Bavaria, Germany, Benedict XVI maintained a theologically conservative approach to his papacy and strained a defense of traditional Catholic values. He was a staunch defender of traditional marriage, looked upon homosexuality as an "objective disorder," and denounced the use of condoms as a form of birth control or prevention against HIV/AIDS.

Ratzinger's conservative philosophy made him a frequent target of ire from his opponents, many of whom were situated within the Catholic Church itself.

"During his time in office he has ordained so many conservative cardinals, that amongst them is hardly a single person to be found who could lead the church out of its multifaceted crisis," asserted Hans Kung, a noted Catholic priest and Swiss theologian.

Terry Sanderson, president of the National Secular Society, expands on this criticism, citing Ratzinger's backwards-looking ideology:

Under Ratzinger the Vatican has become despised and resented throughout the world. He has played a major role in reducing the Catholic Church's popularity and its authority.

Catholics have deserted the Church at an increasing rate, repelled by the inhumanity of Ratzinger's unbending adherence to what are perceived as cruel doctrines...

Joseph Ratzinger will not disappear from the scene. Many will sigh with relief at his departure. But we shouldn't celebrate too soon. He has put in place a college of cardinals that are as reactionary as he is -- or even more so.

In a separate critique, Mohammed Shafiq, a fellow at the Ramadhan Foundation -- a Muslim thinktank -- expressed dismay at Benedict's papacy. In 2006, Benedict outraged the Muslim world by stating that Muhammad's contributions were "only evil and inhuman." Shafiq believes Benedict's legacy will be "sadly remembered [for] his distortion and attack on Islam.

On the bright side, Benedict received heaps of praise from international religious and political leaders who cited his compassion, commitment and calm demeanor.

Notably, Ratzinger's handling of the child sex abuse scandal within the Catholic Church has been the subject of praise. Observers note the courage and consistency with which he handled offenders, sometimes alienating others in the Vatican. His actions against Mexican priest Marcial Maciel Degollado, who had previously been protected by Pope John Paul II are widely cited. In 2010, the Vatican issued new guidelines on how the Church should handle sexual abuse cases, and made strides to protect children from potential abuse.

Others remained unconvinced, with the executive director of the Survivors Network of those Abused by Priests, David Clohessy, calling Benedict XVI's record "terrible."

"Before he became pope his predecessor put him in charge of the abuse crisis. He has read thousands of pages of reports of the abuse cases from across the world. He knows more about clergy sex crimes and cover-ups than anyone else in the church yet he has done precious little to protect children," says Clohessy.

Benedict's legacy is looked upon fondly by president of the World Jewish Congress, Ronald S. Lauder. "No pope before him made more strides to improve the relationship with the Jews -- on so many levels," exclaims Lauder.

Who Will Be the Next Pope?

Over at Business Insider, Catholic Church brainiac extraordinaire, Michael B. Dougherty, has a detailed piece highlighting 17 potential replacements for Ratzinger. Of those, Canadian Cardinal Marc Oullet is the hands-on favorite, with Paddy Power giving him 5/2 odds. Dougherty notes Oullet's ability to speak English, French, German, Italian, Portuguese and Spanish fluently, and his respect within the Church, which views him as the most qualified. Up to this point, however, Oullet has indicated a lack of interest in pursuing the papacy.

Cardinal Peter Turkson of Ghana is another contender for the papacy, with Paddy Power giving him the second most favorable odds. Dougherty calls Turkson a "great communicator" and a "superstar within the College of Cardinals." Selecting a qualified African pope like Turkson could be a game-changer for the Church's public image, which has not had an African pope since 496. Turkson's weakness is his association with the Catholic Church in Africa, whose primary concerns vary greatly from those of the Church in Europe and the Americas.

A slew of high-level Italian officials are rumored to be strong candidates to take over the Vatican. Cardinals Angelo Scola, Tarsicio Bertone and Angelo Bagnasco -- a Benedict appointee, are cited as the most third, fourth and sixth most likely candidates by Paddy Power. Despite being viewed as qualified, Dougherty believes that the trio may be viewed as too conservative in philosophy, even for the Catholic Church's recent standards.

Argentinian Cardinal Jorge Mario Bergoglio represents the best chance of a liberal-minded head of the Church, a pope who would immediately push social justice to the top of his agenda. Many, however, believe Bergoglio's moment has passed after a second-place finish in the 2005 selection of Benedict XVI. His advanced age of 76 suggests a short papacy.

Finally, there's at least one American running strong in the hunt. Although Paddy Power places New York City Archbishop Timothy Dolan at 25/1 odds, he is widely considered to be a rising star within the Church. At 63, Dolan is considered young and Dougherty believes he is "perceived as one of the best and most gregarious communicators in the College of Cardinals." However, as an American, in a very Italian Vatican and a Church dominated by Spanish-speaking members, Dolan may be seen as out-of-touch and ill-equipped for the papacy.

While there are a number of qualified candidates with great odds, the papacy appears to be a two-man race between Oullet and Turkson. Both the Canadian Cardinal from Quebec and the Ghanian Cardinal currently command a great deal of respect from Church leaders around the world and their communication abilities place them a tier above the competition.
Follow Alex Biles on Twitter at @disorderorder
View Comments and Join the Discussion!
Posted-In: News Events Global General Best of Benzinga