Consumer Income and Spending: Is the Optimism Justified?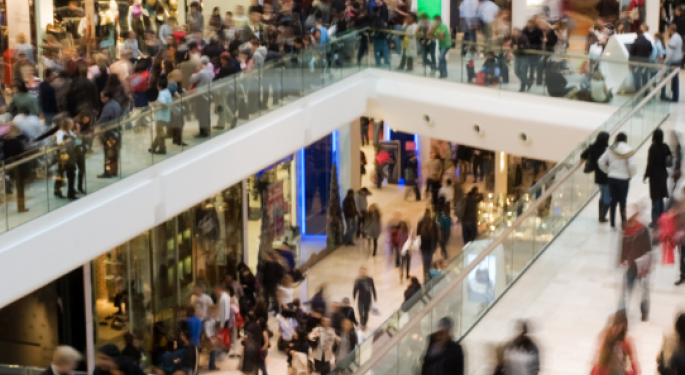 Data on Personal Income was in-line with expectations on Monday, coming in at 0.4%. However, Personal Spending beat Wall Street expectations, printing at 0.8% -- above the 0.6% that was anticipated.
This data may highlight the differences between the attitudes of consumers and businesses. To some extent, the disconnect between the two seems to defy logic, with consumers ramping up spending on big ticket items even though their incomes aren't growing. Businesses have demonstrated much less optimistic hiring patterns as of late, as worries about the fiscal cliff and Europe may be cramping growth.
According to the Bureau of Economic Analysis (BEA), consumers' real disposable incomes (after taxes and inflation) were flat in September after a -0.3% dip in August. This represents a deceleration in income growth from prior months, following a long string of little gains. In fact, real disposable personal incomes in September are now at the same level as they were in May.
When transfer payments are excluded (things like unemployment and disability benefits, along with Social Security), incomes fell by -0.1% in September, following a -0.2% drop in August. While wages have been growing a bit during these months in nominal terms -- at a monthly rate of 0.3% in September and 0.1% in August -- it hasn't kept up with inflation. The BEA's inflation measure, the marked-based Personal Consumption Expenditures (PCE) gauge of price increases, advanced 0.4% in both September and August.
Despite a lack of real wage gains, consumer spending has advanced in recent months. In September, real consumer spending climbed 0.4% in September, and by an even greater 1.3% in the smaller and more-discretionary category of durable goods. Consumer spending on non-durable goods (things like food, clothing, and energy) advanced 0.5%, while outlays on services edged up 0.2%, after inflation.
Since May, even though their incomes haven't grown, consumer spending after inflation advanced by a total 0.8% since then, while spending on durable goods (things like cars, washing machines and televisions) climbed an even greater 3.6%. This category tends to be more discretionary and includes big-ticket items, and can involve consumers undertaking additional debt, which has been reflected in the data on consumer credit.
Auto loans have indeed grown in recent months, perhaps indicating that consumers are feeling better. Consumer sentiment, as reported by the University of Michigan, is now at a five year high. We can see that consumers are feeling more optimistic in today's data by looking at the savings rate, which was 3.3% in September, down from 3.7% in August, and had been as high as 4.4% as recently as June. When consumers decrease their savings rate to fund bigger ticket purchases, their expectations for income growth generally tends to increase.
But are those expectations reasonable? Or is this economy acting like Wile E. Coyote, walking off the cliff before realizing the full consequences? The non-partisan Congressional Budget Office predicts a recession in 2013 if congress allows the economy to go over the edge of the fiscal cliff. This remains to be seen, but businesses aren't taking as many chances as consumers are.
The Business Roundtable, which is a large-business trade organization, reports in their third quarter survey that a net 7% project their employment levels to decrease in coming months. This is a big change from the second quarter survey, when a net 16% of big companies projected their employment to increase. The fiscal cliff, along with Europe, was cited by these CEOs for curtailing hiring plans.
A small business trade group, the National Federation of Independent Businesses, surveys their members each month. In the most recent survey, titled, "Hiring Plans Plunge," the organization reports the net percent of owners planning to create new jobs fell 6 points to 4%, a "historically weak reading, especially in a recovery. Essentially, hiring is keeping up with population growth, but not exceeding it."
So, going back to today's report on consumer incomes and spending, it may be hard for consumers to keep up their shopping habits, especially on big-ticket, discretionary items, when their employers aren't willing to hire, or by extension, give pay raises. Spending, at some point, must be tied to incomes, and looking ahead, aggregate wages and salaries might not be expected to grow by much.
Posted-In: News Retail Sales Econ #s Economics Best of Benzinga
View Comments and Join the Discussion!