4 EM ETFs With Higher Yields, More Potential Than SPY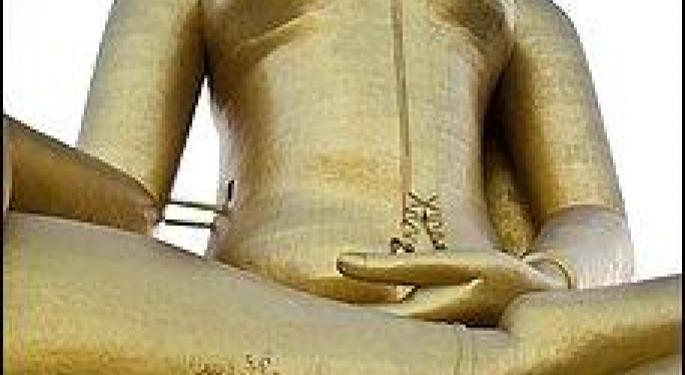 Home to roughly $106.7 billion in assets under management, the SPDR S&P 500 (NYSE: SPY) is the world's largest ETF. It sports the title of the first ETF to trade in the U.S., but despite those interesting factoids, there is one thing SPY does not feature: A noteworthy dividend yield.
SPY sports a 30-day SEC yield of 1.94 percent while the S&P 500 index itself has a dividend yield of 2.21 percent. All that despite the fact more than 500 U.S. companies increased payouts in the first quarter and nearly 700 did the same in the second quarter.
While the S&P 500 fails to impress when it comes to yield, there are myriad other options, including in the developing world, for investors to consider. Actually, it is not hard at all to find some emerging markets ETFs that offer better dividend yields and more upside potential than SPY. Some are not even classified as dividend ETFs.
iShares MSCI Thailand Investable Market Index Fund (NYSE: THD) The iShares MSCI Thailand Investable Market Index Fund does not blow SPY away in terms of yield, but the lone Thailand-specific fund does feature a 30-day SEC yield of 2.52 percent and a trailing 12-month yield of 2.67 percent, according to iShares data.
Those numbers are not high enough to consider THD a "dividend ETF." However, THD has been one of the best-performing ETFs on the market since the March 2009 bottom and when emerging markets ETFs are embraced, this one is usually a leader and not a laggard. Not to mention, THD's technicals are starting to show signs of life.
Risks to more upside for THD include a dramatic spike in inflation, a sudden change in Thailand's political environment and overall repudiation of the emerging markets trade.
iShares MSCI Malaysia Index Fund (NYSE: EWM) Arguably, the iShares MSCI Malaysia Index Fund is a stealth yield play. Malaysia may not be atop the list of international dividend destinations for U.S. investors, but it might deserve more credit than it is getting. In addition, there would be a lot to like about the Malaysian economy even if there were no dividends to be had.
As for EWM, the fund has a 12-month trailing yield of 3.72 percent and a beta that is barely in excess of SPY. Looking at the sector weights, EWM is an "accidental" low beta, yield play as consumer staples, telecom and utilities names combine for about 36 percent of the fund's weight.
Market Vectors Gulf States Index ETF (NYSE: MES) The WisdomTree Middle East Dividend Fund (NASDAQ: GULF) is known as the yield play among Middle East ETFs, but the Market Vectors Gulf States Index ETF's yield is not too shabby at almost four percent. Qatar and the United Arab Emirates, two frontier markets that are close to gaining emerging markets status, combine for over 55 percent of this ETF's weight. Kuwait receives an allocation of 37.5 percent.
MES is down slightly year-to-date and the geopolitical risks of this region as well as falling oil prices must be considered before running blindly into MES.
Market Vectors Poland ETF (NYSE: PLND) Polish equities have been caught up in the drama that is the Eurozone's sovereign debt crisis. That is arguably unfair because Poland is not a Eurozone member and the country is one of a few on the continent that is expected to have solid GDP growth this year.
Poland's economy is not export-dependent and the valuations on Polish equities are low compared to the broader emerging markets universe. The Market Vectors Poland ETF yields four percent. That is clearly superior to SPY, but that four percent is also dwarfed by the yield on the iShares MSCI Poland Investable Market Index Fund (NYSE: EPOL). EPOL yields 5.53 percent.
For more on emerging markets dividend ETFs, click here.
View Comments and Join the Discussion!
Posted-In: News Broad U.S. Equity ETFs Short Ideas Dividends Dividends Emerging Market ETFs Global Pre-Market Outlook Best of Benzinga