FREE Trial with Benzinga Pro happening right now!
Tap into Skillshare and Udemy if you want the luxury of learning online from the comforts of your home or while you're on the go. They're viable eLearning platforms that feature free or affordable self-paced course options for all skill levels. You won't have to spend thousands on tuition or wait around for an instructor to deliver lessons.
Read on to learn more about each option and what to consider as you choose the best fit for you.
Best Skillshare and Udemy Courses
Skillshare
Skillshare is an online learning community that features over 1,000 courses. Its offerings are designed for creatives and focus on several subjects, including animation, design, illustration, lifestyle, photo and film, business and writing.
Courses are led by subject-matter experts that draw from their industry knowledge to deliver a 5-star learning experience. Most instructors also include a class project in the syllabus that allows you to demonstrate your expertise and implement what you've learned throughout lessons.
Join Skillshare today and get free access to its extensive course library for 2 months.
Udemy
Udemy is a top online learning marketplace with over 150,000 courses. Whether you're interested in topics related to business, development, finance accounting, information technology, software, office productivity, personal development or design, Udemy has you covered. The platform also features marketing, lifestyle, photography, health and fitness, music, teaching, academic and education courses.
Enrolling in a Udemy class grants you lifetime access to the content, which includes video lectures and downloadable resources to supplement your learning. Some classes also feature quizzes and module exams to test your comprehension. There's also a 30-day money-back guarantee for courses that don't quite work for you.
The courses are facilitated by reputable industry experts and career professionals.
How to Get Started
Ready to begin your online learning journey with Skillshare or Udemy? Finding the perfect course won't take much time, but there are a few things to be mindful of.
Classes are available for all skill levels — beginners, intermediate students and advanced students. Be sure to read the course description to ensure your top choice is a good fit. Some intermediate and advanced courses also require prerequisites. Complete those before you enroll to get the most out of the class.
You can get started with Skillshare by following these steps:
Visit Skillshare.com and select "Browse" from the dropdown menu to view categories. Make a selection and course options will appear.
Click on the class you want to take.
Select the sign-up button, input your information and the course will be added to your personal library.
If you'd prefer to start with Udemy:
Visit Udemy.com and search for courses by subject. You can also view courses by category.
Select the class you're most interested in.
Click on the "Buy now" button. If you'd prefer to shop around before making a decision, you can add the course to the cart and check out later.
That's all there is to getting started with Skillshare and Udemy. Even better, both platforms feature self-paced courses, which means you don't have to get to work right away. You can work through the material when it's convenient for you and spend as much time as you need on the lessons.
Not sure which classes are best? We've included popular course options from Skillshare and Udemy that you can try out to get more acclimated with the online learning platforms.
The Best Skillshare Courses
These courses made our list of Skillshare's top offerings.
1. Best for Lifestyle: Personal Productivity: Five Exercises to Make Your Big Goal a Reality by Kate Arends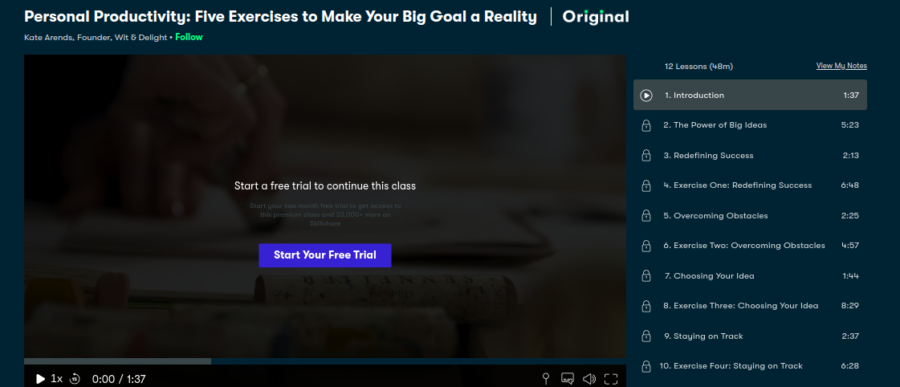 Who it's for: Goal-seekers from all backgrounds
Enrollment fee: Free
Crush your fears and achieve that goal you've had for years. Personal Productivity: Five Exercises to Make Your Big Goal a Reality will show you how to overcome, self-doubt, prioritize what matters most and break your big goal down into digestible chunks. Instructor Kate Arends, the founder of lifestyle website Wit and Delight, also shares ways to stay motivated so you can keep going when it gets rough and reach the finish line.
The course is comprised of 12 video lectures that span 48 minutes.
2. Best for Design: Adobe Photoshop CC — Essentials Training Course by Daniel Scott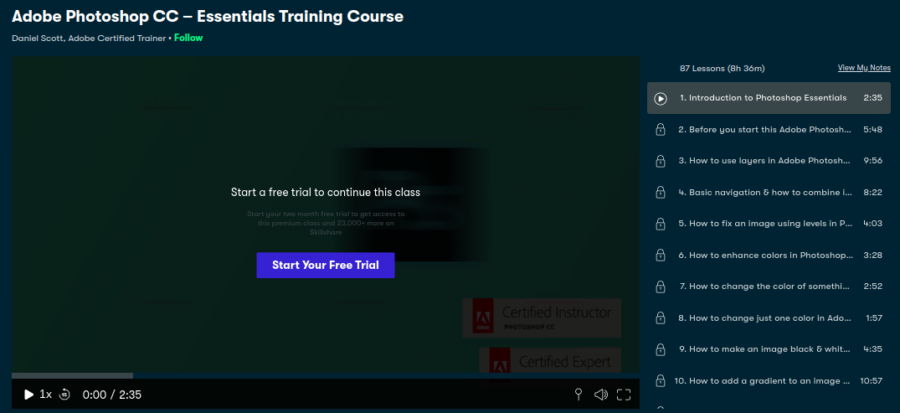 Who it's for: Photoshop beginners
Enrollment fee: Free
Learn the basics of Photoshop from Adobe Certified Trainer Daniel Scott. It includes 87 lessons that will take you from novice to Photoshop superstar in record time. The course courses layering, masking, sizing, color enhancements and so much more. You'll also complete creative and fun projects to showcase your Photoshop skills.
3. Best for Photography: iPhone Photography: How to Take Pro Photos On Your iPhone by Dale McManus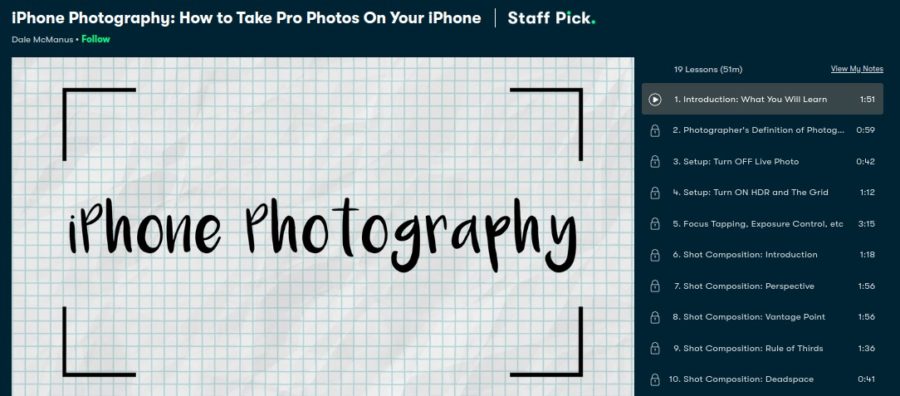 Who it's for: Aspiring photographers
Enrollment fee: Free
This beginner course teaches the fundamentals of photography using an iPhone or comparable smartphone. It is ideal for aspiring photographers and individuals who want to develop a stellar portfolio without spending a fortune on equipment.
The course is led by Dale McMcManus, a professional photographer, videographer and award-winning YouTuber. He's also the co-creator of WANDR, a travel film company.
The Best Udemy Courses
Here are the best selling Udemy courses.
1. Best for Business: The Complete Financial Analyst Course 2020 by Udemy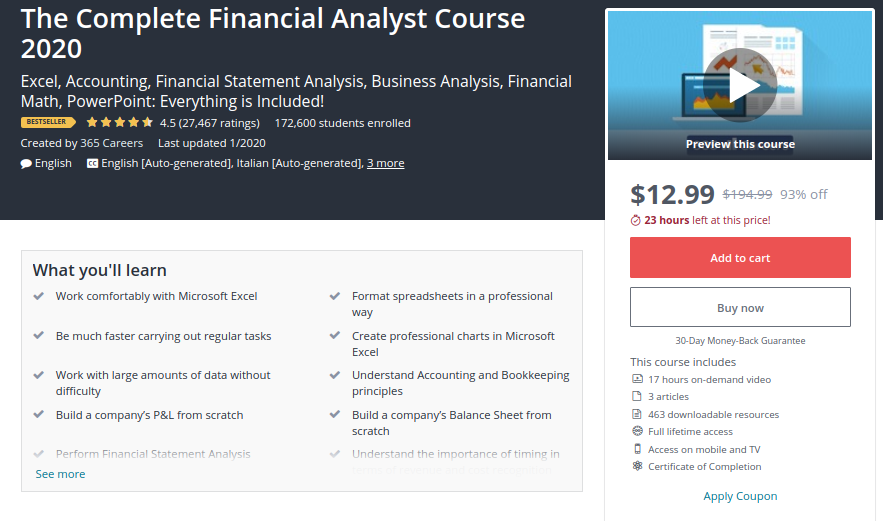 Who it's for: Aspiring Financial Analysts
Enrollment fee: $194
This Udemy bestseller can prepare you for a successful career as a financial analyst. It's offered by 365 Careers, a leading provider of finance courses on Udemy.
When you enroll, you'll have instant access to 17 hours of video lectures, 3 articles and 463 downloadable resources.
You'll need Microsoft Excel and PowerPoint to get started.
2. Best for Graphic Design: Ultimate Photoshop Training: From Beginner to Pro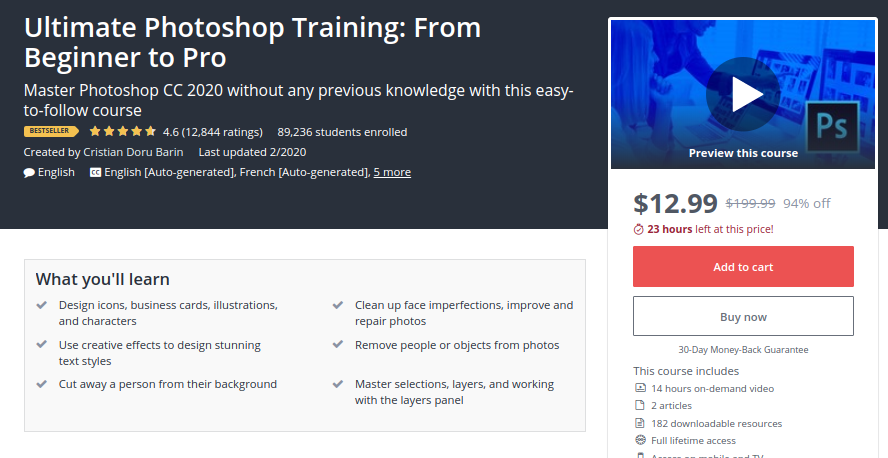 Who it's for: Beginner-level Photoshop users
Enrollment fee: $199.99
This bestseller from Udemy also teaches the mechanics of Photoshop. It's designed for beginners and you don't need access to Photoshop to get started.
Your enrollment fee includes 176 lectures condensed into 14 hours of on-demand video, 2 articles and 182 downloadable resources. You'll also receive over 250 Photoshop Document files.
The course is led by Certified Photoshop Expert Cristian Doru Barin. He's instructed over 180,000 students in his 5 top-rated Udemy courses.
3. Best for Information Technology: Learn Ethical Hacking from Scratch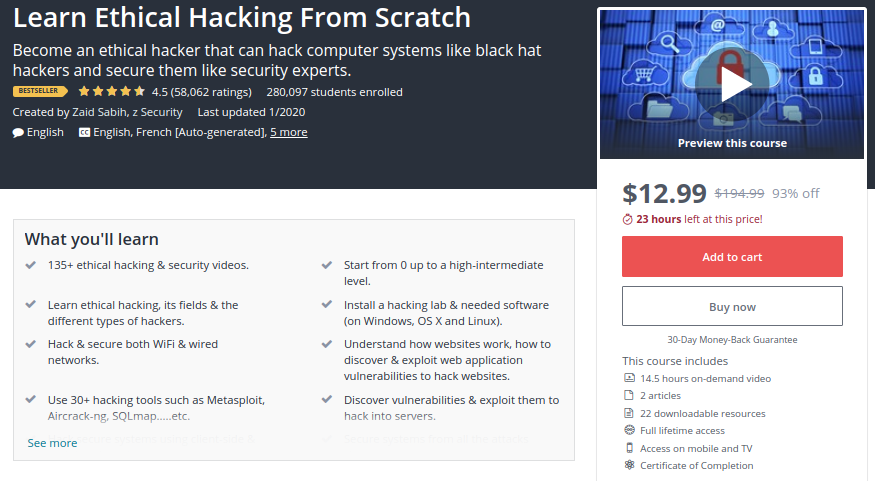 Who it's for: Individuals interested in ethical hacking and penetration testing
Enrollment fee: $194.99
Learn Ethical Hacking From Scratch shows you how to hack and secure wired and WiFi networks. You'll also learn how to identify web application vulnerabilities, intercept network traffic, hack systems using fake updates and more.
The course includes 137 lectures in 14.5 hours of on-demand video, 2 articles and 22 downloadable resources to supplement your learning.
Have basic IT skills before enrolling. You will also need access to a computer with a minimum of 4GB ram/memory and a Windows, OS X or Linux operating system and a wireless adapter that supports monitor mode.
Skillshare vs. Udemy: Which Option is Best?
Skillshare and Udemy give learners an array of valuable course options, but how do you know which option is best?
Start by narrowing down course options. You may find that 1 platform offers courses on a particular subject and the other doesn't. This makes it easy to choose.
Consider your budget, too. Skillshare gives you free access to courses for 2 months, but you won't have this luxury with Udemy. If money's tight, start with Skillshare and consider enrolling in Udemy courses when you have more disposable income.
Whether you opt for Skillshare or Udemy, you can't go wrong with either online option. If you are looking for other options check out our page, Udemy vs Coursera for another comparison of excellent education platforms.
Southern New Hampshire University Online
SNHU Online Offers:
Flexible schedules
Affordable tuition
Online tutoring
Access to electronic research materials
Specialized academic advising
Supportive online community