1 Minute Review
Leave Your Own 1 Minute Review!
Plus500 is a European derivatives broker focusing on contracts for difference (CFDs). CFDs are similar to binary options in the U.S. where traders take all-or-nothing speculation on the prices of certain securities like indices, commodities or currencies. While not legal to trade in the U.S., CFDs are legal in many jurisdictions across the globe and Plus500 offers a wide array of tradable markets using these instruments. 
Plus500 doesn't charge commission and only profits off the spread, which is the difference between the buy and sell price of a specific security. But Plus500 is not a broker for beginners — the education materials are sparse and CFDs are risky derivatives capable of sapping out all of an investor's capital. Only trade these instruments if you understand how they operate and the risks involved with buying them.
Best For
Traders looking for a smooth mobile experience
Pros
Great mobile app
Low spreads and commissions
Unlimited demo account
Cons
Only derivatives are available
Not open to U.S. residents
Why Plus500 Brokerage Over Others?
Plus500 is based in Haifa, Israel and regulated by the Financial Conduct Authority (FCA) and CySEC (#250/14). The broker is a fast-growing firm spreading all across Europe and Asia. While the only tradable instruments are CFDs, these products can be used to trade stock indices, options, currencies, commodities and even cryptocurrencies.
Although not for new traders, Plus500 has a robust trading platform and no shortage of viable trading scenarios. Some of the best features about Plus 500 include:
Seamless mobile trading: Plus500 has one of the highest-rated trading apps on the iTunes and Google Play stores. The WebTrader app has all the bells and whistles of the standard platform.
Platform use: CFDs are instruments meant for investing pros, but that doesn't mean the platform is complex and hard to navigate. Plus500's trading platform is geared for simplicity and the learning curve is anything but steep. Additionally, the free demo account can be used in perpetuity if you're struggling to adapt to the real thing.
Onboarding: You'll need to verify personal information and provide a payment method, but little else is required. Credit cards or PayPal accounts are the preferred payment methods and will get your account funded and ready to trade quickly.
Brokerage Quick Summary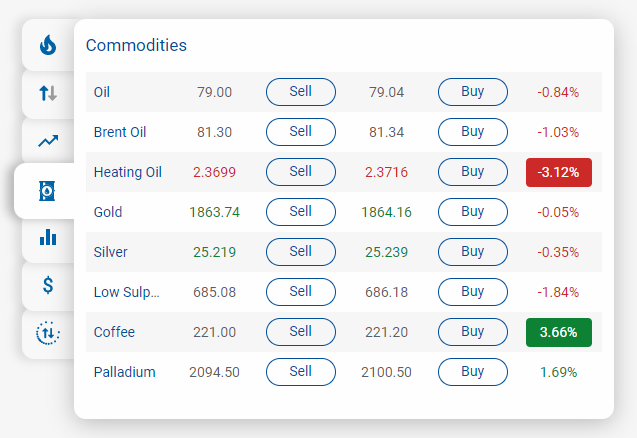 *Illustrative prices
CFDs are risky because bad trades could be a complete loss of capital – there's no exiting a trade early if the technicals turn against you. Since traders can lose all the capital they've entered into a trade on a bad outcome, CFDs are not recommended for new or risk-averse traders. If the thought of losing your entire investment on a either/or trade makes your stomach churn, these types of instruments may not be for you.
Asset Classes
Contracts for difference (CFDs) available for stock indices, individual ETFs and shares, forex markets, commodities, options and cryptocurrencies
Platform
Web browser platform for desktop usage; mobile app for iOS and Android
Mobile App
WebTrader mobile app available at Google Play or Apple App Store
Account Minimum
$100, or it's equivalent in the trader's currency.
Available Account Types
Standard trading account for CFDs
Free demo accounts available with no time limit
No business accounts and only one trading account is permitted per person
Plus500 doesn't charge commissions for trades. You can trade any market available on the platform completely free of commission and pay only the spread between the trade price. The spreads vary depending on the market and instrument you're trading, but one of the benefits of Plus500's bare-bones approach is that spreads are kept tight.
| | |
| --- | --- |
| Overnight Funding Fee | Varies by instrument |
| Inactivity Fee | $10 per month after 3 months of continuous inactivity |
| Currency Conversion Fee | 0.7% for all trades on instruments denominated in a currency different from the currency of your account. |
| Withdrawals | 5 free withdrawals per month |
| Deposits and Withdrawals | Free |
| Account Minimum | $100 |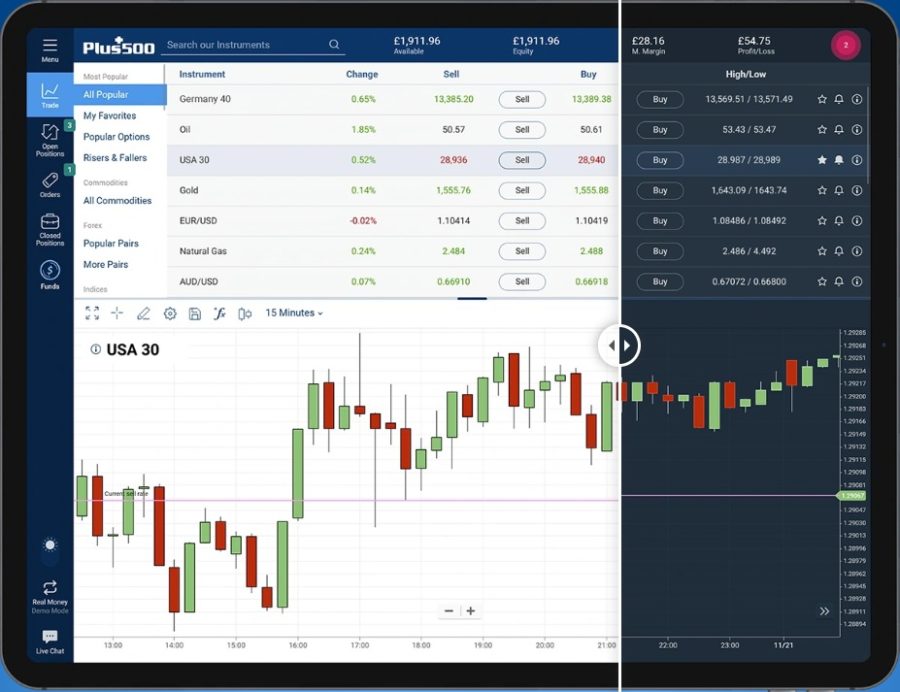 *Illustrative prices
Plus500 clients will feel at home on the platform in no time. The demo account has no expiration. In fact, your demo account will be automatically recharged anytime it drops below a certain amount.
Abundance of tradable markets: CFDs are diverse instruments that can be traded across a number of different asset classes. Clients can access indices from stock exchanges across the globe, trade in different commodity and currency futures or even dabble in cryptocurrency CFDs.
Desktop and mobile app experience: Plus500 doesn't want an intimidating platform with lots of trading jargon and advanced technical tools. Trading on the platform is straightforward.
Free demo account with automatic reloads: Plenty of brokers offer a demo account so prospective clients can test out the platform and get used to its feel. But not many brokers allow access to a demo account in perpetuity — Plus500 does. Your demo account will be open as long as you want to use it and your paper money will automatically refresh when it reaches a certain threshold.
Plus500 has a brief tutorial section in the Trader's Guide about how to use different features of the platform, along with some basics about trading CFDs, understanding slippage and how rollover works. The FAQ section is helpful on a variety of topics as well, but none of the entries are particularly detailed.
If you're coming to Plus500 for market commentary, live news updates and the latest economic data, you're going to be disappointed. You get what you pay for, and one of the drawbacks of a no-commission, low-spread CFD broker is the absence of features like education and market news.
The customer support offerings from Plus500 are less than robust, especially for prospective clients. Despite promising 24/7 customer support, the main modes of communication are a standard support submission form, a single email address, and a live chatbot that pretty much only redirects you to the site's FAQ section. Responses are timely but there's no phone support and no live human on the other side of the chat feature.
Plus500 has plenty of different trading instruments, provided you understand how CFDs work. A CFD isn't a share or a contract claiming a future deliverable. Instead, CFDs are speculative derivatives used to speculate on the rise or fall in the price of an underlying asset. If a trader thinks the price of oil will rise, they could purchase a CFD and pocket the difference if the price of oil does indeed rise. But CFDs are risky instruments, and more than 75% of retail traders lose money trading them. Always know the risks before trading sophisticated derivatives.
Plus500 Stocks, Indices and ETFs
Plus500 clients can trade CFDs based on various equity securities, including stock indices and ETFs. Due to ESMA restrictions, the maximum leverage for retail clients is 1:30 for stock indices, meaning a $300,000 position can be controlled with just $1,000. Popular stock indices include the S&P 500, the DAX 30, the Nikkei 225 and the VIX Volatility Index. Individual shares from American companies like TSLA, AMZN, NVDA and AAPL can be traded, as well as international firms like Nintendo, Tencent and SoftBank. Looking for ETFs? Plus500 has CFDs for popular ETFs like QQQ, SPY, GLD and VTI.
Plus500 Forex
CFDs are frequently used to trade currencies and Plus500 has no shortage of instruments to trade both pairs and spot prices. Dozens of forex pairs can be traded, including all the major pairs and some exotics like TRY/JPY and DKK/NOK. Traders can also trade CFDs based on the U.S. Dollar Index.
Plus500 Commodities
Commodities trading has always been a big part of the CFD market. Plus500 has contracts available for energy commodities like oil and gasoline, precious metals like gold, silver and copper, as well as agricultural products like coffee and soybeans.
Plus500 Cryptocurrency
Not many brokers offer CFDs for digital currencies, but Plus500 isn't like most brokers. You can trade contracts for cryptocurrencies like Bitcoin, Litecoin, Ethereum, NEO and Ripple. Due to ESMA restrictions, the maximum leverage for retail clients is 1:30 and 1:2 for cryptocurrencies.
Taking your trading operation to the small screen won't reduce any utility when using Plus500's mobile app. You'll be able to access the thousands of available trading instruments and use all the tools and indicators found on the desktop platform. Trading is a seamless one-touch process and your account balances and details are easily located. The mobile app is available for both iOS and Android operating systems.
Plus500 isn't available for U.S. clients since CFDs are still banned nationwide. But these instruments are perfectly fine in most European and Asian jurisdictions and Plus500 is regulated by the respectable British Financial Conduct Authority (FCA). CFDs are inherently risky derivatives thanks to the leverage involved and the volatile nature of either/or trades. If you lose a few trades in a row, you could find yourself facing a margin call.
If you understand the risk of trading derivatives like CFDs, Plus500 is a great broker to get started with. The platform is intuitive and comprehensive, providing access to all of the asset classes offered by the brokerage. The demo account lets clients practice until they feel comfortable moving on to the real thing and video tutorials show how to use all features of the platform. If you're outside of U.S. jurisdiction and want to test out CFD trading, Plus500 is a no-frills broker with low fees and access to dozens of different markets.
72% of retail investor accounts lose money when trading CFDs with this provider. You should consider whether you can afford to take the high risk of losing your money.
User Reviews
Tell Us Your Experience With "Plus500"
PLEASE FOR YOUR OWN GOOD, DO NOT DEPOSIT a cent to them or You will lose everything with these fake scam trading brokers, contact brandonlinton268@gmail.com, if you have issues with your broker, he can help you get your money back
Tell Us Your Experience With "Plus500"
PLEASE FOR YOUR OWN GOOD, DO NOT DEPOSIT a cent to them or You will lose everything with these fake scam trading brokers, contact brandonlinton268@gmail.com, if you have issues with your broker, he can help you get your money back
Tell Us Your Experience With "Plus500"
its all a scam, i traded with different brokers, most of them disappear when I make withdrawal request, some of them will try to convince you not to withdraw and instead invest more while others will actually allow you withdraw a little amount so they ca