FREE Trial with Benzinga Pro happening right now!
An online finance course can prep you to design a personal budget and investment plan or ready you to start a career in corporate finance.
Find a course to fit your needs now. Get started with our review of the best online finance courses.
Best Online Finance Courses for Beginners
Based on the criteria above, we made our picks for the best finance courses for beginners available on the web.
1. Benzinga How to Read Charts and Make Trades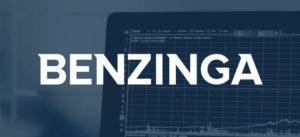 Benzinga's signature course How to Read Charts and Make Trades will teach you how to read charts and make winning trades through simple, actionable strategies.
You'll also learn about why you should trade, how to pick a broker, trading strategies, price studies, technicals and indicators, how to develop a strategy and trading plan and learn about trading psychology.
Finance for the Real World – Corporate Finance 101
Beginner • 22 videos • 1.9 hours
2. Finance for the Real World — Corporate Finance 101 by Udemy
If your aim is to improve your financial literacy, this course is a great place to start. In just 2 hours of video, this course covers some of the most important concepts of corporate finance. Starting with the time value of money, this class will help you understand the mechanics behind making financial decisions.
There are no prerequisites. It's a good idea to print the handouts in advance, as the lecturer takes a hands-on approach to the subject.
3. Finance for Non-Financial Professionals by Coursera
This course is part of the Career Success Specialization, and it's possible to attend it without taking the other classes. If you're a manager or other professional, this class can help you boost the growth of your organization.
Spanning around 7 hours, the course covers some basic finance and accounting terms. The focus is on improving profitability and interpreting financial information. You can learn the most important things about costing, financial ratios and valuation.
Best Intermediate Online Finance Courses
Do you have some finance experience but eager to learn more? Check out these below intermediate courses to increase your personal finance skills.
1. Corporate Finance Essentials by Coursera
Corporate Finance Essentials is taught by a Financial Management professor from IESE Business School. This course takes around 15 hours to complete.
The class is open to everyone, and it covers basic financial terms and concepts. However, you can get the most out of it if you already have some experience in the world of finance.
Topics discussed include diversification, project evaluation, and corporate value creation. There are exercises as well, and you learn how to estimate the EVA of companies.
The Complete Advanced Accounting and Finance Course
Intermediate • 54 videos • 5.1 hours
2. The Complete Advanced Course Of Finance and Accounting by Udemy
This class is geared toward entrepreneurs who wans to get a company off the ground. There is a special emphasis on financial reporting for startups.
This course can give you some specific information about depreciation and amortization for an early-stage company as well as different forms of accounting and the accounting cycle. In addition to 4 hours of video, it comes with many downloadable resources.
Accountants and finance enthusiasts alike can benefit from enrolling, but it's important to note that a basic understanding of accounting is a prerequisite.
FINANCE BOOT CAMP FOR ENTREPRENEURS
All Levels • 17 videos • 1.1 hours
3. Finance Boot Camp for Entrepreneurs by Udemy
Once again, entrepreneurs are the intended audience. But this option is more comprehensive and doesn't require any specific pre-knowledge apart from some computer skills.
The lecturer is Lili Balfour, an experienced finance journalist, author and guest lecturer at UC Berkeley. She places focus on gathering the funds necessary to get your company off the ground.
Crowdfunding is covered at length, but you can also learn how to build a financial model to keep your company running smoothly.
Best Advanced Online Finance Courses
Are you a personal finance expert looking to hone in their skills? These advanced online finance courses are for you.
1. Behavioral Investing by Coursera
Are you hoping to start investing? If you have a basic understanding of finance and you've read some stock market books, consider taking this class before you start putting money into stocks or real estate. Behavioral Investing covers biases and fallacies that lead to investing errors.
This course analyzes phenomena such as confirmation bias, loss aversion, cognitive dissonance, regret aversion, sample size neglect and many more. Understanding why people make mistakes in investment strategies is key to making sound financial decisions.
Even if you're still hesitant about investing, the course can help you understand business and finance more comprehensively. The class is part of the 5-course Financial Markets and Investment Strategy Specialization offered by the Indian School of Business.
Note that there are no formal requirements. However, you can't get a certificate unless you complete all five parts of the specialization.
Investment Analysis & Portfolio Management – Core Finance
All Levels • 44 videos • 7.5 hours
2. Investment Analysis and Portfolio Management — Core Finance by Udemy
If you're comfortable with the language of finance but have yet to master financial analyses, this class could be right for you. While some knowledge of statistical analysis is helpful, the class is can be for you as long as you have basic computer skills. Enrolling in this course means you can gain a practical understanding of risk calculation.
You'll use Google Sheets or Excel to calculate stock returns and optimize your portfolio. The examples used in this syllabus are all based on real-world data. But the most important aspect of the class is that everything is explained step by step so you never get lost in a sea of numbers.
Accounting, Finance and Banking – A Comprehensive Study
All Levels • 395 videos • 31.3 hours
3. Accounting, Finance and Banking — A Comprehensive Study by Udemy
The final course on our list is an exceptionally thorough class that features 31.5 hours of video as well as several printouts. It's equally useful to accountants and professionals with a background in finance.
But even if you don't have experience in banking, accounting or finance, you can benefit from taking this course. Its central goal is to tie together several fields of study and provide you with clarity.
The topics covered include cash flow analysis, taxes and final accounts, international finance and capital budgeting investments. You also gain insight into how banks are classified. You can become better-informed about business finance.
What Do the Best Online Finance Courses Look Like?
The best online finance course is always relative to what you need to learn. No matter your final choice, we think the best finance course must meet these benchmarks:
1. Clearly Stated Admission Criteria
Every course should spell out what you need to do to sign up. Know your goals before you sign up. A high-quality online course makes the curriculum objectives clear in advance.
Courses are usually geared toward a specific demographic. For example, a course aimed at university students will differ from a course intended for experienced finance managers. There are also high-quality courses for those who have no finance experience whatsoever.
There should also be a list of requirements and prerequisites. In the case of beginner-level courses, this usually doesn't go beyond high school-level math and Excel. You might need to have some formal or informal experience in finance-related topics for intermediate or advanced classes.
2. A Price That Fits the Curriculum
Some self-paced finance courses are available for free. Even when these options don't offer a certification, the knowledge you gain is a valuable tool. It's absolutely possible to become proficient in finance-related subjects using only free courses and high-quality finance books.
If you're willing to pay an entrance fee, it becomes important to avoid cash grabs and scams. Avoid anything that sounds too enticing and glosses over the specifics. As a general rule, advanced level courses are considerably more pricey than introductory.
It's important to consider the amount of material offered. But sometimes it's worth paying more for a shorter course, especially if it fits your needs and skill levels.
3. A Well-Respected and Experienced Lecturer
Who prepared the course material? Many people get into finance via online courses, and some of the big names in the finance world are involved .
You can find courses helmed by award-winning university professors. Always make sure that the lecturer is experienced in the field or look for courses taught by finance writers, journalists or coaches. It's usually a good idea to avoid lecturers with no published works whatsoever.
Learn More About Finance Now
Online finance courses can help you become proficient in the finance-related field of your choice. There are options for all skills levels, and you can follow up with investment courses or go in any other direction.
Further your career or shore up your personal finances. Start with our recommendations to find an online finance course today.
Frequently Asked Questions
What is the criterion for an excellent finance course?
The best courses have a strong curriculum, cost less and have outstanding teachers.
Answer Link
What are the best finance courses?
Benzinga recommends Finance for the Real World, Corporate Finance Essentials and Finance for Non-Professionals.
Answer Link
Southern New Hampshire University Online
SNHU Online Offers:
Flexible schedules
Affordable tuition
Online tutoring
Access to electronic research materials
Specialized academic advising
Supportive online community