Want to claim 6 FREE stocks? Head over to Webull to get started.
Clients of M1 Finance can follow their Pie methodology or use their own strategy when it comes to selecting their investments. First, you select what you want to invest in and add it to your pie, with each stock representing a "slice" of the pie. Then you set the target weight of each slice and M1 Finance handles sorting your money to each investment. On top of this intense management, people choose M1 Finance because:
It is easy to create a diversified portfolio.

It allows investing in fractional shares.

It caters to all experience levels.
M1 Finance puts those beginning their investment journey in a position to diversify their portfolio, not rely solely on one stock, and learn important lessons in the investing game. With its lack of fees, interactive design and pie methodology, M1 Finance helps beginning-to-intermediate traders who prefer a DIY approach. Read more about them in our latest review, and begin making your portfolio today.
What M1 Finance offers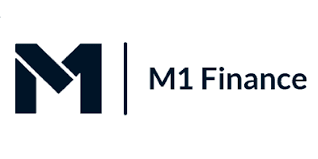 Best For
Customizable Robo Investing
Commissions
FREE
automated investing
Account Min
$100
for regular accounts
$500
for retirement accounts
1 Minute Review
M1 Finance is a unique investing platform that allows investors to allocate their funds through a strategy called "pie investing." When you open an account with M1, you can choose from 1 of 80 expert portfolio allocations, which the platform calls "pies." Each pie is made up of a unique mix of stocks and ETFs and each represents a "slice" of your overall account.
Pies distinguish themselves by their asset allocation and investment choices. For example, investors who want to hold onto their investments until they retire might choose a pie with a focus on slow, steady growth, while investors who value corporate responsibility may want to choose M1's socially responsible investment portfolio. 
You can also create your own pie by selecting individual stocks and ETFs. Every time you make a deposit into your M1 account, the broker will automatically divide your funds between your investments.
M1 offers only basic educational tools and its customer support leaves much to be desired. However, if you're looking for a way to put your investments on autopilot, M1 Finance might be the right choice for you. 
Best For
Don't want to take an active role in portfolio management
Need a large amount of hand-holding when it comes to selecting investments
Want the option to invest in a socially responsible portfolio
Pros
Pie investing system offers a unique visual component to investing
Streamlined mobile app offers full functionality of the desktop platform, plus access to M1's banking components
Socially responsible portfolio option is perfect for investors who want to invest only in companies that offer positive business practices
Cons
No access to mutual funds, futures, forex or options investing
Limited charting tools and indicators
Poor customer service selection
Basic educational offerings cater only to very new investors