1 Minute Review
Leave Your Own 1 Minute Review!
Aimed at professional traders and institutional investors, Lightspeed offers a comprehensive range of high-level trading tools. Experienced investors will love the platform's easy customization features, which offer a fully personalized experience. Although Lightspeed's stock and exchange-traded fund (ETF) commissions are higher than average, high-volume traders will enjoy a discount. Lightspeed also offers competitive pricing on options and futures trading, along with a platform that's fully compatible with Firefox and Google Chrome browsers on mobile.
Best For
Frequent traders looking for volume discounts
Professionals who need a powerful platform: Lightspeed's Level II, Livevol X, and RealTick Pro
Intermediates who are looking to advance their trading knowledge and strategy
Pros
Professional-grade charting tools available for both web and mobile platforms
Futures trading is available with competitive commissions
Exceptionally affordable options trading for high-volume traders
Cons
Very high minimum account deposits
More expensive commissions for less active traders
Why Lightspeed Brokerage Over Others?
Lightspeed offers a number of advantages over competing brokers, including:
More affordable commissions on options: High-volume options traders pay just $0.20 per contract, which is lower than competitors.
Comprehensive, customizable platform: Experienced and institutional investors will enjoy Lightspeed's high level of platform customization that can be used to create a one-of-a-kind trading experience.
High-level options trading course: Lightspeed offers a comprehensive options trading course for free — even if you aren't a Lightspeed account owner. 
Brokerage Quick Summary
| | |
| --- | --- |
| Tradable assets | Stocks, options, ETFs, futures |
| Platform | Professional grade; includes specialized tools for day traders, active traders and institutional investors |
| Mobile trading | Mobile web platform is fully operational, mirrors desktop web-trading platform |
| Account minimum | ,000 to 5,000 depending on trading platform and account type; ,000 minimum equity requirement to maintain trading capabilities |
| Available account types | Individual, joint, margin, partnership, corporate, LLC, registered hedge fund, IRA, trust and more |
Lightspeed is aimed at professional, institution and very high-volume day traders. This means that account minimums are significantly higher than most other competing investment brokers. For example, most traders will require a minimum deposit of $10,000 or more to begin using Lightspeed — a minimum that's prohibitively expensive for most beginning traders and investors.
If you are a very active trader, you'll likely find some of the most affordable commission rates through Lightspeed. Commissions begin at $0.0010 per share bought or sold, with a $1 minimum total commission. Lightspeed's most affordable rates are reserved for traders who move more than 15,000,000 shares per month. If you aren't an active trader, you'll pay up to $4.50 per trade, one of the highest rates we've seen.
Let's take a closer look at a few more commission and pricing details to help you get a better idea of what you can expect to pay when you invest through Lightspeed.
| | |
| --- | --- |
| Stocks and ETFs | $0.0045 per share or $4.50 per trade for standard investors; high-volume traders may enjoy rates as low as $0.0010 per share |
| Futures | $1.29 per trade |
| Options | $0.20 to $1.79 per contract |
| Margin rates | 5% to 7.5% depending on amount of money borrowed |
| Account minimum | Account minimums range from $10,000 to $25,000 for most investors |
Lightspeed is aimed at professional investors, and you'll find plenty of high-level investing and analysis tools that institutional traders will love. Some of our favorite features offered by Lightspeed include:
Advanced trading platforms: Lightspeed offers traders a selection of trading platforms, ranging from its proprietary Lightspeed Trader to Eze EMS Pro and Express. Each platform includes its own unique benefits, and traders will enjoy quick executions and no market data delay on every platform offered.
Lightspeed Trader ensures that investors always have access to the quickest order placements and most up-to-date information possible through its 100 order routing destinations. The Lightspeed Trader platform is also an exceptionally customizable platform, allowing users to design custom layouts and home screens that best fit their unique trading style and preferences.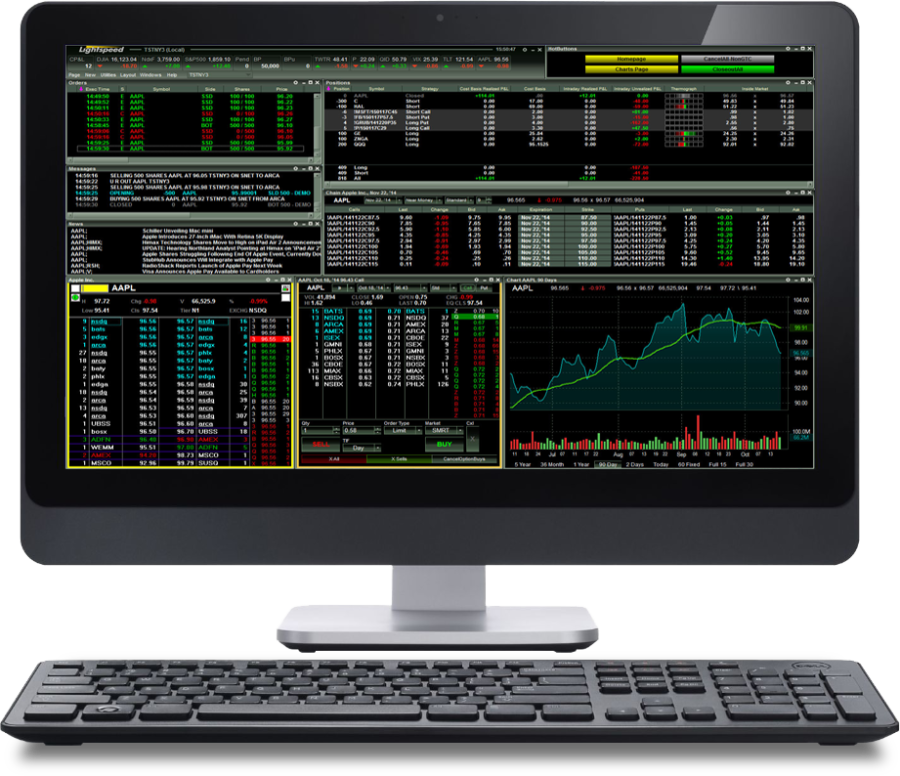 With a wide range of customization features and professional-grade analysis tools, Lightspeed's platform offerings are ideal for professional investors.
Integrated market scanner: Lightspeed offers a comprehensive integrated market scanner with a wide range of inclusion criteria that you can use to quickly and effectively identify your next trading opportunity. Analytics include percentage price movements, price ranges, high and low prices for the specified period and much more. Analytics are available for both equities and options movements.
There are even special trading tools available to help investors identify underpriced securities. Trading tools can scan the market for criteria like trading imbalances between buy and sell orders, trades larger than a predetermined size, trades under parity, inversion trades and more. Lightspeed's team also continuously works to develop and implement new screening tools, so options may change regularly.
Hotkeys and easy order alerts: If you have a few assets that you trade frequently, you'll enjoy Lightspeed's order entry hotkeys. Create a standard or custom order, choose your order type and set the order as a recurring hotkey. The next time you place the same order, you can quickly execute your trade without customizing your execution parameters again. This can be an exceptionally useful feature for day traders, scalpers and anyone else who relies on minute-by-minute market data and fast order executions.
If you're a new investor, you might want to take some time to learn more about the market before you begin using your account. Lightspeed offers a few unique features you can use to enhance your market education, including:
Complete options trading course: Lightspeed offers an incredibly impressive options trading course that covers everything from the absolute basics of what an options contract is to complex options trading strategies. Each sample strategy includes a definition, goal, sample and maximum gain and loss data to make studying options trading easier and more straightforward.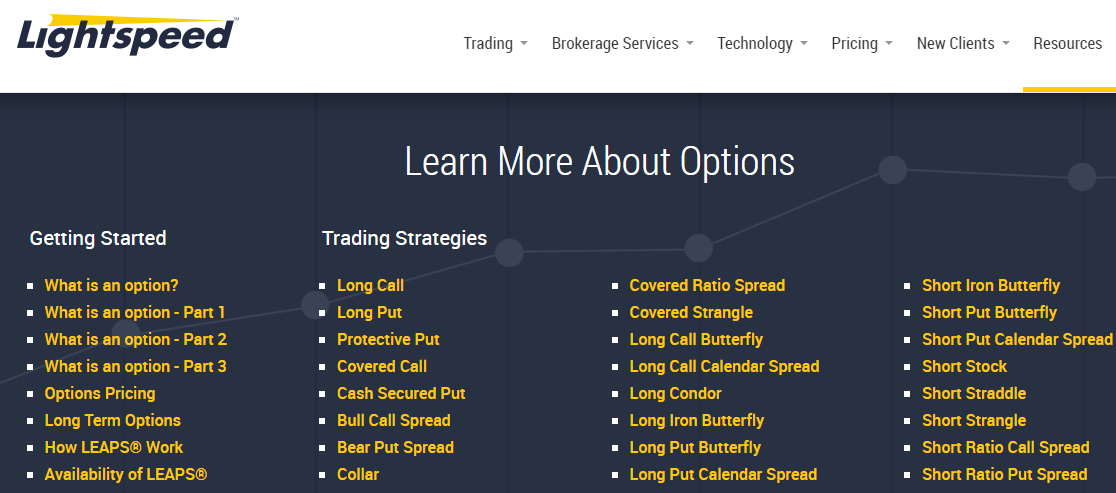 From the most basic definition of an options contract to assistance understanding some common strategies you can use to get started in the options market, Lightspeed's complete options trading course is perfect for anyone curious about options.
Lightspeed trading tutorials: If you've never traded stocks or options before, it's easy to become overwhelmed by Lightspeed's professional-oriented platform. Thankfully, the broker offers a complete selection of trading tutorials that offer video guidance for some of Lightspeed's most popular features. Learn how to set alerts, create a custom order, use the most common order types, design your own hotkeys and much more with easy video instructions.
Live webinars. Prefer to do your learning live? Lightspeed also offers a series of active trading webinars held for free throughout the year. Some examples of previously held webinars include "Advanced Features on the Lightspeed Trader Platform," "An Introduction to the Eze EMS Trading Platform" and "Social Media Predictive Data for Professional Traders." You can register for an upcoming webinar through Lightspeed's website, or you can download previous webinars directly as an MP4 file.
Lightspeed offers a range of options that you can use to contact customer service.
By phone: To contact Lightspeed's customer service, call 888-577-3123 if you're located within the U.S. If you're outside of the U.S., call +1-646-393-4800.
Through email: To get in contact with Lightspeed's customer service team by email, send a message to contactus@lightspeed.com.
Through online messaging: Lightspeed also offers a proprietary online messaging system through its website. To request contact from a Lightspeed representative, fill out a contact form on Lightspeed's customer service contact page here.
Currently, no specific customer service phone line exists for investors living with hearing limitations.
As a Lightspeed investor, you'll have full access to the stock, options and futures markets with competitive commissions for active traders. While commissions are higher than competing brokers (especially for less active traders) investors who value a comprehensive range of analysis tools might still choose Lightspeed for its extensive customization and screening tools.
Lightspeed Stocks, ETFs and Mutual Funds
Lightspeed offers investors full access to the major U.S. stock and fund markets. Lightspeed's platforms are built for speed and efficiency, offering traders minute-to-minute market updates and lightning-fast order placements. The price you'll pay per trade will vary depending on your total monthly trading volume, with the most affordable rates extended to very active traders who move more than 15 million shares per month.
Lightspeed Options
Lightspeed also offers full access to the options trading market with competitive options pricing. High-volume options traders who place more than 100,000 contracts per month pay just $0.20 per contract, while less frequent traders enjoy rates from $0.60 per contract. Lightspeed's platforms offer a range of screening and analysis tools as well, making the broker an excellent choice for options traders.
Lightspeed Futures
Lightspeed is one of only a handful of brokers to offer comprehensive futures trading access. Investors will pay $1.29 per side for each futures contract, while futures options traders will pay $1.79 per side. Lightspeed investors can fully access 8 futures markets, including ICE Futures Europe, COMEX, ICE Futures US and more.
Lightspeed's web and mobile platform mirrors desktop trading capabilities, offering full access to options and equities markets and a wide selection of trading tools. Some of the mobile app features we love include:
Easy watchlist creation: If you trade a few common stocks or options on a daily basis, create and organize watchlists directly through the app. When you open the app to trade, quickly sort through your most common choices by visiting your watchlists.
Dynamic market data: Like when you trade on Lightspeed's desktop platform, you'll enjoy up-to-the-minute data with no latency issues or lag.
Charting and analysis capabilities: Lightspeed's team has customized charting and software options that allow you to perform many of the same scans and analysis options as you can on your desktop platform.
Though Lightspeed doesn't currently offer a mobile app for iPhone or Android platforms, the Lightspeed Web and Mobile platform has been optimized for any mobile phone or tablet that's compatible with Google Chrome or Firefox.
Lightspeed's platform is aimed at professional and institutional investors. Though the company has made efforts to make its platform more inviting for beginners (through enhanced educational offerings and video tutorials) Lightspeed's platform choices could likely be overwhelming for beginners. While more advanced traders will likely revel in Lightspeed's massive range of customization options and widgets, new investors might prefer a competitor with a more simplified and streamlined platform like Webull or Robinhood.
There's also no way to deny that Lightspeed is a significantly more expensive option when compared to competitors, especially for lower-volume traders. Very infrequent traders might pay up to $4.50 per equity trade, a price that is now almost unheard of as more and more brokers transition to commission-free trading. Though Lightspeed does offer competitive options and futures pricing, only very high-volume stock and ETF traders are likely to save using Lightspeed.
Overall, Lightspeed remains a solid choice for the most experienced investors. Though we might not recommend the platform for investors looking for the easiest or most cost-effective option, institutional investors might prefer to splurge for access to Lightspeed's impressive range of scanning and analysis tools.