1 Minute Review
Leave Your Own 1 Minute Review!
Fundrise makes real estate investing affordable to investors. The easy-to-use crowdfunding platform gives you a fixed rate of return on top real estate properties in the U.S. 
Here's why investing your money through Fundrise can improve your portfolio and earn you a reliable source of income.  
Best For
Non-accredited investors
Long-term real estate investors
Investors looking for affordable opportunities to invest in real estate
Pros
Open to non-accredited investors
Buy-ins as low as $10
Simple, multi-tiered system of investing
Low fee structure
Many IRA eligible offerings
Cons
Long hold periods
Lower returns compared to other platforms
Fundrise: A Real Estate Investing Platform With Something for Everyone
Lots of people know investing in real estate is a time-tested and proven way to build wealth. Unfortunately, the number of people who realize investing in real estate is a good idea but don't actually invest in real estate dwarfs the number of actual real estate investors. If you were to take an informal poll of people who don't invest in real estate, you would likely come up with a combination of one or more of the following answers:
expensive
complicated
time-consuming to find good properties to invest in
just for the wealthy
While there is certainly an element of truth to these objections, the advent of online investment platforms has changed the playing field, and Fundrise is a perfect example of how the changing playing field can work for everyday investors.
Fundrise has a mission to make real estate investing simple, transparent and profitable for investors who may have felt frozen out of the real estate investing market due to their lack of funding, understanding or both.
How Does Fundrise Work?
The founders of Fundrise have a simple mission: to make real estate investing as viable an option for retail investors as the stock market. Fundrise realizes that in spite of the fact most retail investors almost reflexively turn to the stock market or bonds to build their portfolios, most of the highest performing (and most reliable) institutional funds have diverse real estate holdings. They started Fundrise to give retail investors an opportunity to invest in real estate just like the big funds.
Fundrise accomplishes this by selectively curating several different real estate-related offerings for investors of all stripes. All Fundrise's investment offerings fit into one of the following four categories:
Fixed Income: conservative, fixed returns derived from mortgage interest
Core Plus: long-term investments in multi-family real estate for passive income
Value Add: long-term investments in under-performing assets with capital improvements to increase rents and property value
Opportunistic: long-term investments focused on acquiring and rehabilitating underused properties in hot markets and increasing value
The projected annual dividend and risk level rise progressively for each class of Fundrise offering, with Fixed Income being the lowest on the risk/reward scale and Opportunistic offerings being the highest. Investors can browse different offerings in the investment classes to put together their own real estate portfolio.
One important thing to remember with Fundrise is these are meant to be long-term investments, and many of its offerings have years-long hold periods. Investors looking for quick returns or easy liquidity may need to consider other platforms. 
Most investors expect to pay fees, but they are also justified in the expectation that the fees associated with their chosen investment are easy to understand and not excessively high. The Fundrise fee structure conforms well to that expectation.
Fundrise charges an annual 0.15% fee for using the platform and an additional 0.85% management fee for its real estate investment trust (REIT) offerings. There are no additional charges (commissions, transaction fees), although individual projects may have what the platform refers to as development or liquidation fees. In that case, these fees will be clearly spelled out in the supporting information about the offering. Lastly, Fundrise's fees are calculated into the investment cost, so your dividends will be paid net of those fees, meaning they have already been accounted for. 
It's obvious when using Fundrise that the platform's developers were paying particular attention to ease of use and functionality. Fundrise is simple to use. The sign up process is painless and also features several survey questions (investing goals, knowledge level, available investment capital) to create an investor profile for you.
This profile helps determine which of the five account levels you fit into. The account levels and buy-ins are as follows:
Starter: $10
Basic: $1,000
Core: $5,000
Advanced: $50,000
Premium: $100,000

Once this is done, your investor dashboard is easy to read, with a pie graph representing your portfolio and account level designation at the top of the page. The higher your account level is, the more offerings and investor perks you will have access to.
The process of browsing investments and uploading funds into your account is easy. Even novice investors, or people who are not particularly comfortable with the internet, will find the Fundrise platform to be intuitive and user-friendly.
Online investment platforms have one thing in common; they cater to retail investors and as such must provide them with a full range of educational resources. These resources explain how the platform works from top to bottom and give investors a thorough understanding of the platform's offerings. Fundrise goes above and beyond the call of duty in this department.
First of all, there is the "Onward" podcast, which debuted in December. This platform-produced video learning module features important information regarding the platform's performance, plus analysis and predictions about the real estate market as a whole. Anytime investors have the opportunity to learn passively by just sitting and listening, it's a big plus.
Secondly, the member's area of your profile page features a Spotlight section, which steers you towards information the platform believes is of value to you. For new members, the first items are the Education and the Help and FAQ sections. 
The Education area is broken down into the following separate modules:
Investing 101: an ongoing blog giving investors a primer on private investment
Point of View: includes market trends identified by fundrise professionals and tips on money management
Advanced Investing: deep dive into the state of the real estate market and where Fundrise's team believes it's going.
The Help Center walks investors through the nuts and bolts of how Fundrise works. This series of informative blogs includes the following sections:
About Fundrise
Getting Started
Account Management
Our Investments
Taxes
In cases where you have questions that are not answered in any of these sections, it's easy to send an email to their team. The response time is usually short, and you will get an actual response to your query from a Fundrise representative.
Between the Onward podcasts and the full range of informative blogs in the Help Center and Education sections, most investors should have all they need to understand Fundrise and begin investing. It's easy to see that Fundrise places a great deal of emphasis on this section. Both the platform and Fundrise investors are better off because of it. 
One of the best aspects of Fundrise is that its multi-tiered approach to investing leads to hundreds of offerings across a number of categories. Conservative investors looking for something easy to understand and reliable will find a wide range of options in the Fixed Income category, while the other options will offer investors the chance to buy varying degrees of equity in a number of commercial real estate projects across the country.
Most of Fundrise offerings are concentrated in growing real estate markets across the southern and western United States, such as Atlanta, Phoenix and Dallas. The common thread running through almost all Fundrise offerings is that they are in cities where solid, long-term job and population growth is expected to keep the local real estate markets red hot for the near- and long-term future.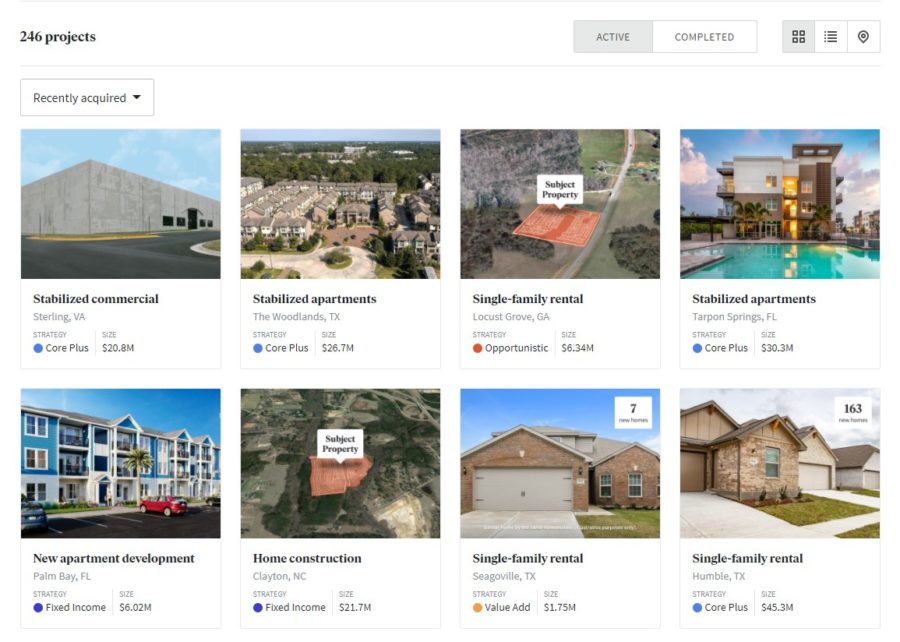 Fundrise has a wide variety of offerings, and each of them has its own risk profile and targeted annual returns. Most Fundrise investments are designed to be long-hold investments that generate passive income for the investor throughout the hold period. Needless to say, even when it comes to real estate, there is the possibility of loss of principal, and not every Fundrise investment will make money. However, Fundrise has paid out $100 million in combined dividends to its investors since 2014.
It's important to bear in mind that past history does not predict future performance of an investment. However, those kinds of returns do speak to the platform's attentiveness in selecting its offerings. If you review them carefully and make sure to remember that many Fundrise offerings have long hold periods, you increase your chances of being able to build a high-performing real estate portfolio through Fundrise.
Fundrise does have a solid, well-designed mobile app that is available for both iPhone and Google Android aficionados. Both apps provide users with an easy-to-understand mobile dashboard where they can monitor their investments, review new offerings and add funding from their favorite mobile device or tablet.
The mobile app experience has become an increasingly important aspect of an investment platform's total package. It's nice to see that Fundrise realizes this, and even better that it didn't just create a mobile app only for iPhone users. In both the case of Android and iPhone, investors on the go will have no trouble staying on top of their Fundrise portfolio. 
Fundrise's core mission is to give retail investors access to high-performing, revenue-generating real estate offerings in a variety of markets, offerings which have historically only been available to institutional funds. It absolutely succeeds in that mission. It's even more impressive it has been able to do this in such a way that allows non-accredited investors to get in on the action.
Regardless of your individual investing goals or current net worth, Fundrise has an option that will allow you to begin building a real estate portfolio of your own. If you want to do something conservative, you can stick with their secured mortgage offerings. However, if you're looking for equity and upside, Fundrise still has a number of offerings that will strike your fancy. The bottom line on Fundrise is that it's an outstanding platform that offers you a simple, one-stop-shop for building a rock-solid real estate portfolio.
Accelerate Your Wealth
Arrived Homes allows retail investors to buy shares of individual rental properties for as little as $100. Arrived Homes acquires properties in some of the fastest-growing rental markets in the country, then sells shares to individual investors who simply collect passive income while waiting for the property to appreciate in value over 5 to 7 years. When the time is right, Arrived Homes sells the property so investors can cash in on the equity they've gained over time. Offerings are available to non-accredited investors. Sign up for an account on Arrived Homes to browse available properties and add real estate to your portfolio today.