Want to jump straight to the best options broker? Most people prefer Interactive Brokers for their options trades.
One of the simplest ways to trade on the financial markets today is to use binary options contracts. The catch?
It's easy to fail you don't know what you're doing. Binary options trading blends a combination of strategy, money management, and analysis. Based on a few simple metrics, we can determine some of the best binary options for an investment.
Disclosure
Campaign is for US residents only, new accounts only, IRA's and trusts not eligible, not valid for existing customers, cannot be combined with other offers and will run 1/1/2022 through 2/28/2022. Account must be funded no later than midnight on 2/28/2022
The Biggest Stock Binary Options Mover of the Year:
Netflix
Amazon
Adobe
General Electric Company
What are Binary Options?
Binary options trading is a modern way to invest in the financial markets. It's simple to trade binary options as long as you have the capital to invest and access to the internet.
When you trade binary options, you bet whether the price will increase or decrease, and this should happen after a certain amount of time passes. For example, if you bet that the price will be higher after five minutes, you win if you're right. If you're wrong, you lose. The good part in binary options trading is that if you're wrong, you lose only the amount you've put in the trade. If you're correct, you profit somewhere around 80% of the invested amount.
Data We Used to Choose Some of the Biggest Stock Binary Options
Why stocks? Stocks are single-side fighters and compete for a price increase. In other words, the stock binary option represents the state of a corporation. Currencies compete against other currencies and also represent the political, economic, social and financial collision of two economies. If a company is doing well, the price will increase. If it's doing poorly, the price will decrease. If a currency is doing well, its price will increase as long as the other currency is not fighting back. See the difference?
This Year's Gainers
in 2018, some of the biggest gainers among the big corporate players were:
| | | | | | |
| --- | --- | --- | --- | --- | --- |
| Company | Microsoft | Netflix | Amazon | Mastercard | Adobe |
| Year to date change | +20.54% | +36.55% | +29.69% | +23.98% | +28.95% |
| Average daily change | +2.66% | +5.29% | +3.60% | +2.07% | +4.17% |
Source: TradingView
The Year's Losers
The losing stock binary options of 2018 were:
in 2018, some of the biggest gainers among the big corporate players were:
| | | | | | |
| --- | --- | --- | --- | --- | --- |
| Company | General Electric Company | Vodafone | Facebook | AT&T | IBM |
| Year to date change | -55.24% | -38.81% | -23.60% | -23.43% | -22.72% |
| Average daily change | -3.62% | -1.13% | -3.55% | -2.09% | -1.97% |
Source: TradingView
Average Daily Change of the 2018 gainers
Some of the Best Binary Options
We've compiled an ordered list of the biggest movers that are the most volatile by getting matches from our top five movers and the top five most volatile stocks:
| | |
| --- | --- |
| This year's biggest movers | Highest average daily change |
| General Electric Company: -55.24% | Netflix: 5.29% |
| Vodafone: -34.81% | Adobe: 4.17% |
| Netflix: +36.55% | General Electric Company: 3.62% |
| Amazon: +29.69% | Amazon: 3.60% |
| Adobe: +28.95% | Facebook: 3.55% |
From the table above, you'll see that the bigger movers that also do big daily changes are:
Netflix

Amazon

Adobe

General Electric Company
Now we have four binary options have trended well in 2018 and at the same time, they move big intraday. In other words, if you catch the move, the price is more likely to stay on the side at which you bet.
Here's a brief technical analysis of each of these binary options.
1. Netflix
Netflix has an average daily move of 5.29% and a bullish YTD change of 36.55%. On first sight, this is a bullish binary option. If you jump a bullish daily trend, then it's very likely you close a call option above the market order price. Netflix has been pretty bearish recently: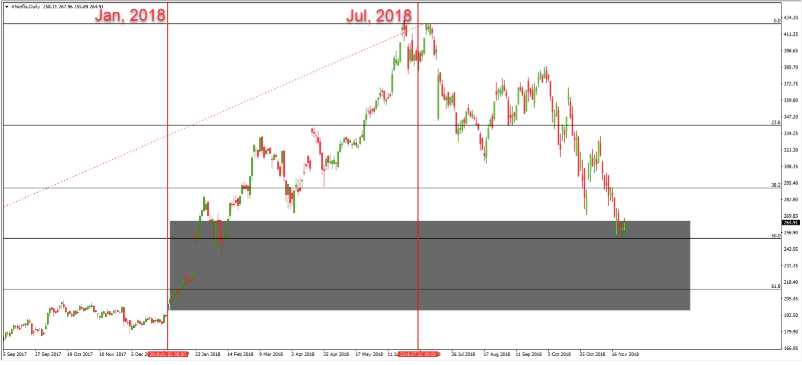 The gray area represents the whole 36.55% move in 2018. See that the price has covered a big part of the gains realized until July 2018. In this case, Netflix acts as a bearish binary option. So, you should seek for bearish spikes, unless the price rebounds from the 50.00% Fibonacci level.
2. Amazon
Amazon increased by 29.69% since the beginning of 2018 and accounts for daily moves of 3.6% on average. The chart might remind you of Netflix. After all, the two companies are in the tech sector and are subject to the same economic factors.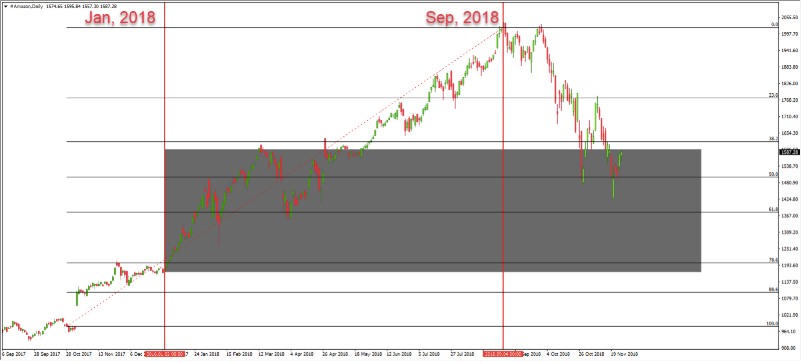 The yearly drop of Amazon isn't as big as Netflix's. At the same time, Amazon started dropping in September 2018. Only two months have passed since then, so Amazon's decrease looks more like a correction. See that the same 50.0% Fibonacci level interaction and the bullish trend could restart.
3. Adobe
Adobe is another tech binary option. It has increased by 28.95% since the beginning of 2018. At the same time, its average daily move equals 4.17%. The chart resembles Amazon and Netflix: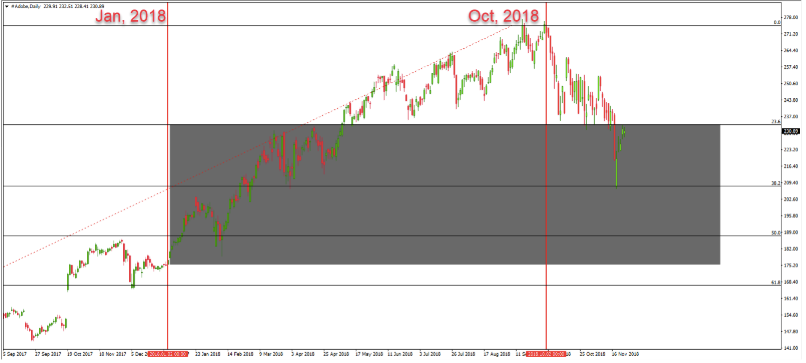 Here, the drop is even smaller. It started in October and the Fibonacci levels are 38.2% and 23.6%. At the same time, the bullish trend has attempted to resume.
4. General Electric Company
General Electric Company has dropped by 55.24% since the start of 2018. The average daily move equals 3.62%. General Electric Company has been trending in bearish direction since the beginning of 2017.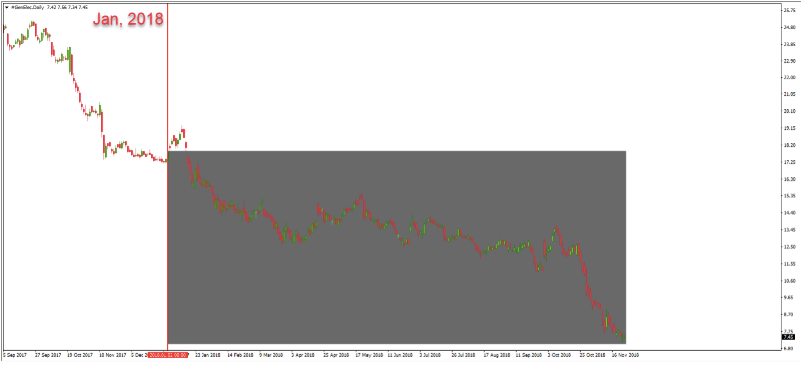 A clear two years' bearish trend still holds and is the best binary option out of the four suggestions because, in most of the days, the General Electric binary option is bearish. Put options are hot here as bearish spikes are likely to occur intraday.
Final Thoughts
We managed to segment four big movers with big average daily moves; these are some of the best binary options for a winning deal. Tech binary options have changed in attitude throughout 2018, but their bullish trends might resume. If not, they can still be profitable in a bearish direction. It's different for General Electric. This binary option is pretty explicit in its moves, which is likely to make it a better choice.
Remember, no long-term wins are possible without following general trading rules, which involve a proper strategy and a money management system. Carefully consider your approach before investing in this market. One last thing: Don't forget that short-selling a stock or its binary option means that you attempt to profit from the misfortune of a corporation.
Benzinga's #1 Breakout Stock Every Month
Looking for stocks that are about to breakout for gains of 10%, 15%, even 20% potentially or more? The only problem is finding these stocks takes hours per day. Fortunately, Benzinga's Breakout Opportunity Newsletter that could potentially break out each and every month. You can today with this special offer: