Want to claim 6 FREE stocks? Head over to Webull to get started.
Though Netflix started as a simple mail-order DVD service, it went on to revolutionize the television, film, and online media industries. In the years since its launch, Netflix has allowed consumers to ditch cable and video stores by offering its own original content as well as a wide range of popular movies and television shows. If you're trying to figure out how to buy Netflix stock, take a look at our history, pros, and cons of the stock since it's initial public offering.
Netflix at at glance
Netflix, founded in 1997 by Reed Hastings, became the world's first online DVD rental service in 1998. As time passed, Netflix built its reputation by allowing consumers to subscribe and enjoy unlimited rentals without due dates, shipping, and handling fees or late fees.
What began as a convenient alternative to traditional video rental stores soon became much more as Netflix launched its streaming service in 2007, which allowed the company to continue to grow as DVD sales declined.
History of Netflix
Since Netflix became publicly traded in 2002, it has given long-time stockholders significant gains. Thanks to Netflix's commitment to adapting to new technology and consumer trends, its original share price of $15 has ballooned to an incredible $367.68.
Netflix's stock price experienced significant losses in 2011 due to the announcement that it would be increasing its DVD subscription pricing, but it only took the company a few years to regain consumer trust and get its stock prices to rise again. If you had invested at Netflix's opening share price, you would be left with $24.50 for every dollar that you originally invested.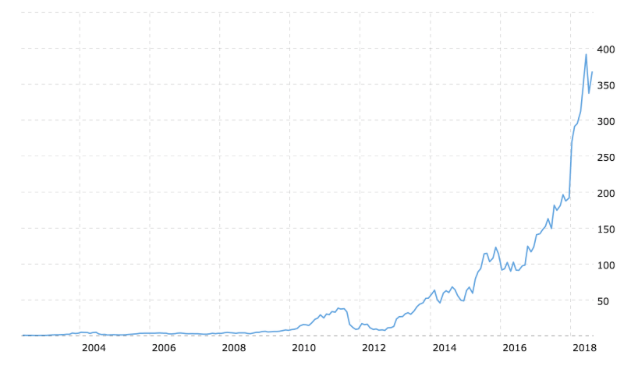 Why purchase Netflix stock?
Pros of purchasing Netflix stock:
Netflix has plans to continue to expand its streaming service in international markets in order to sustain its growth rate.

Between 2012 and 2016, Netflix's subscriber count nearly tripled, which suggests that the streaming pioneer has only increased in popularity.

Netflix continues to expand its library of original content, which helps retain subscribers while keep content costs down.
Cons of purchasing Netflix stock:
While Netflix has dominated the streaming market for years, competitors such as Hulu and Amazon are gathering more and more customers.

Netflix will have to rely more heavily on its original content as licensing third-party content becomes increasingly expensive.

Disney announced that it would be pulling its content from Netflix with plans to launch its own streaming service. If other companies follow in Disney's footsteps, Netflix could be in trouble.
How to purchase NFLX
If you're interested in purchasing NFLX due to its continued growth and promise, it is a fairly simple process. Netflix stock is available to purchase through almost any almost any brokerage firm. To add NFLX to your portfolio, just follow these simple steps:
Open a brokerage account.

You can decide whether you want a personal broker or if you would like to control your own account through a service such as E-Trade. Opening an account is very simple, and most brokerage firms offer support to help you get signed up and purchase NFLX.

Determine the size of your investment.

You should discuss with your broker how many shares of NFLX you want to purchase based on the current price per share and how much money you are willing to invest.

Lastly, place your order.

Follow the instructions provided by your broker to purchase the number of shares you previously determined that you want to buy.
Best Online Stock Brokers
Future outlook for Netflix stock
Due to its proven commitment to consumer growth and international expansion, Netflix remains a fairly safe investment option. Thanks to the popularity of its original content, Netflix doesn't appear to be very much at risk of being stomped out by its competitors. Still, you should keep an eye out for the possibility of more companies choosing to pull their content from Netflix in favor of their own streaming services.
Final thoughts
Making smart investment choices requires extensive thought, research and risk assessment. However, you don't need to be a professional financial analyst in order to see gains from your investments.
As competition increases and Netflix valuations continue to set exceedingly high expectations, the company will have a lot to prove in the coming years.