Bank Of America Sees Gold Rising By $200 Despite Tightening Monetary Policy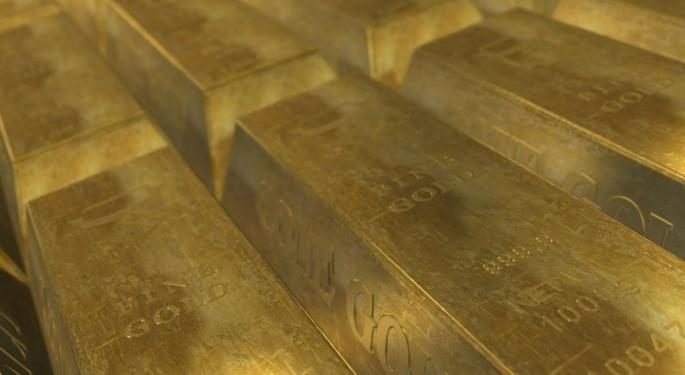 Analysts at Bank of America see the price of gold rising by $200 per ounce to hit $1,400 by the end of the year.
According to a CNBC report, the analysts acknowledged tighter monetary policy isn't a bullish indicator of gold but ongoing inflation concerns, uncertainties from European elections and protectionism policies will help push the metal higher. The report also cited inventor's complacency in understanding the growing risks of U.S. and U.K. policy "mistakes" in the coming year.
Meanwhile, investors have been utilizing a "wait and see" approach for gold since the presidential election last year. The commodity has lost 7 percent since Donald Trump emerged victorious in the election; the commodity is higher by around 5 percent since the start of 2017.
Other Side Of The Story
CNBC also cited a report by analysts at UBS who argued gold will remain under pressure ahead of the Federal Reserve meeting where the committee is expected to raise rates.
"This week, the focus is on employment data," the UBS analysts also wrote. "Given recent Fed member comments and current market expectations, the data would need to be significantly weak in order to alter the outlook on Fed policy."
Unlike Bank of America analysts who see a clear path towards gold rising throughout the year, UBS analysts are recommending commodity and gold investors stay on the sidelines for the time being.
See Also:
Gold Vs. Everybody: How Strength In The Yellow Metal Is Defying Conventional Wisdom
Posted-In: CNBC Gold gold prices Interest RatesCommodities Markets Media Best of Benzinga
View Comments and Join the Discussion!