Forget About Gold And Silver; Rhodium Is One Hot Commodity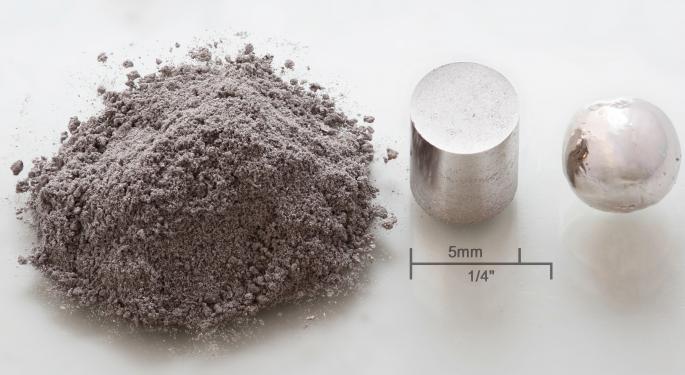 Gold and silver are among the two most common commodities individuals invest in and they have performed well since the start of 2017. The exchange-traded funded that tracks the price of gold, SPDR Gold Trust (ETF) (NYSE: GLD), is up nearly 7 percent since January 1 and the ETF that tracks silver, iShares Silver Trust (ETF) (NYSE: SLV) is higher by 11 percent.
Rare Rhodium Keeps Gaining
According to a Bloomberg report, gold and silver's performance in 2017 pales in comparison to a little-known rare metal called rhodium, which has gained 19 percent this year — a superior gain to most major commodities.
Rhodium is an important commodity for the auto sector, as it used in cleaning toxic car emissions. Currently, the metal is trading at $920 an ounce. The commodity has seen strong demand from China, where car ownership levels continue to grow and could soon rival Western levels.
It should also be noted that the rhodium market is much smaller than other commodities, and this may explain the metal's surge from 2003 to 2008 when it multiplied 23-fold and hit a record high of $10,100 an ounce. But Heraeus Group, a Germany-based provider of services related to precious metals, was quoted by Bloomberg as telling it clients that there is "no reason to expect falling prices in the short or medium term."
Related Link: For The First Time Ever, One Bitcoin Is More Valuable Than One Ounce Of Gold
Related Link: Gold Vs. Everybody: How Strength In The Yellow Metal Is Defying Conventional Wisdom
___________
Image Credit: 1g rhodium as powder, pressed cylinder, remelted pellet, By Alchemist-hp (talk) www.pse-mendelejew.dederivative work: Purpy Pupple (talk) - Own work, CC BY-SA 3.0 de, https://commons.wikimedia.org/w/index.php?curid=7636785">via Wikimedia Commons
Posted-In: Bloomberg Commodities GoldAnalyst Color News Commodities Markets Media Best of Benzinga
View Comments and Join the Discussion!