Spirit Airlines CEO: 'Customers Only Pay For What They Care About'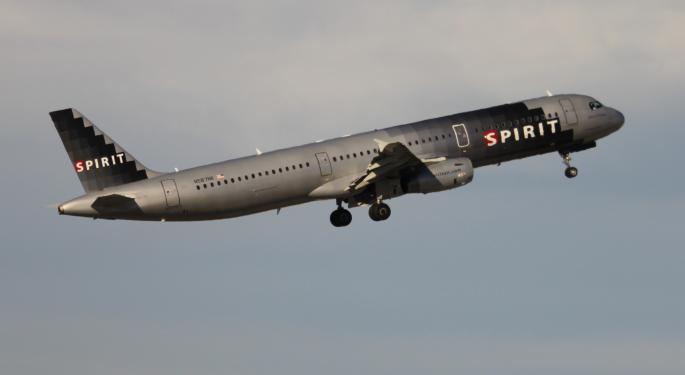 Shares of Spirit Airlines Incorporated (NASDAQ: SAVE) are up 500 percent since the company became public in 2011. However, they dropped significantly last Wednesday when the company reported its latest quarterly earnings.
Ben Baldanza, Spirit Airlines CEO, was on CNBC Monday to discuss if the airline can continue to grow and its business strategy.
20 Percent Locked-In Growth Rate
"We are going to keep growing, and our margins are still among the tops in North America," Baldanza said. "This year in the first quarter, we had over 22 percent margin, and as we grow, we believe we can maintain really high margins.
"Now, how high is going to depend somewhat on fuel prices, but we are a growing airline and over the next five years we got a 20 percent growth rate pretty much locked in, and we expect earnings to grow sort of with that."
Related Link: Evercore Is Upgrading Spirit Airlines
The Tradeoffs
Baldanza was asked about the tradeoffs the airline is making by being a low-cost carrier with high margins. He replied, "Well the tradeoffs are simply that our airline is built differently than others."
He explained, "Lot of airlines try to [...] attract a higher-fare paying customer with a nicer product or a full network. At Spirit, we just want to give you the lowest total price."
Baldanza continued, "So, that means we put more seats on the planes than our competitors, but everyone can pay a lower fare. We will separate out things that aren't necessary for the flight and charge extra for those.
"But in the end, customers only pay for what they care about and the total price they pay ends up being usually about 30 percent lower than every other airline," he concluded.

Image Credit: Public Domain
Posted-In: Ben Baldanza CNBCMedia
View Comments and Join the Discussion!