Why Is GE Selling Most Of GE Capital, And Why Now?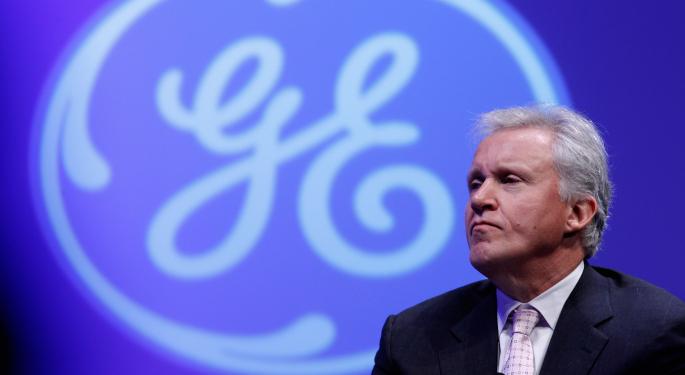 Shares of General Electric Company (NYSE: GE) ended Friday up nearly 11 percent on the announcement that the company would sell a major chunk of its financial services arm GE Capital. The company said it will use the proceeds to buy back stock.
GE CEO Jeffrey Immelt was on CNBC to explain the move.
Why Sell It?
"The business model of financial services has certainly changed," Immelt said.
"We have got a fantastic industrial portfolio, but we are a large, wholesale funded finance company. The wholesale funding model is tougher, we felt like we are disadvantaged versus banks."
Related Link: Did General Electric Make The Best Move For Shareholders?
"At the end of the day, the way that investors view financial services versus industrial assets, it's just starkly different and we kind of felt from an investor standpoint this was the right time to make the move.
"We have been working this way since the financial crisis," he added.
Why Now?
Immelt continued, "I think two things have happened just recently -- one is you really have a perfect market to be selling financial service assets. You have slow growth, low interest rates, lots of liquidity, people searching for yield."
Second, he cited the FSOC (Financial Stability Oversight Council), noting it has "really said that there's an off-ramp for companies that were systemically significant to kind of get off as they shrunk."
On Friday, a GE press release stated the company planned to work with regulators to end GE Capital's SIFI designation, which subjected it to additional federal oversight. FSOC gave the unit that status, which stands for Systemically Important Financial Institution, in 2013.
"We think this is good for the system, we think it's good for the regulatory world, it's good for investors," Immelt concluded.
Posted-In: FSOC GE GE Capital Jeffrey Immelt SIFI designationCNBC Media Interview Best of Benzinga
View Comments and Join the Discussion!