LinkedIn CEO Jeff Weiner Says The Lynda.com Acquisition Could Be Huge; Shareholders Agree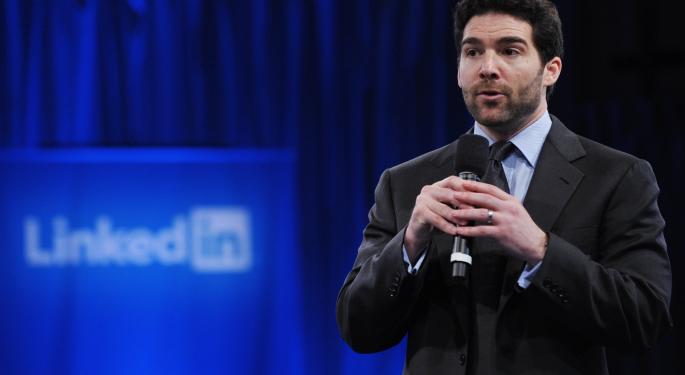 LinkedIn Corp (NYSE: LNKD) announced on Thursday that it will be acquiring EdTech company Lynda.com in a $1.5 billion cash and stock deal.
Jeff Weiner, CEO of LinkedIn, was on CNBC this week to explain why Lynda.com is a great fit for the social network and how LinkedIn plans to integrate the company into its platform.
Connecting Members To Opportunity
"It certainly is a great fit for our company," Weiner said.
"At heart, we are trying to connect our members to opportunity, whether that be finding a job or advancing throughout your career and learning the skills you need to take that next step and that's exactly what Lynda.com is all about.
"It's really a world class organization when it comes to building consistent high quality content that we believe our members are going to benefit from tremendously," he added.
Related Link: Weekly Tech Highlights: Apple's TV Service Is In Danger, Zynga Fired Its CEO And More
Integration
Weiner was asked how LinkedIn plans to integrate Lynda.com into its platform, and how soon a synthesis will happen.
He replied, "Well, in the immediate term it will continue to be an independent operation and organization, but there are some very clear areas of integration that we are really excited to try out."
Weiner said job-seekers on LinkedIn will eventually be able to bridge skill gaps (between themselves and their desired position) via Lynda.com's tools. "If you're looking for a job, we know what skills you have and what skills the job requires, and if there's a gap there, we can suggest you take the right Lynda.com course in order to put you in a better position to take advantage of that role."
Weiner also mentioned if one user is promoted, the platform could theoretically let others know what courses they can take to increase their odds of a similar advancement.
'Always Be Learning'
In a blog post that has gathered over 50,000 page views, Weiner expanded on this vision:
"The combination of LinkedIn and lynda.com is the kind of fit that benefits everyone. LinkedIn has the members, the jobs, a unique understanding of the skills required to do those jobs, and a publishing platform that can be accessed by roughly 350 million people to share professionally relevant knowledge. lynda.com's service has the premium library of skills-based courses. Together, we can bring opportunities and access to knowledge that everyone deserves."
What Do Shareholders And Wall Street Think?
LinkedIn shareholders appear to applaud the acquisition. In the two days since the announcement was made public, the stock has risen more than 5 percent.
Aside from a few concerns over valuation, Wall Street analysts are generally happy with the move as well.
Wedbush's Shayam Patil noted Lynda.com should provide LinkedIn with a completely new revenue source, while SunTrust analyst Bob Peck said the acquisition represents a new phase of growth at the company.
View Comments and Join the Discussion!
Posted-In: CNBC Jeff Weiner LinkedInM&A News Tech Media Interview Best of Benzinga