Why The FedEx-TNT Deal Makes Sense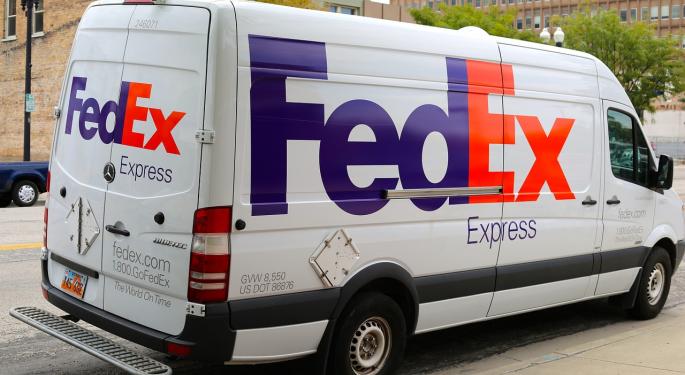 FedEx Corporation (NYSE: FDX) announced Tuesday that it will be acquiring European rival TNT Express NV – ADR (OTC: TNTEY) in a $4.8 billion (€4.4 billion) deal. Don Broughton, Avondale Partners's chief market strategist, was on CNBC Tuesday to explain why the deal makes sense for both the companies and why it will most likely be completed successfully.
FedEx Will Succeed Where UPS Failed
"It makes all kind of sense," Broughton said. "Let's go back and remember that in 2012 UPS tried to buy this company for $6.7 billion, and so for a 40 percent lower price, FedEx is going to buy them.
"I think they will be successful this time. Remember, UPS was blocked by the EU. EU said that gave UPS too much of a monopoly, too much of a pricing power."
Related Link: Will European Regulators Approve FedEx's Acquisition Of TNT Express?
He continued, "And UPS actually, ironically, tried to sell off bit and pieces to FedEx, and FedEx said, 'We are not interested in helping you out here.'
"UPS eventually had to pay a €200 million breakup fee [for its] failed attempt to buy this company. FedEx's presence in Europe isn't quite nearly as deep abroad as UPS' [presence]. So, I think they'll be successful in getting this deal done."
TNT Is A Fixer-Upper
Broughton was asked what his view on FedEx's stock was before this deal was announced. He replied, "I already had it rated Buy, [and I] would just continue that outlook. FedEx has been very good historically in buying companies."
He also remarked, "FedEx is really good at buying fixer-uppers and doing exactly that – fixing them up, and this is definitely a fixer-upper."

Image Credit: Public Domain
View Comments and Join the Discussion!
Posted-In: Avondale Partners CNBC Don Broughton upsMedia Best of Benzinga