David Petraeus Likens Potential Expiration Of U.S. Export-Import Bank Charter To 'Economic Unilateral Disarmament'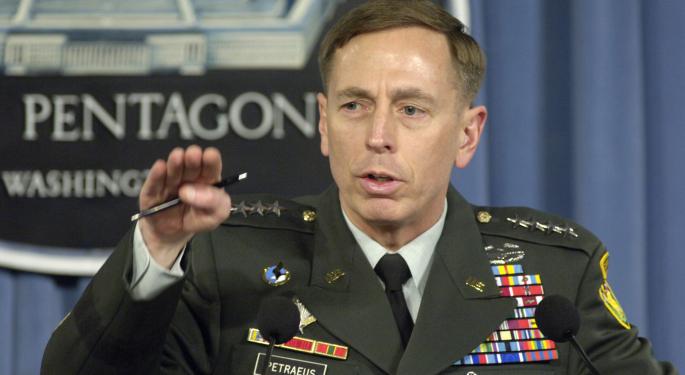 The charter of the U.S. Export-Import Bank, which was founded during the Great Depression to help the exports of U.S.-made goods, is scheduled for renewal on June 14. However, most congressional representatives think that instead of being renewed, the charter will expire, even if temporarily.
Former Director of the Central Intelligence Agency and Retired General, David Petraeus, is on this week's edition of Wall Street Week, where he discusses why the charter shouldn't expire and explains why he supports the Trans-Pacific Partnership.
Economic Unilateral Disarmament
"The Export-Import Bank essentially loans money generally to small businesses that are trying to compete overseas," Petraeus said. "Every other country in the world has one of these, and there's a fight to end its funding as seen by some as big government or something like that. Now this particular element of big government is actually made money in recent years."
He continued, "And sometimes it will give insurance to enable an 'arrangement,' or what have you. So, again, I don't want to overstate the magnitude of this – but to let it lapse again would be a sign that the U.S. just isn't serious about this stuff. This would be sort of economic unilateral disarmament really in effect."
Related Link: NEI Comments On Export-Import Vote In Senate
Supportive Of Trans-Pacific Partnership
Petraeus was asked if he supports the Trans-Pacific Partnership. He replied, "[I'm] very, very supportive of it. And for two reasons by the way.
"There is the economic argument for it, but probably even more important than that, is actually, the national security, the diplomatic – I guess the geopolitical argument for it.
"And it can be captured by what the Singaporean Foreign Minister (K. Shanmugam) told me when he was asking about this. He said, 'You know what? If you can't get trade promotion authority and therefore the Trans-Pacific Partnership, America is finished out here.' That's a pretty important statement," Petraeus concluded.
The full episode will air on Sunday; check out the viewing guide here.
Image Credit: Public Domain
View Comments and Join the Discussion!
Posted-In: CIA David Petraeus K. Shanmugam Trans-Pacific Partnership U.S. Export-Import Bank Vetr Wall Street WeekMedia Best of Benzinga