Watch Benzinga CEO's 'Crazy' XpresSpa Stock Pick Play Out In Real-Time: Video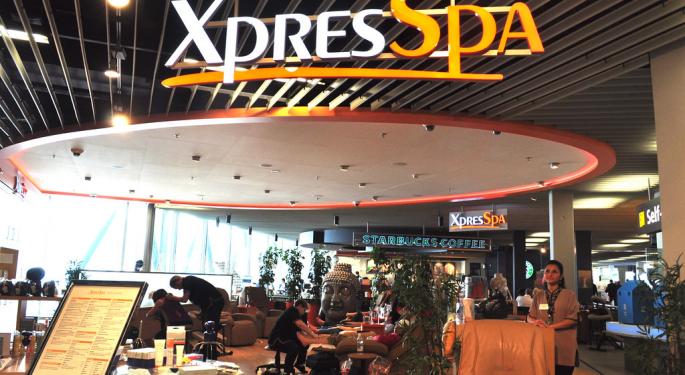 We talk about trading ideas all the time on PreMarket Prep. Usually, these ideas are based on technicals, relationships or headlines that are already out there.
On Friday, we gave a new kind of trading idea: news that hadn't happened yet.
Our CEO Jason Raznick predicted the future. Here's how it happened.
Raznick: 'This Is Definitely A Risky Play'
At 8:58 am ET, Jason disclosed a highly speculative trade he'd made Thursday.
"I made one crazy trade yesterday. I want to tell you guys because I'm either going to look like the biggest fool in the room or the smartest guy in the room. The odds are I'm going to look like the biggest fool in the room. This is definitely a risky play, and I'm not advising anyone [to buy this stock]."
The stock he had bought was XpresSpa Group Inc (NASDAQ: XSPA), the operator of airport massage and spa locations. His logic stemmed from an April 16 press release from the company announcing the hiring of Dr. Lewis Lipsey as the company's first chief medical director.
"How far of a reach would it be — could they do the antibody test if it's so easy? Could they start having those at their spas? I don't know, maybe. I just thought maybe there's something they're going to announce that could really drive the stock back to $1.50-$2," Raznick said Friday on PreMarket Prep.
XpresSpa Trade Unfolds In Real Time
Of all the stocks he owns, the Benzinga CEO said XpresSpa Group was the one in which he had the least conviction. But he said he'd been watching it for a week-and-a-half and "just had to do it."
At the time he said that, shares of XpresSpa Group were trading at 51 cents per share.
Not 20 seconds later, at 9:00:10 am ET — in a moment so coincidental it's almost hard to believe — the company released a press release with the headline "XpresSpa Signs Contract With JFK International Air Terminal LLC for COVID-19 Screening and Testing Location."
The stock immediately jumped higher.
Shares of XSPA continued to rally hard for the remainder of the premarket session. After opening at $1.03, the stock traded as high as $1.16 before eventually settling back to the 90-cent area.
Watch the exact moment the news broke below.
'This Could Definitely Be A COVID Play'
"Why did you think that was going to happen?" PreMarket Prep co-host Dennis Dick asked Raznick. "Because that's exactly what just happened."
Raznick said he's been looking for trading opportunities that are off the beaten path, and he started by looking at retailers in airports.
What he learned was that a lot of airport retailers are operated by individual franchises that license the company name. "XpresSpa was one of the only few that it's their own company. And so I started researching it."
That research led him to Benzinga Pro, where he found the press release from April announcing the hiring of Lipsey.
"I saw the hiring of a chief medical director. A massage place hiring a chief medical director? I'm like, 'this could definitely be a COVID play.'"
Though it's hard to overstate just how lucky of a trade this was, it also comes down to doing research, Dick said.
"We're talking here about doing research. And this is just classic research to find a trading idea that incredibly that just came to fruition."
Raznick On Taking Profits: 'At Least Try To Cover Your Cost Basis'
In a follow-up call, Raznick said he sold 25% of his position after the open.
"My logic is if you buy a stock yesterday and it rises over 70%, you should take some profits. At least try to cover your cost basis."
But he intends to hold the remainder for at least the next few months as travel starts to come back.
"I would expect they will announce other partnerships with other airports. And eventually travel will come back and people will [visit] XpresSpa again."
You never know what's going to happen on PreMarket Prep. The audio version of this clip can be found here.
Shares of XpresSpa were trading 71.49% higher at 89 cents at the time of publication.
PreMarket Prep is a daily trading show hosted by prop trader Dennis Dick and former floor trader Joel Elconin. You can watch PreMarket Prep live every day from 8-9 a.m. ET here. The replay can be found on Benzinga's YouTube channel, and the podcast is on iTunes, Google Play, Soundcloud, Stitcher and Tunein.
Image: Flickr/Sharon Hahn Darlin.
View Comments and Join the Discussion!
Posted-In: CoronavirusPenny Stocks Travel Top Stories Movers Trading Ideas Interview General Best of Benzinga