Coin.co CEO: Bitcoin's Impact On Society Will Rival The Internet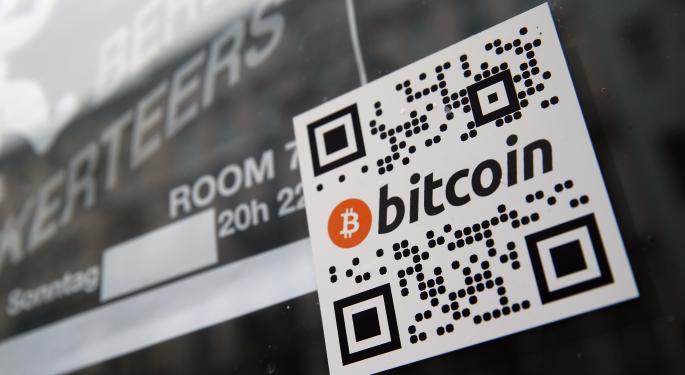 Bitcoin is praised by those who have benefited from the digital currency, but not everyone agrees that it will last.
Alex Waters, CEO of Coin.co (a bitcoin payments company), recently told Benzinga about his grand vision for the cryptocurrency.
"I think [it will] rival the Internet as far as how widely it could affect the world in a positive way," said Waters, whose company is among those that are competing in the Benzinga Fintech Awards. "I could say that the Internet has enabled things like email and social networks and personal websites, blogs. In many of the same ways, bitcoin enables (as a platform) decentralized organization and tokenization of securities and commodities and a whole bunch of really compelling things that are built on top of a platform."
Waters defended his bold prediction by comparing the Internet to electricity.
"I think to look at it as, [if] electricity has given us the Internet, maybe the Internet has given us bitcoin," he said. "So, what I say is, it rivals the Internet as far as its impact on humanity and the benefits to humanity. As much as electricity has benefited humanity, perhaps the Internet rivals that."
Related Link: 6 Reasons To Attend The Benzinga Fintech Awards
Future Success - Or Failure?
Waters said that it was "really hard to say" what bitcoin will look like in the distant future, but he is confident that it will survive and remain the leader in its field.
"As far as, 'Will bitcoin be the thing that exists in 10 or 20 years [and] be the dominant digital currency?' I think so," said Waters. "I think, very much like Linux, it is an open-sourced platform. It is able to adapt and grow. If a competitor were to come up with something innovative that's better, bitcoin could just incorporate those changes."
Waters noted that bitcoin has already achieved critical mass, has momentum and a "large number of really intelligent people working on it."
"Tons of people have invested money into it," he said. "For example, the amount of venture capital invested in bitcoin companies last year surpassed that of the Internet in 1994. This year some analysts predicted that approximately $200 to $500 million will be invested in bitcoin companies."
Rejected Ideas
Waters realizes that some people may not be persuaded to use bitcoin until it has obtained a high degree of mainstream acceptance. He said the same thing happened with other ground-breaking technologies, including the first automobile.
"Historically, cultures scoff at new technology," Waters explained. "A good example (in recent history) was the automobile. It was laughed at. It was sensationalized politically and in the media for enabling rum-runners to avoid the prohibition laws. Obviously that's silly, looking retrospectively."
Waters said that the media's "sensational painting of bitcoin" is equally as silly.
"If we look at percentages of dark market and that sort of thing, it's not really a concern," he added. "It's still a concern, but it's not as it's portrayed. I think people will scoff at things like a unified global currency or something as sci-fi as credits."
As recently as 15 years ago, Waters believes some individuals may have scoffed at the idea of building robots that resembled humans.
"And yet we see [Google-owned] Boston Dynamics building actual robots that look and resemble humans in the way they move around and behave," he said. "I think bitcoin is one of those things where people discredit it or doubt it, but it is such a technological advancement that it will have its day."
Coin.co's Next Step: The Benzinga Fintech Awards Gala
Coin.co is heading to the Benzinga Fintech Awards Gala on April 8. Space is limited (the initial batch of tickets are already sold out), so Benzinga is encouraging interested parties to purchase their tickets immediately (use coupon code BZFRIEND to save $100 off the regular admission price).
Disclosure: At the time of this writing, Louis Bedigian had no position in the equities mentioned in this report.
Posted-In: Alex Waters Benzinga Fintech Awards Benzinga Fintech Awards GalaForex Startups Markets Tech Interview Best of Benzinga
View Comments and Join the Discussion!