3 Middle East ETFs To Watch Amid President Obama's Speech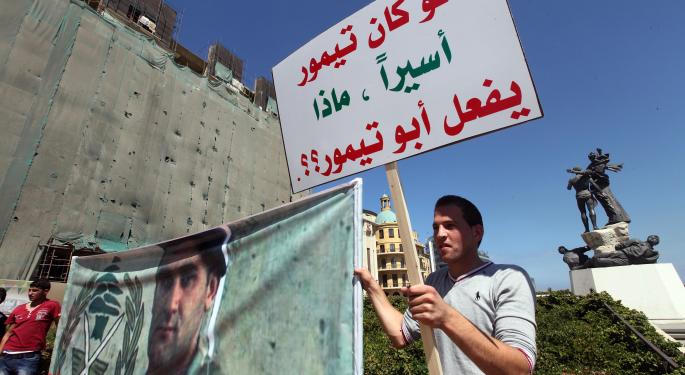 President Barack Obama is set to address the nation Wednesday night to further detail his plan to combat the terrorist activity in the Middle East. The goal will be to eliminate Islamic extremists, ISIS in particular.
Several of the ETFs that concentrate on the Middle East are trading at or near highs.
The Market Vectors Gulf States (ETF) (NYSE: MES) tracks the performance of the largest most liquid companies in the Gulf Cooperation Council (GCC); this includes Bahrain, Kuwait, Oman, Qatar, Saudi Arabia and the United Arab Emirates.
It consists of 57 holdings with the top three holdings accounting for 20 percent of the portfolio. They include Emaar Properties Pjsc with a 9 percent holding, National Bank Of Kuwait at 5.6 percent and Bankmuscat Saog at 5.1 percent.
Related Link: 3 ETFs To Watch Amid Scottish Independence
MES has performed very well, up 41 percent over the last 12 months and up 13.4 percent the last six months. The ETF has more than doubled the performance of the market as measured by the SPDR S&P 500 ETF. An expense ratio of 0.98 percent makes the ETF slightly more expensive than its competitors.
The WisdomTree Trust (NASDAQ: GULF) consists of 70 companies throughout the Middle East. More than 53 percent of the fund is comprised of large cap companies, 36 percent mid-cap companies and the rest in small caps. The top holdings include Qatar National Bank SAQ at 7 percent, Industries Qatar with a 6.8 percent holding and First Gulf Bank PJSC at 6.6 percent.
GULF has also performed well with a 45 percent gain over the last 12 months and 10.6 percent over the last six months. A 0.88 percent expense ratio is about on target with this niche market.
The iShares MSCI Qatar Capped ETF (NASDAQ: QAT) seeks to track a broad range of securities solely located in the emerging market of Qatar. With 57 percent of the total 27 holdings invested in the financials sector of the country, it is a fairly concentrated portfolio. However that comes with the territory when investing in a country specific fund, especially one as small as Qatar.
The top holdings include Masraf Al Rayan Q.S.C. with a 15 percent holding, Qatar National Bank 13 percent and Industries Qatar at 10 percent. Since QATs inception on April 29 it is up 7.1 percent. A 0.61 percent expense ratio is very favorable for such a country-specific ETF.
Wednesday night's speech may have an impact on the region in the coming days or weeks.
View Comments and Join the Discussion!
Posted-In: Barack Obama Obama President ObamaEmerging Markets Specialty ETFs Markets ETFs Best of Benzinga