Justin Sun Celebrates As BitTorrent Passes 2 Billion Installs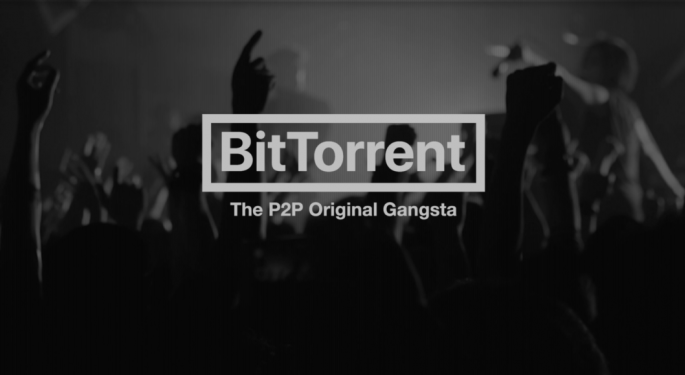 The following is a contributed article from a content partner of Benzinga
BitTorrent, the leading file sharing network purchased by TRON in 2018, is toasting a historic milestone after surpassing two billion installations. That means almost one in four people in the word have downloaded BitTorrent at some time in their internet life. To celebrate the symbolic two billion achievement, BitTorrent is offering 30% off Windows-based BitTorrent and µTorrent subscriptions.
Under Justin Sun's stewardship, BitTorrent has been reborn, with the giant yet jaded file sharing network given a new lease of life after being integrated into the TRON ecosystem. The introduction of a native token (BTT) that incentivizes file storage and sharing, is at the heart of the new-look BitTorrent, which now features deep crypto integration including the ability to pay with TRX and BUSD for subscriptions.
Sun Welcomes BitTorrent Milestone
"Almost two decades ago the dream of decentralized file transfer was brought into existence by BitTorrent, thus changing the world and positively impacting the lives of people everywhere," said Justin Sun. "Today we celebrate our history and everyone involved in making the BitTorrent protocol and our products a success," added the BitTorrent CEO. "We look forward to fulfilling our mission of improving the protocol and introducing new use cases, such as decentralized file storage and live streaming products."
TRON has discovered that the best way to grow market share is by acquiring existing companies with an established user base and then applying the kiss of life through connecting them to its blockchain ecosystem. The formula has worked a treat with BitTorrent, Steemit, and Dlive, with BitTorrent in particular benefiting from tokenization.
The launch of BitTorrent File System ahead of rival solutions such as Filecoin, which runs on IPFS, has bolstered BitTorrent's status as the daddy of file sharing. It's shown that it can embrace new technologies and remain relevant, more than 14 years on.
TRON Keeps Trucking as BitTorrent Flourishes
The upwards momentum enjoyed by BitTorrent has been mirrored by TRON, whose ever-expanding ecosystem has been extending into new regions and verticals. This week, Indian crypto exchange BuyUcoin added TRX and BTT to its range of digital assets in what is a key region for blockchain adoption. The Delhi-based exchange's decision to list TRON and BitTorrent's native assets will grant Indian cryptocurrency users access to the decentralized ecosystem they power.
Meanwhile, JST, the governance token of TRON's defi lending and stablecoin issuance platform, has just been listed on Binance, after rising in price by 1,000% in just a month. JST has been airdropped to TRX holders as part of an ongoing program designed to distribute ownership and incentivize cryptocurrency holders to investigate the rest of TRON's family of blockchain-powered products. Binance, of course, is where BitTorrent's own token, BTT, began life in the first IEO ever held by the world's largest exchange.
View Comments and Join the Discussion!
Posted-In: BitTorrent marketacross TRONCryptocurrency Markets